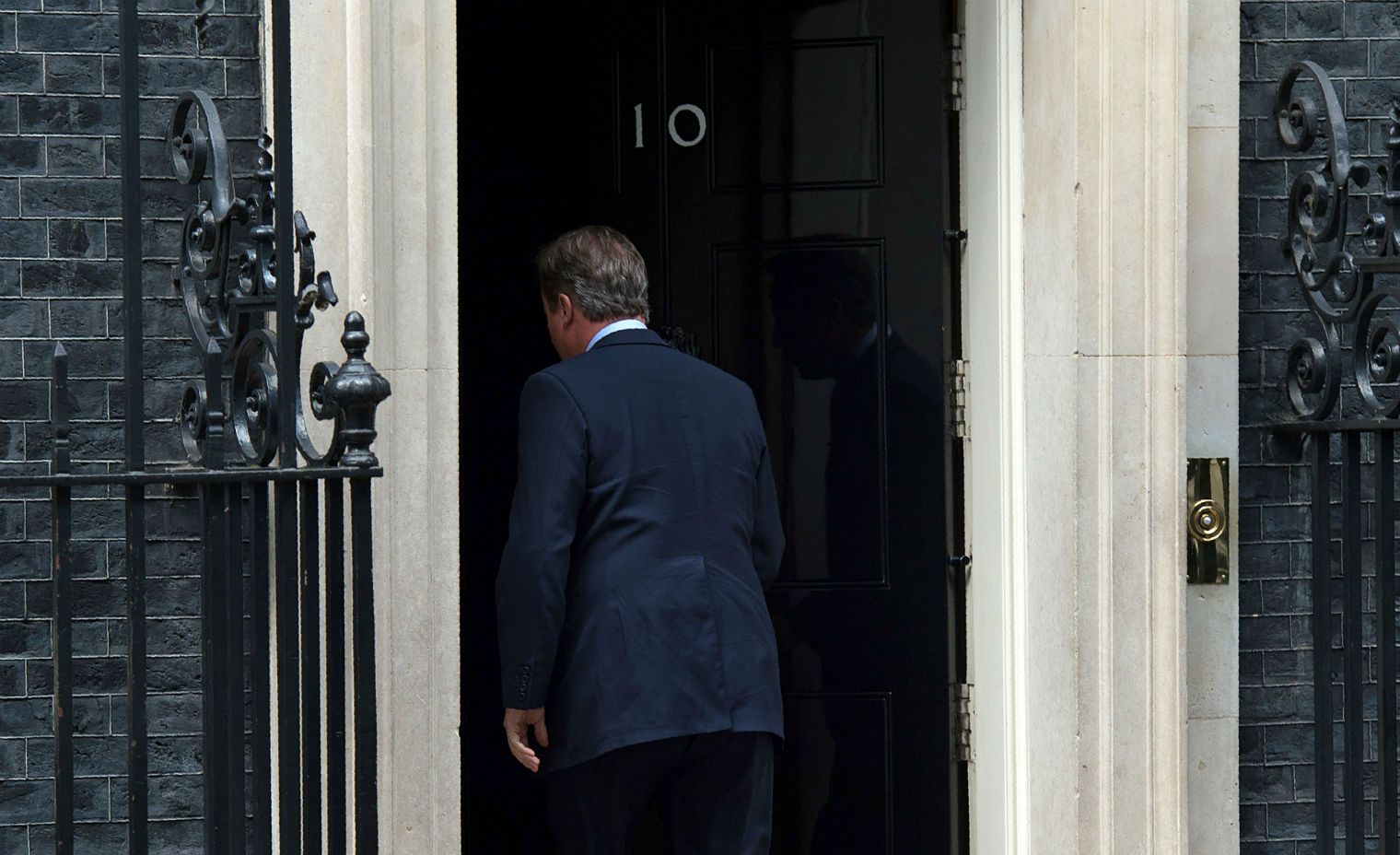 David Cameron spent his last night at Number 10 Downing Street on Tuesday in typically unpretentious style, dining on an Indian takeaway with his staff, his chancellor, George Osborne, and a handful of the Conservative MPs who had been most loyal to him, among them Hugo Swire, the foreign office minister, Richard Benyon, the Newbury MP, and Cameron's former and current parliamentary private secretaries Desmond Swayne and Gavin Williamson.
"I was amazed last night that both he and Sam [Samantha, Cameron's wife] were remarkably upbeat, and I think there's a degree of relief," says Gregory Barker, a Conservative peer who stood down as an MP in 2015 and has been one of Cameron's most enthusiastic backers throughout his leadership.
"I was the future, once," Cameron conceded in his final speech to parliament on Wednesday. Now that he's leaving the house-cum-office he has occupied for six years, what will the man who burst onto the national stage as a fresh-faced leader in 2005 see as he looks back on his career? What can he proud of, and what should he regret? And how will historians come to see him?
Cameron's national defeat in Britain's EU referendum, which prompted him to stand down despite a 2015 general election victory, is intimately connected to an internal party battle he has been fighting since he first stood for the party leadership in 2005. He ran in that election as a modernizer, even spending thousands on a campaign launch event where journalists were handed smoothies and chocolate brownies, which is about as close as the Tory party gets to all-out revolution. He hugged huskies in photo-ops and talked about a "big society." A crucial part of that project was Cameron's desire for the party to stop, as he put it in an oft-quoted 2006 speech, "banging on about Europe."
Robert Saunders, a lecturer in History at Queen Mary University of London, says the phrasing here is telling: "That didn't mean challenging Euroskepticism in his party; it meant trying to pretend it wasn't there." Until his undoubtedly passionate pro-EU campaign in the referendum, Cameron spent his leadership making small but significant concessions to the antI-EU lobby on his backbenches.
One of the first made little mainstream impact in Britain, a leadership pledge finally enacted in 2009 to take his Members of the European Parliament (MEPs) out of the center right "European People's Party" group in the European parliament to form a new "European Conservatives and Reformists" group. But it was a clear signal of the Conservatives' ideological direction of travel on Europe; they left a venerable, staunchly federalist grouping, including MEPs from Angela Merkel's CDU, and joined a rag-tag Euroskeptic one, with stablemates including the Law and Justice party from Poland that, since taking power in the country in 2015, has aroused concern in Brussels about the state of the rule of law in Poland. His influence in Brussels declined as a result.
One of Cameron's last such concessions to his party's Euroskeptics was to prove damaging. He announced this spring that cabinet collective responsibility, the doctrine that requires cabinet ministers to publicly follow the government line on policy, would be suspended on the issue of Europe during the referendum. It allowed six cabinet ministers, including one of Cameron's closest allies, the justice secretary Michael Gove, to openly break ranks and campaign against him while keeping their jobs. While ex-London Mayor Boris Johnson, not a full cabinet member, was the Brexit campaign's highest-profile star, his and Gove's joint announcements on immigration policy were arguably lent an extra gravitas thanks to the justice secretary's endorsement.
Saunders says historians will continue to bang on about Europe whenever they discuss Cameron. "Whichever side of the debate you're on, this is going to define British politics for 20, 30, 40 years. This isn't just a goof, this is the biggest policy failure by a British government probably since the 1930s," he says.
But Barker says that castigation of the prime minister for calling the EU referendum will give way to praise for other aspects of Cameron's legacy in the longer term. Europe aside, Cameron's modernization project has left the Tory party stronger, more successful and less toxic than when he began it, Barker insists. "He helped pull the Conservative party to the middle ground," he says. "He's really placed us back in the center of the British political conversation."
It's certainly true that Cameron has delivered electoral success for his party; he departs as the first incumbent prime minister to increase his national vote share since Anthony Eden in 1955. His and Osborne's marriage of Thatcherite small-state economics and Blairite socially liberal rhetoric has proved seductive to voters. Even Labour leader Jeremy Corbyn, whose loathing for Cameron is visceral, praised Cameron's equal marriage legislation in the Commons on Wednesday.
Cameron studied former Labour prime minister Tony Blair, his first opponent across the Commons, whom he and Osborne used to call "the master" in private, as a model for how to face down entrenched opinion in the party and build a centrist project. But, says Saunders, a comparison of the two in that regard is not favorable. "Blair started from the assumption that the policy offer of his party had to change fundamentally, and it did," he says. "I think Cameron wanted to change the culture of the Conservative party but it's harder to see the evidence of that."
The truth probably lies in between Barker's and Saunders's appraisals. Forcing through equal marriage was a remarkable achievement for a Conservative prime minister. Cameron and Osborne's nifty seizing of the pro-devolution agenda being discussed by both main parties and labeling it the "Northern Powerhouse" in 2014 was inspired. But the Cameron government's commitment above all else to tackling the deficit and his unwise and almost certainly unachievable pledge, made in 2010, to reduce net migration into the U.K. to the "tens of thousands" have both seen his government enact many policies—from fast and deep benefits cuts to aggressive vans urging illegal immigrants to "go home"—whose impact has been far from progressive. A rolling back of the state was not accompanied by the growth of civil society Cameron had promised.
All in all, Cameron, says Saunders, has been "a politician of the 24-hour news cycle," good at tackling immediate crises, like the rise of the Euroskeptic U.K. Independence Party (UKIP) in 2013 that led him to call the referendum, bad at longer term planning and strategy. The referendum "worked in 2013," says Saunders, "But of course by the time you get to 2016 you have to pay the bill."
Cameron's commitment to personal loyalty and decency, too, has not always been a boon. During the referendum campaign, he was reportedly reluctant to sanction the most brutal attacks on colleagues who were campaigning against him, a favor they did not return. Barker's only criticism of Cameron is that he is too nice. "At times he should have been more concerned to drag his own personal agenda, but that's not who he is," he says. Still, it is this quality that has kept his relationship with Osborne rock-solid, something Cameron remarked on at Tuesday night's dinner, and a glaring break with the infighting of the Blair-Brown years.
Cameron the modernizer, then, never fully materialized. Preoccupied always with the moment before him, and not with the sunlit uplands further ahead, he was ultimately undone by the wing of his party he wanted to make irrelevant. Still, he leaves behind a party led by a woman, Theresa May, and committed at least in theory to a "one nation" agenda. The EU referendum has left the country in economic and political crisis, but it's a subject for serious debate whether Cameron could ever have avoided calling it.
Had he won the referendum, as one veteran of Tony Blair's Downing Street remarked to me icily before the vote, Cameron's legacy would have been as a preserver of the status quo. Even given the seismic change he has now presided over, that may still define the way he is remembered. Not as a modernizer, nor a reactionary, but a personally decent small-c conservative who tried to move forward in careful steps, yet still managed to put a foot disastrously wrong at the end.