'Only Donald Trump Cares About Black American Citizens,' Sheriff David Clarke says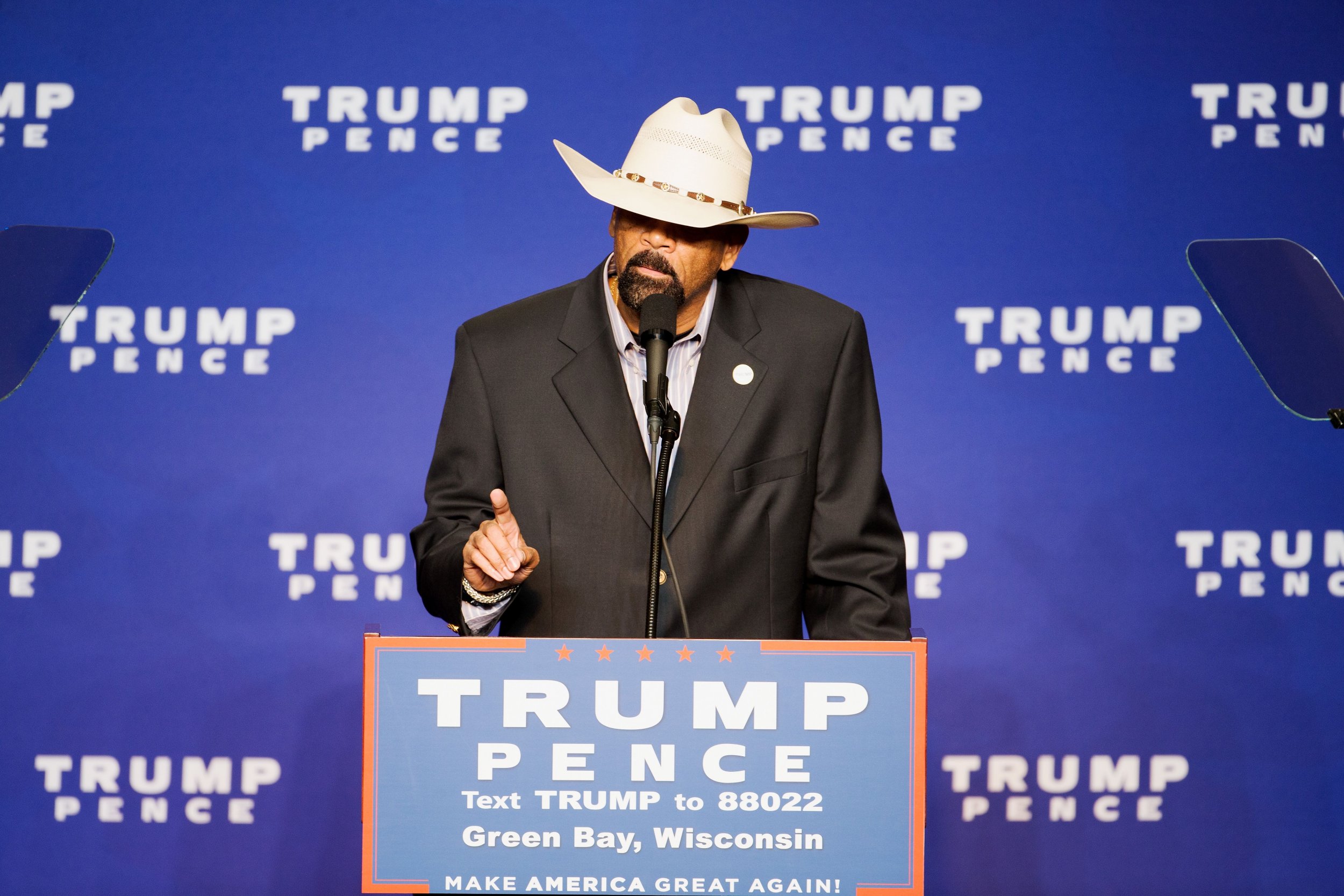 A controversial former sheriff who is one of the president's few outspoken black supporters said Donald Trump is the "only" person who "cares about black American citizens" on Tuesday.
"If @SenatorDurbin truly cared about black people he wouldn't sit by twiddling his thumbs as black people in his city of Chicago are slaughtered by violent crime in record numbers," David Clarke tweeted. "Do those black lives matter Dick? Only @realDonaldTrump cares about black AMERICAN citizens."
David Clarke's comment comes as the White House is still dealing with the fallout after Trump reportedly called several African nations "shithole countries," during a bipartisan immigration meeting in the Oval Office on Thursday. Democratic Senator Dick Durbin of Illinois, who was in the meeting and confirmed the claim originally reported by the Washington Post, drew Clarke's wrath on Tuesday.
Durbin wasn't the only lawmaker at the meeting to confirm Trump's vulgar comment. Republican Senator Lindsey Graham of South Carolina told Tim Scott, his fellow Republican senator from the same state, the quote was "basically accurate," according to the Charleston's The Post and Currier.
Republican Senators Tom Cotton, of Arkansas, and David Perdue, of Georgia, who were also present for the meeting issued a joint statement defending Trump, saying, "[W]e do not recall the president saying these comments specifically."
Related: Trump Says Haiti Is Not a 'Shithole,' Just 'Very Poor and Troubled'
On Sunday, Perdue doubled down on ABC's This Week. "I am telling you that he did not use that word. And I'm telling you it's a gross misrepresentation," he said.
"Gross Misrepresentation," appears to have been a gross exaggeration. Three White House officials confirmed to the Post on Monday that Perdue and Cotton had told the White House they heard "shithouse," not "shithole."
Trump's characterization of African countries added to a list of racial transgressions. In the spring, when a member of the Congressional Black Caucus told him welfare reform would hurt some of her constituents, "not all of whom are black," Trump was incredulous. "Really?" he said. "Then what are they?"
In the fall, he prodded an intelligence analyst who's an expert in hostage policy who was briefing him on the release of a family detained in Pakistan. Trump changed the topic by asking the analyst where she was from. "New York," she answered. Then, when asked again, she said Manhattan. Trump asked again, clarifying he wanted to know where "your people" were from, she answered Korea. That's when Trump asked why the "pretty Korean lady" isn't the one negotiating with North Korea.
Last November, during an event to honor Navajo code talkers—in front of a portrait of President Andrew Jackson, who signed the Indian Removal Act of 1830 and was nicknamed "Indian Killer"—Trump referred to a political rival, Democratic Senator Elizabeth Warren of Massachusetts, as "Pocahontas."
The list goes back far beyond the last year. In 1989, he took out full-page ads in four New York newspapers calling for the execution of the "Central Park Five," the group of black and Latino boys who were all later exonerated in the infamous case. In 1973, the Justice Department sued Trump, his father and Trump Management for housing discrimination. The Trumps had allegedly told prospective black renters that there were no vacancies while white people were shown available units. They later settled the case without admitting guilt.
Clarke, who still uses the Twitter handle @SheriffClarke, is now a senior adviser for America First Action, a pro-Trump super PAC. He is a consummate Trump defender, regularly taking to Twitter to criticize Democrats, the media and liberals. Clarke was a major surrogate for Trump during the campaign and making a nationally prominent figure when he spoke at the Republican National Convention in 2016 on the "Make America Safe Again" theme night.
Clarke invoked Black Lives Matter in his Tuesday tweet to Durbin, but the movement has not historically found an ally in him. He once claimed Black Lives Matter activists were conspiring with the Islamic State militant group to destroy the U.S.
He has also been an immigration hardliner. In December, he called "many" of the nearly 800,000 DACA recipients were "straight up thugs." The recipients, known as DREAMers, are undocumented immigrants who were brought to the U.S. as children and granted work permits after they were thoroughly vetted for criminal history or national security threats.