David Clarke Banned by Twitter, But Won't Be Intimidated by 'LYING LIB MEDIA'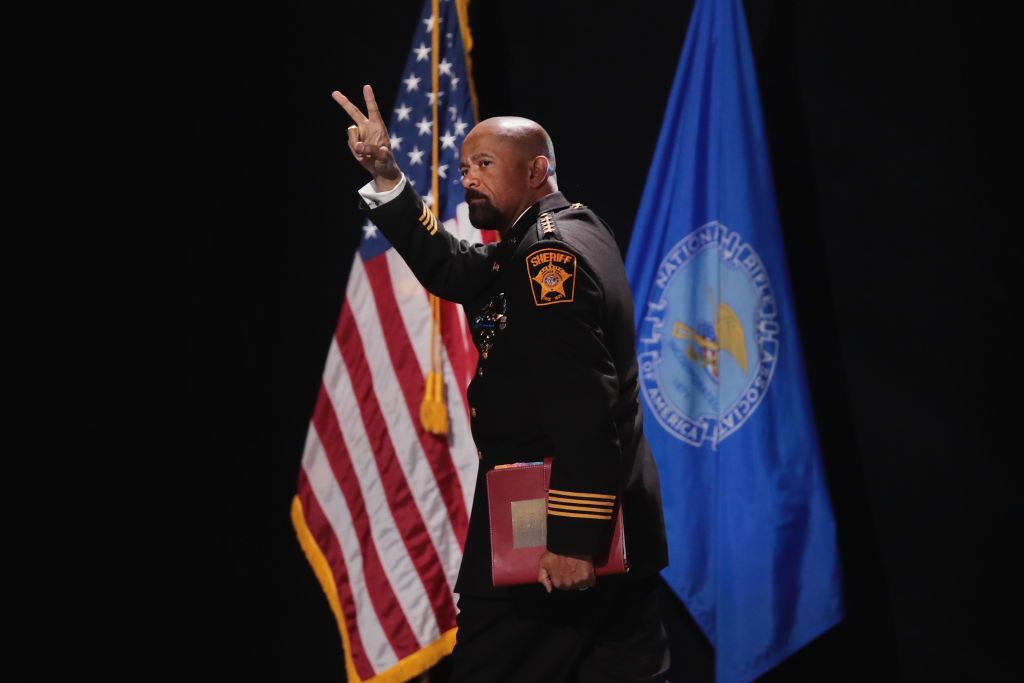 Twitter reversed its ruling over the holiday, banning former Wisconsin sheriff David Clarke from tweeting on New Years Day because he had threatened to make journalists "taste their own blood." The rarely seen Twitter-turnaround took Clarke and the twitterverse by surprise after Twitter had earlier rejected complaints by many of its users. Clarke's now-deleted tweet vowed revenge over end of year news headlines—which he calls "Fake News"— revealing that the FBI has obtained a warrant to search his emails.
After an enforced Twitter time-out, Clarke is now crying censorship, tweeting his latest shot Tuesday afternoon: "I will not be intimidated into silence by LYING LIB MEDIA."
The recent tweets by Clarke mocked the media to "bring a hard hat, some aspirin and your veggie wrap because it's going to be a long day and I'm going to smack you around until you crawl back to your mom's basement."
In another, Clarke threatened to poke the media "in the eye with a sharp stick and bitch slap these scum bags til they get it."
Twitter had refused to act on users complaints about Clarke's tweets, prompting the former sheriff to gloat that, "twitter said no violation of rules. Diaper change time."
Freelance journalist Zach Everson was one of many who submitted complaints. "Four minutes after acknowledging receipt of my report," he wrote, "Twitter replied that the tweet did not violate its policies.
When complaints started rolling in, Clarke doubled down on his attacks on the press, thinking he'd gotten a free pass from the social media platform. "Two UNFOUNDED twitter complaints were made yesterday against me as I PUNKED THEM OUT for a drive-by hit job they did with FAKE NEWS. When they get hit back they run to mommy to whine."
But after receiving the further complaints about his tweets, including from this writer, Twitter reversed its initial ruling, and locked Clarke's account.
That meant Twitter had to then email users who'd had their complaints about Clarke rejected, informing them they had now "re-reviewed" the tweets.
Clarke was forced into a Twitter time-out, and his feed went silent for over 30 hours. His tweet, "Punch them in the nose & MAKE THEM TASTE THEIR OWN BLOOD" was also deleted from the twitterverse.
Twitter has come under increased scrutiny since Donald Trump's Twitter trigger-happy presidency began. Women boycotted Twitter in protest over what they called a double-standard after it suspended Rose McGowan for her tweets about sexual harassment, but not Trump. Twitter promptly promised a crackdown on harassment.
The year had also ended with grim statistics on the increasing number of threats to journalists. The Committee for the Protection of Journalists revealed record numbers of journalists are being detained and killed worldwide, including some because of accusations that they are perpetrating "fake news."
Twitter users have raised concerns that Twitter would be "culpable" for any violence against journalists that resulted from threats to the press.
.@Twitter this post by @SheriffClarke has been reported by hundreds of people for inciting violence. Why does he still have an account? Why is he verified? Failure to remove makes you look culpable.
The tweet that triggered Clarke's ban was a close copy of a tweet by Trump in July, which showed a doctored, 10-year-old video of a fake fight. Trump is seen body-slamming WWE CEO Vince McMahon with the CNN logo superimposed over McMahon's head.
In Clarke's now-deleted tweet, his face was superimposed over the image of a wrestler, kicking a wrestler with a CNN logo on his head:
Journalist Ben Collins thought Twitter acted too slowly in removing Clarke's tweet, "after 49 hours online, if not for future PR purposes, why even bother?"
On Tuesday afternoon, one day into the new year, Clarke resumed his tweeting—with a much meeker tweet, one in line with Twitter's Terms of Service. "Saddle up!"
It was a battle cry about midterm elections.
He declined to tweet any explanation (colorful or otherwise) for being missing-in-action during his brief Twitter time-out.