David Dobrik Claims Convicted Pedophile Stole His $100K Iron Man Statue
YouTuber David Dobrik has claimed that a statue of Marvel superhero Iron Man—which he paid $100,000 for—has been stolen by a convicted pedophile.
During Wednesday's installment of his VIEWS podcast, Dobrik, 25, revealed that he ordered the item from China a year-and-a-half ago, but does not have it as the person whose home it was mistakenly delivered to is allegedly keeping it.
"They are refusing to give it to us," Dobrik said during the episode. "They're basically holding it hostage."
Dobrik went on to state that he wanted the statue to serve as a major component in his Los Angeles mansion, explaining: "This statue that I've ordered isn't just a statue. When I bought this home, it's the only thing that I knew was missing.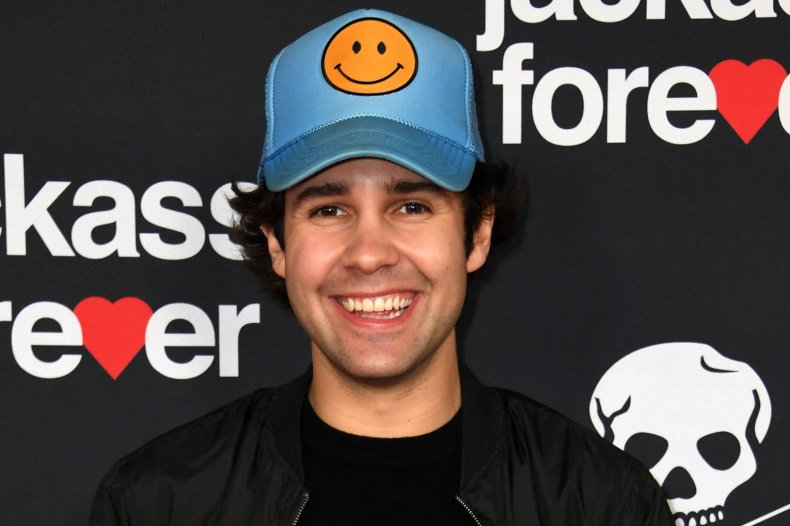 "And now, finally, after a year-and-a-half for it to finally be here and fulfill… this desire I've had for the completion of the project of my house, it all lies in Chatsworth [California] right now in some random b***h's apartment."
"The people that have our statue emailed the makers of the Iron Man in China, this is what they said," he continued, before reading out the communication.
"Your request to return Iron Man Mark 50 has come to my attention," he read. "While I am cognizant of the shipping error, once it arrived we made immediate plans to use it as a centerpiece in a forthcoming press conference…
"I am respectfully requesting you to seriously reconsider your intention to reclaim the work and permit us to proceed to exhibit it as we had hoped."
Following the podcast recording, fellow YouTuber Jason Nash and Dobrik's assistant, Taylor Hudson, made the half-hour drive to confront the statue recipient, who they researched and discovered was the CEO of a museum.
Recounting the series of events to Dobrik, the pair said that a man sporting a Captain America T-shirt told them that the statue had been delivered to a warehouse, but could not give them the address.
Stating that they "knew he was lying," Nash told Dobrik that they continued to investigate the man they had spoken to once they returned to the car, after a photograph had been taken of the individual without his knowledge.
"Turns out, the guy is a convicted pedophile and could no longer be the CEO of the museum," Nash said, much to Dobrik's shock. "So he handed it over to somebody else. But he was totally lying to us.
"It's his company, he knows where the statue is, 100 percent he is behind it and is not giving you your statue back."
Nash went on: "And not only that, Taylor digs deeper and finds out that this guy is known for taking memorabilia and not paying for it. Like, that's his thing."
"We have to call the police," Dobrik said toward the end of his podcast. "That's f***ing scary."