YouTuber David Dobrik has issued an apology following allegations of sexual assault against him by former Vlog Squad members over a prank he orchestrated on Seth Francois in 2017.
The vlogger has this week broken his silence over the claims, saying that "consent is super, super important" to him.
In the video posted to YouTube titled "Let's talk" David says that he's "learned from" his mistakes and promised his subscribers that it won't happen again.
But what exactly happened in the now-deleted video with Seth Francois?
In February 2017, Dobrik and fellow Vlog Squad member Jason Nash pulled a prank on Francois, who has said what they did was sexual assault.
In the video, titled: "HE THOUGHT HE WAS KISSING HER!! (SUPER CRINGEY)," Francois, without his consent, is tricked into making out with Nash in a mask. Francois believed the person in the mask was fellow vlogger Corinna Kopf and that they were taking part in a pre-planned kissing scene.
Speaking on the H3 podcast last month, Francois said of the prank: "It was a video where David set up with Jason Nash and Corinna and said that I was supposed to do a make-out scene with Corinna and he was gonna have her in an old man mask and then switched her out with Jason Nash.
"After Jason pulled off his mask, I realized that I was just touched by someone I did not consent to."
Dobrik addressed Francois in his apology, saying: "With the Seth situation, I'm sorry to Seth."
He added: "I'm really sorry, I truly, truly am."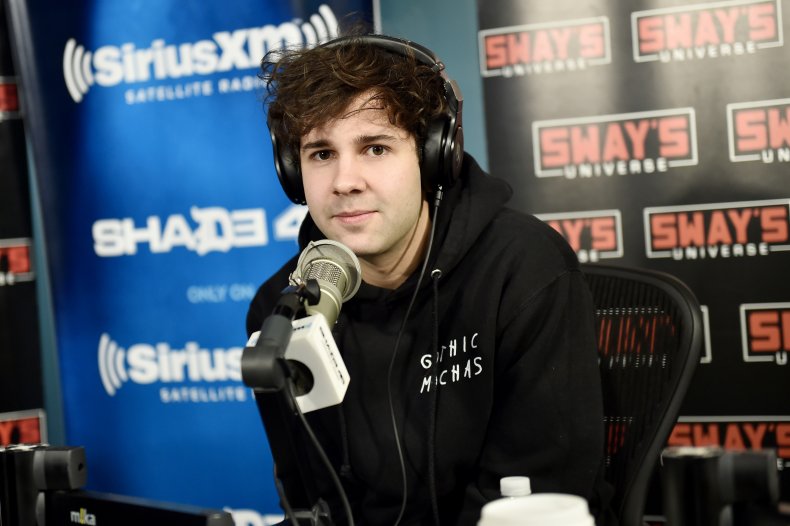 "Like I said, I just want to make videos where everyone who is participating is enjoying and having a good time. I missed the mark with that one. I am really sorry."
"Consent is something that's super, super important to me," David said in the apology video. "Whether I'm shooting with a friend or I'm shooting with a stranger, I always make sure that whatever the video I'm putting out, I have the approval from that person.
"I also acknowledge that there's times where a person can change their mind, and they decide that they no longer want to be associated and no longer want to be in the video that I'm putting up and then I'll take the video down. And there's also been moments where I've looked back on videos and I've realized that these don't represent me anymore and they're hurtful to other people, and I don't want them up because I've grown as a content creator and as a person.
"I just want to make videos where everybody in it, you know, whether you're participating or watching, is enjoying and having a good time, and I missed the mark with that one and I'm really sorry. I truly, truly am."
Another allegation has been made against the Vlog Squad after an anonymous accuser told Business Insider that Durte Dom, real name Dominykas Zeglaitis, sexually assaulted her.
The woman claimed that Dobrik was present on that occasion and filmed the accuser, and went on to use the footage for a consensual "threesome plot" in his vlog.
"With people in my life that I don't film with anymore, like Dom, I chose to distance myself, because I don't align with some of the actions, and I don't stand for any kind of misconduct," Dobrik said of that claim in his apology video. "I've been really disappointed by some of my friends."