David Dobrik has dropped 100,000 YouTube subscribers in the past month amid the ongoing Vlog Squad scandals.
Per statistics from Social Blade, the content creator is down an average of 23,000 subscribers a week for the past month and his month-on-month video views have dropped 20,491,098 in the same time frame.
The drop in social followers and engagement comes as a number of brands sever their sponsorship deals with Dobrik.
Meanwhile, on Instagram, Dobrik is down 103,560 followers this month, according to Social Blade.
Dobrik has found himself embroiled in a controversy after his fellow Vlog Squad member Dominykas Zeglaitis—who goes by the name Duerte Dom—was accused of rape.
The allegations against Zeglaitis have been made by a woman who featured in a since-deleted 2018 Vlog Squad video about group sex. The victim accused Zeglaitis of rape by engaging in sexual activity with her when she was too drunk to consent.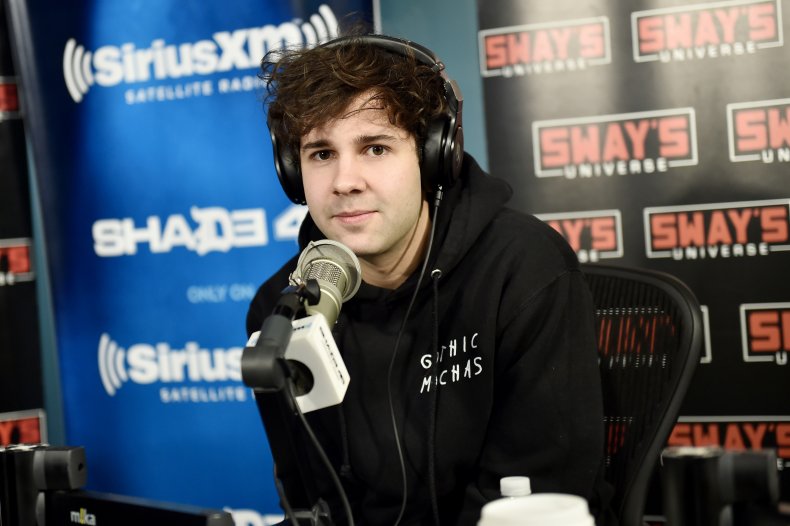 Hello Fresh, Door Dash, General Mills and EA Sports have all since ended their sponsorship deals with Dobrik.
Dobrik was also forced to apologize to Seth Francois over a prank he and Jason Nash orchestrated in 2017, which Francois has said was sexual assault.
Dobrik, 24, addressed the allegations against Zeglaitis in a YouTube video titled "Let's talk" that was published on March 17 and again in a second apology video that was published today, March 23.
"I have put myself in a lot of situations where I have needed to apologize for my past actions, and I have never done this correctly and never done this respectfully," Dobrik said in the most recent video about the situation. "My last video is a testament to that. I don't want to defend that video, I don't want to delete that video."
Speaking about the allegations against Zeglaitis in the latest video, Dobrik said: "I fully believe the woman who came out against Dom that she was sexually assaulted and raped by him. As it was reported, the next day, I got consent to post the video. Even though I got the consent to post the video, I should have never posted it. What I understand now, and what I didn't understand before is that she sent that text because she felt like she said to, not because she wanted to and that's f***** up, and I am sorry."
He also apologized to the girls for putting them in an environment that he "enabled and that made them feel their safety and values were compromised."
Dobrik also apologized for creating an "unfair power dynamic."