David Foster Wallace's Personal Files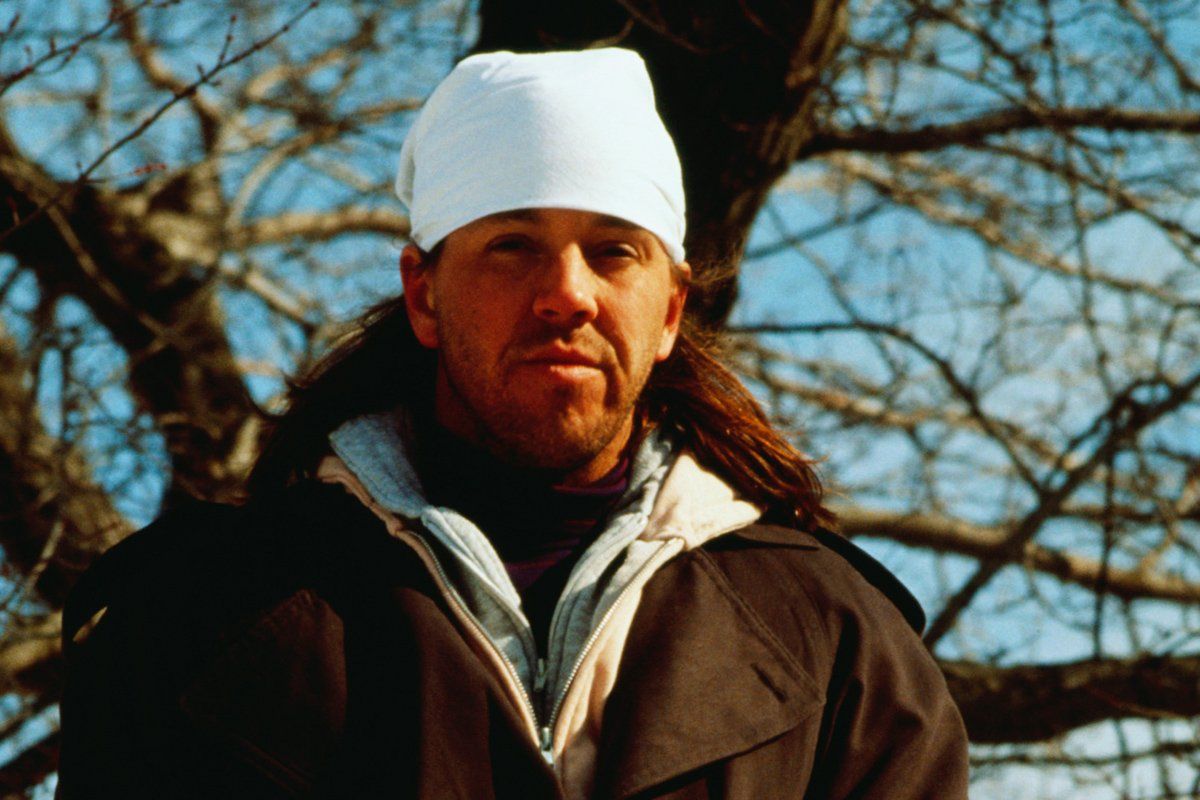 On Feb. 7, 1972, when David Foster Wallace was 9 years old, he began work on a creative-writing assignment—a one-page story narrated by a tea kettle. "Hi I am a kettle," his protagonist says, by way of introduction, adding: "Ouch! Listen I come to you for advice. This flame is real hot but I love my job." Never mind the lack of commas throughout—the sort of flub Wallace's later, grammar-obsessed characters might have fussed over. The earnest voice of this anthropomorphized appliance, which heats up water for the cruel Oomp family, quickly seems familiar. As it informs us of abuses suffered at the hands of the Oomps—who "kick me, scratch me, throw me … Mrs. Oomp even uses me for [the family] to throw up in. But I can't leave them"—we can already recognize a Wallace archetype.
While many children are capable of conjuring imaginative tales, the grade-school Wallace has an unusual empathy for the adult double-bind of finding purpose in a job that also brings misery. The kettle hopes that a solution ("I come to you for advice") may be found through the act of writing. All of this, heartbreakingly, is reminiscent of Wallace himself, the MacArthur-winning author of complex but emotionally gripping fictions such as Infinite Jest, who, after a lifetime spent battling depression, committed suicide in 2008.
Along with a complete Gutenberg Bible, some letters of James Joyce's, and collections of Don DeLillo and Norman Mailer, this tale of a tea kettle in extremis now rests in the University of Texas at Austin's Harry Ransom Center, as do more than 20,000 of Wallace's other papers and books. The extended drafts of Jest and his already quite long magazine essays are all present and accounted for in Austin as well. But unlike, say, DeLillo's papers, there's next to no personal correspondence in the Wallace archive. "He just didn't keep much of that," says Bonnie Nadell, Wallace's agent throughout his career and now the executor of his literary estate. She says Wallace resisted communicating much over e-mail until the 2000s, and even then only allowed himself a dial-up connection. "I'm sure [Jonathan] Franzen, being organized, has his letters from David all boxed up and organized, but David didn't work that way," Nadell says. Perhaps more than any other single page in the just-opened collection, it's the kettle story that conjures Wallace's formidable demons most concretely, by suggesting the painful joy he experienced as a writer.
Wallace's archive was bound to be unusual, given that it took shape during an emergency sort-and-salvage operation. After his suicide, Nadell drove out to join Wallace's widow, Karen Green, who was eager to move out of a haunted house. Together, the two began pawing through the writer's papers stacked in the garage where he had worked. It did not take them long to uncover something valuable, in the form of the unfinished novel The Pale King (set to be published next spring). Less-obvious gems followed, such as Wallace's teaching materials, and more than 300 heavily annotated books from his personal library.
Because he taught creative nonfiction and entry-level literature classes at Pomona College up until the spring before his death, Wallace was always revisiting the basics of prose and how to read it. His class materials take up a couple of boxes in the Ransom archive, providing readers with the opportunity to see which essays and stories Wallace assigned, and then read the professor's own marked copies of the works. You can see the lines of Lorrie Moore's short story "People Like That Are the Only People Here" that Wallace thought were either funny or "bad"—as well as how Wallace saw that Stephen King made the potentially stock character of Carrie into a fuller portrait. (When Wallace assigned genre fiction to his students, he warned them against slacking off. "Red Dragon is a hard novel, at least the way we'll be reading it," he wrote in one handout.)
These papers give us perspective on the writer-as-teacher, a persona not many of his peers developed. Even readers who aren't devoted fans of Wallace's fiction have shown an interest in his mind; witness the popularity of Wallace's essay collections, and the packaging of his commencement address, "This Is Water" as a stand-alone book. To the casual fan as well as the devotee, then, this archive offers a chance to take a sort of disembodied, intro-to-literature class from Wallace. For a man who regarded the written word as synonymous with nourishment, this is no small promise of intimacy.
The archive also corrects Wallace's reputation as one of the most abstruse of writers. Wallace's notes to himself in Tolstoy's essay "What Is Art?" strip back layers of received critical opinion and show a writer who is eager, above all, to connect. When Tolstoy throws down his decisive thunderbolt against art for aesthetics' sake—"it is upon this capacity of man to receive another man's expression of feeling and experience those feelings himself, that the activity of art is based"—Wallace underlines it emphatically, adding "Art as Empathy" in the margin (while the 9-year-old nods, somewhere, inside).
Separately, underneath the same paragraph, Wallace scribbles the note "Schopenhauer's Basis of Morality" (because, well—he was the best-read guy in the world, or so it can seem). Yet while Wallace took matters of literary style seriously, he also refrained from launching his considerable intellect into the stratosphere of postgraduate jargon. In the margins to his personal copy of Lost in the Funhouse—written by an early pope of American postmodernism, John Barth—you can read along with Wallace as he bristles at the limitations of the high-academic style. Barth's writing seems to him "Talmudic—obsessed w/its own interpretation"—a line that winds up, nearly verbatim, in the mouth of a Wallace character in the novella Westward the Course of Empire Takes Its Way. (Wallace also wrote character names and plot elements for Westward into the margins of Funhouse, making his copy of the Barth book both a mashup first draft and a vortexlike wormhole of 20th-century American fiction.)
The progression of Infinite Jest drafts at the Ransom Center shows greater and greater emphasis on the novel's characters, often at the expense of stylish literary asides. This 1,079-page novel about addiction and entertainment in America—featuring an elite tennis academy, a halfway house, and Canadian terrorists stirring up byzantine havoc—established Wallace's reputation more than any other book. Not surprisingly, it is one of the most deeply documented sections of the Ransom archive, and includes many scenes and digressions that did not make it into the published edition. One riff, cut from the finished novel, involves a hilariously hard grammar quiz proctored by one protagonist's mother; another features a panhandler extraordinaire who shows up at the halfway house, eager to relate his secrets for fleecing sleek-suited financial types. (Both vignettes, as well as other selections from the archive referenced in this article, are available at Newsweek.com.)
More substantially, the early drafts of Jest reveal Wallace's thinking about the lethal, DVD-like "Entertainment" at the heart of his novel's plot—a video "cartridge" so diverting that a viewer can stop watching it only when she dies. (In one draft, Wallace considered delivering a copy of "the Entertainment" to the character of Don Gately.) There's also considerably more dialogue among the Canadian terrorists and competing intelligence agencies than Wallace's editor could personally stomach, though a full accounting of this bonus material will be manna to the leagues of Jest admirers. "I know there were people who felt David was too much of a 'look ma no hands' kind of writer, fast and clever and undisciplined," Nadell wrote recently, on the Ransom Center's Web site. "Yet anyone looking through his drafts and even his books will see the levels of thinking that went into every sentence and every page."
It will be fittingly postmodern if an archive without personal correspondence and heavy on other writers' original texts can recast an author's reputation. Most of the profiles written lately about his colleague Franzen (and there have been more than a couple) mention Wallace in some fashion, usually as a foil for Franzen's status as the last "realist" standing. And yet Wallace—who, in McCain's Promise, literally wrote the (short) book on the maverick senator's quest for the Republican presidential nomination in 2000—never shrank from pursuing an understanding of the contemporary world.
Once Pale King, his unfinished novel about IRS agents trying to make moral sense of the bureaucratized life, is released next year, drafts and other errata that won't make the final cut will be added to the Ransom center's holdings. But some of Wallace's research for the book is already there to explore. One fascinating folder contains Wallace's typed letters to a tax lawyer, complete with questions about the single most confusing sentence in the tax code. (The lawyer responded in some detail, and it's easy to imagine Wallace working digressive wonders with a footnote about all that information.) During one of the accounting classes Wallace took while researching the novel, he scribbled notes about tax shelters and reminded himself to ask questions later about the role a 1979 FEC ruling played in the creation of "soft money" donations to political campaigns. "Accountants are cowboys of information," Wallace scrawled in one of those accounting notebooks.
No mean perceiver of the real himself, Wallace was still laboring to make sense of the big questions regarding money, politics, and civic philosophy. That he also could bring this across with humor, and with an occasionally head-spinning bit of syntactic erudition, was gravy. The novelist who wrote on politics and taught the finer points of genre fiction to college freshmen wouldn't have recognized the portrait of a purely pomo author we still have today. Now that we can hear more from a man who silenced himself too soon, neither should we.