David Harbour and Lily Allen's Relationship Timeline
David Harbour thinks the odds were stacked against him when he first sat down for dinner on his first date with his now-wife Lily Allen.
The actor and the musician have been together since 2019 and are now just two months away from celebrating their first wedding anniversary.
In an interview with The New York Times, Harbour opened up about being at his worst "physically and hair-wise" when he first met Allen.
Fortunately their relationship blossomed from their and Harbour has improved his physical well-being too. They've been together throughout the pandemic and live with Allen's kids from a previous relationship.
David Harbour and Lilly Allen's First Date
Harbour revealed all about his first date with Allen in The New York Times. They sat down for dinner at The Wolseley restaurant in London between shooting scenes for the Marvel movie Black Widow.
"It's a true testament to my undeniable charisma when I say that my wife met me at 280 pounds with this beard and this hair," he said," she really fell for me at my worst, physically and hair-wise."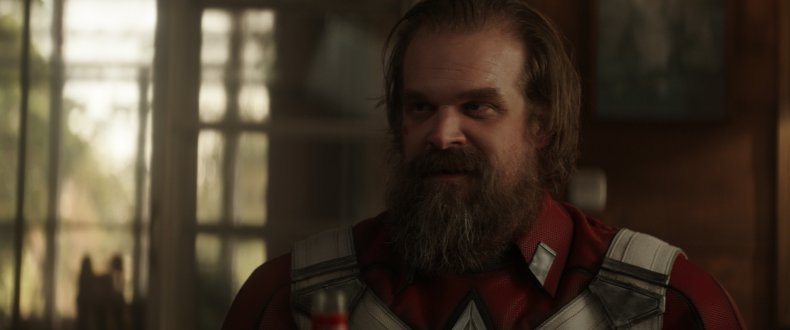 While he may not have felt very attractive at the time, Allen thought he looked like Leonardo DiCaprio. She told Sunday Times Style: "I remember looking at him, and it reminded me of Leonardo DiCaprio in Titanic, you know? When she's going to meet him under the clock. And, by the way, it was my first date ever. I had never been on a date! I was so anxious."
They first arranged to meet after initially matching on the celebrity dating app Raya, according to Allen.
Eventually the pair went public with their relationship.
Harbour first tagged Allen in an image on his Instagram account on October 28, 2019.
He posted another a few days later making fun of a newspaper headline suggesting Allen was "downcast" after stepping out without him.
Meanwhile, Allen waited until January 20, 2020 until she first posted a picture of them together on her Instagram account.
She shared a red carpet photo of them at the 2020 SAG Awards.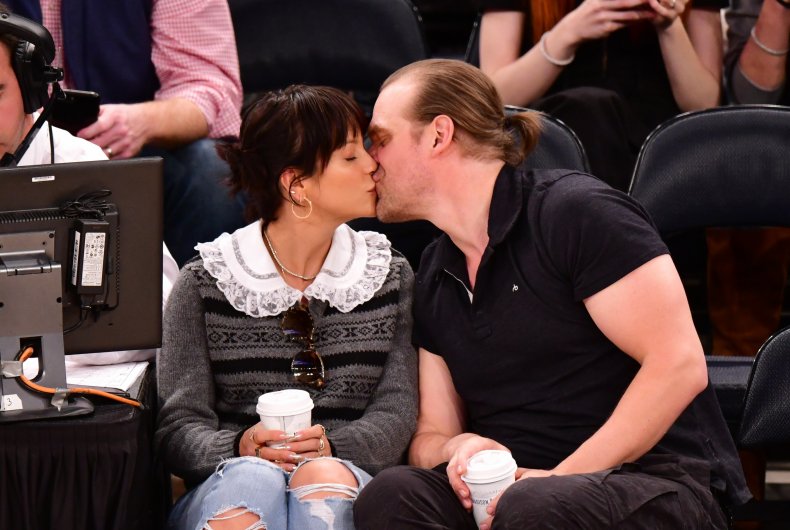 When did David Harbour and Lily Allen get married?
The couple's whirlwind romance grew from their first date, and they got engaged just before the pandemic and were married later that year on September 7, 2020.
They both shared pictures of their Las Vegas ceremony online with Harbour wearing a suit and Allen wearing an off-the-shoulder Dior mini dress she rented an hour before the ceremony.
In typical Vegas style, the wedding was officiated by an Elvis impersonator. The wedding's low-key aesthetic continued as they enjoyed an In-N-Out Burger meal after the ceremony with Allen's kids.
David Harbour and Lilly Allen's family dynamic
Allen has two children from a previous relationship with Sam Cooper, a builder and decorator. She gave birth to her first daughter Ethel Mary in 2011 and her second Marnie Rose in 2013.
She was married to Cooper from 2011 to 2018 when they had a "friendly divorce."
While Allen and Cooper still share custody of their daughters, Harbour has become involved in the family dynamic and often posts cute videos and photos of time he spends with the girls.
Harbour recently discussed the set-up on Jimmy Kimmel Live! revealing what Allen's daughters think of him.
While the youngest one was trying to define what role Harbour was playing in the family, the older daughter said he's not their dad, "he's just some guy in our lives."
Harbour said he then decided he had to marry this woman because of the emotional fallout.
The project Harbour was working on when he first met Allen, Black Widow, is finally out. The Marvel movie is available to watch in cinemas and on Disney+ via Premier Access now.
Harbour can also be seen in the new Steven Soderbergh movie No Sudden Move which is available to watch on HBO Max now. The couple attended the premiere of the movie at the Tribeca Film Festival in June this year.