David Harbour Wants to Know if Hopper Is Alive in 'Stranger Things' Season 4, Too
Stranger Things fans are dying to know if Jim Hopper is alive after a Season 3 theory claimed he may be. Actor David Harbour, who plays Hopper, wants to know, too.
At the end of Season 3, it was implied Hopper sacrificed his life so the kids and Hawkins citizens could live. A post-credits teaser showed a Russian base communicating about "the American" they'd seemingly captured. Some think the American is really Hopper.
Harbour revealed even he doesn't know the fate of Hopper in a conversation with Seth Meyers on Late Night With Seth Meyers. "Well, here's the thing. I always knew that Hopper had to make a sacrifice. Like, he's a jerk, and he also needs to pay for that in some way.… So I thought he'd make the sacrifice," Harbour explained.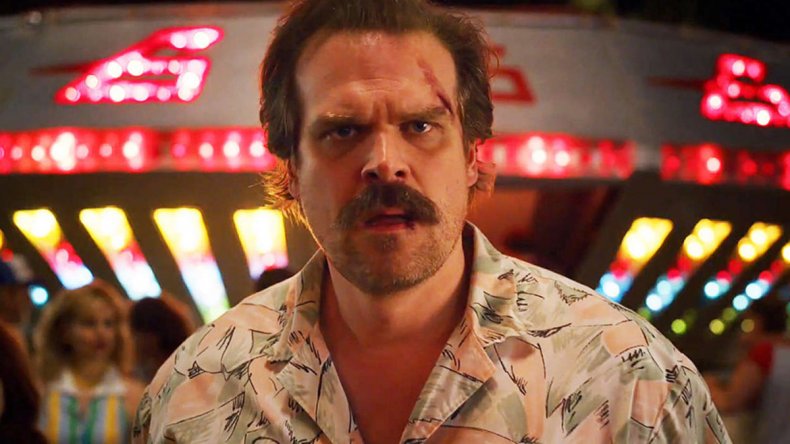 He also said when reading the post-credit scene, he assumed Hopper may be alive. "And I was like, 'Oh, clearly I'm the American.' And then I haven't gotten many phone calls," Harbour explained.
On the late-night talk show, Harbour played into the rumors by FaceTiming the show's creators, Matt and Ross Duffer, also known as the Duffer Brothers. He questioned if Hopper is really dead. "I mean, we're still figuring it out, David," Ross explained.
Harbour responded. "You guys are a ton of help. Really wonderful work. Good luck with Season 4."
Stranger Things Season 4 was announced last week. With the revival of the popular Netflix original series, fans were quick to jump into conversations about Hopper's fate. A teaser trailer for the fourth season showed the infamous Upside Down, a sci-fi-like land that's home to terrifying monsters. In the dark imagery, some claimed to see a flashlight, or other, man-made light source, that could be held by a human residing in the nightmare land.
The third season of Stranger Things premiered in July. That means it will be a while before Netflix airs a fourth season.
In addition, the Duffer Brothers revealed a multiyear contract that will allow them other creative opportunities in partnership with Netflix.
"We are absolutely thrilled to continue our relationship with Netflix. Ted Sarandos, Cindy Holland, Brian Wright and Matt Thunell took a huge chance on us and our show—and forever changed our lives. From our first pitch meeting to the release of Stranger Things 3, the entire team at Netflix has been nothing short of sensational, providing us with the kind of support, guidance, and creative freedom we always dreamed about," they said in a statement reported in Variety on September 30. "We can't wait to tell many more stories together—beginning, of course, with a return trip to Hawkins!"