Donald Trump's Old Tweets About Ted Cruz Will be Posted on Texas Billboard After David Hogg Campaign
David Hogg, a survivor of the school shooting in Parkland, Florida, and the head of an anti-Trump, anti-NRA Super PAC raised more than requested on GoFundMe to put up a Texas billboard featuring Trump ridiculing Sen. Ted Cruz.
Incumbent Republican Cruz, who is embroiled in a heated U.S. Senate race with Democrat Beto O'Rourke, received the endorsement of President Donald Trump via Twitter Friday.
The president said he will hold an October political rally for Cruz, who he had once labeled "Lyin' Ted" during their 2016 GOP presidential campaign fight. Hogg and Mad Dog PAC chief Claude Taylor set up a GoFundMe which already raised double the $6,000 needed to put up a billboard at the rally showing Trump's negative remarks about Cruz from 2016.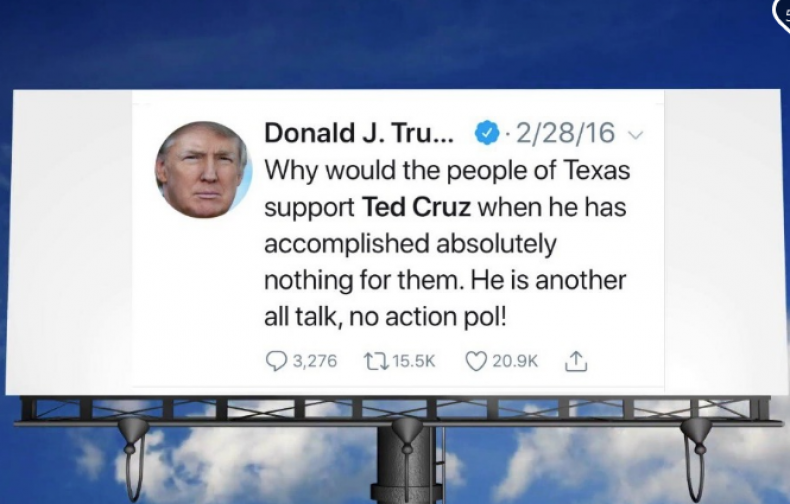 The billboard will be placed at "the biggest stadium in Texas," where Trump's words would read, "Why would the people of texas support Ted Cruz when he has accomplished absolutely nothing for them. He is another all talk, no action pol!"
Trump's tone changed dramatically Friday, when he took to Twitter to endorse the fellow Republican ahead of his close upcoming election. "I will be doing a major rally for Senator Ted Cruz in October. I'm picking the biggest stadium in Texas we can find. As you know, Ted has my complete and total Endorsement. His opponent is a disaster for Texas - weak on Second Amendment, Crime, Borders, Military, and Vets!" Trump tweeted Friday.
Hogg, the 18-year-old survivor of the February Parkland, Florida school shooting, tweeted about the success of the Texas billboard Saturday. "Yep, the bill board is happening :) @realDonaldTrump what do you think 'Lyin Ted' will say when he sees this? Can't wait for our friends in Texas to see this, I love it."
Texas A&M's Kyle Field in College Station, Texas would top the list of the Lone Star State's largest stadiums. But Trump has not specifically confirmed the location of the suggested October rally for Cruz.
On Sunday, Michael Avenatti, the attorney for the adult fim actress Stormy Daniels, currently embroiled in a legal battle with Trump over an affair she alleges the two had, and a subsequent payoff that Trump's lawyer has pled guilty to making in exchange for her silence about it in the run-up to the election, said he would hold a rival rally at the same time.