David Icke, Man Behind Coronavirus 5G Conspiracy, Has YouTube Channel Shuttered for Sharing Misinformation
YouTube has deleted the account of David Icke, a conspiracy theorist who has touted the myth that the COVID-19 pandemic is linked to 5G.
Icke's account was removed after YouTube decided he broke its rules on sharing information about COVID-19, a disease which has infected more than 3.4 million people worldwide, according to numbers tracked by Johns Hopkins University.
A spokesperson for the video sharing site told Newsweek: "YouTube has clear policies prohibiting any content that disputes the existence and transmission of Covid-19 as described by the WHO [World Health Organization] and the NHS [the U.K's healthcare system].
"Due to continued violation of these policies, we have terminated David Icke's YouTube channel."
The decision comes after Facebook took down Icke's official page on Friday. A spokesperson for Facebook told Newsweek: "We have removed this Page for repeatedly violating our policies on harmful misinformation." Newsweek has contacted Icke for comment.
Last month, Professor Stephen Powis, NHS England's national medical director, addressed the 5G COVID-19 conspiracy theories, which have lead to dozens of phone masts being set on fire in the U.K.
Powis told reporters on April 4: "5G story is complete and utter rubbish... It's nonsense. It's the worst kind of fake news."
Cabinet secretary Michael Gove said the idea that 5G helps to spread the coronavirus is "just nonsense, dangerous nonsense as well."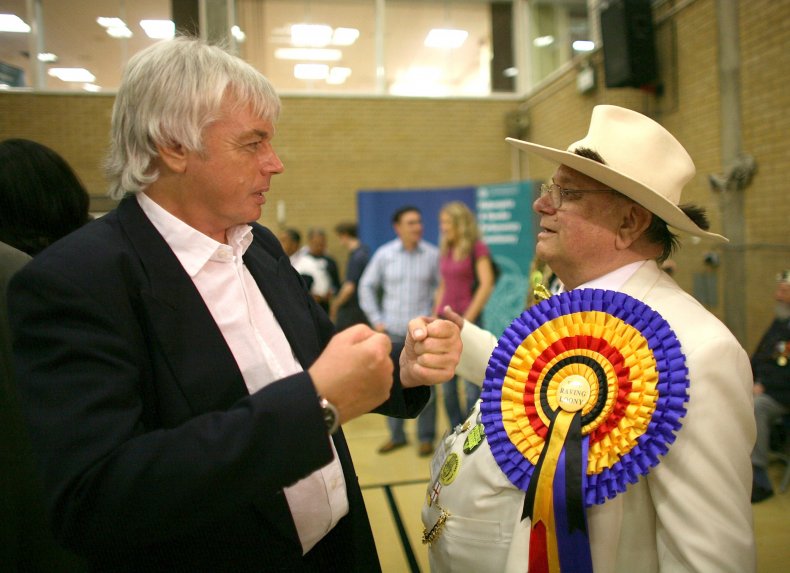 Icke, a former football player, is among those to make such false claims. Last month, he appeared in a live-stream video on YouTube in which he spoke about the mast fires.
"If you look at the situation and if 5G continues and reaches where they want to take it, human life as we know it, it's over," he said. Icke also made the baseless claim that a coronavirus vaccine would be fitted with "nanotechnology microchips" which would be used to control humans.
The Center for Countering Digital Hate has been campaigning for Icke to be removed from across social media. According to its website, the organization was set up to "deal with the increasing use of racial and religious intolerance, sexism, homophobia, and other forms of identity-based to polarize societies and undermine democracy." It claims videos of Icke spreading conspiracy theories about the pandemic have been viewed at least 30 million times across social media platforms.
Imran Ahmed, chief executive of CCDH commented according to The Guardian: "We commend YouTube on bowing to pressure and taking action on David Icke's channel."
This article has been updated with comment from Facebook.