Climate Change Denier Hails NOAA Hiring Climate Change Denier: 'This Is the Kind of Thing We Have Been Pushing For'
The Trump administration has appointed a climate change denier to a senior position within the U.S. National Oceanic and Atmospheric Administration (NOAA) in a move that has been widely criticized by scientists.
Unsurprisingly, fellow denier Myron Ebell hailed the appointment of David Legates, stating it would help get "real science into the assessment, instead of junk science, which NASA and NOAA have been doing for years."
Legates, a professor of geography at the University of Delaware, has a longstanding history of disputing the consensus science on climate breakdown. In a testimony at a subcommittee hearing on ocean health last year, he said: "Climate has always changed, and weather is always variable, due to complex, powerful natural forces. No efforts to stabilize the climate can possibly be successful."
According to Science magazine, Legates previously suggested burning fossil fuels would make the planet more habitable for humans. He said trying to combat climate change would do more harm than good and that increasing carbon dioxide emissions was a good thing.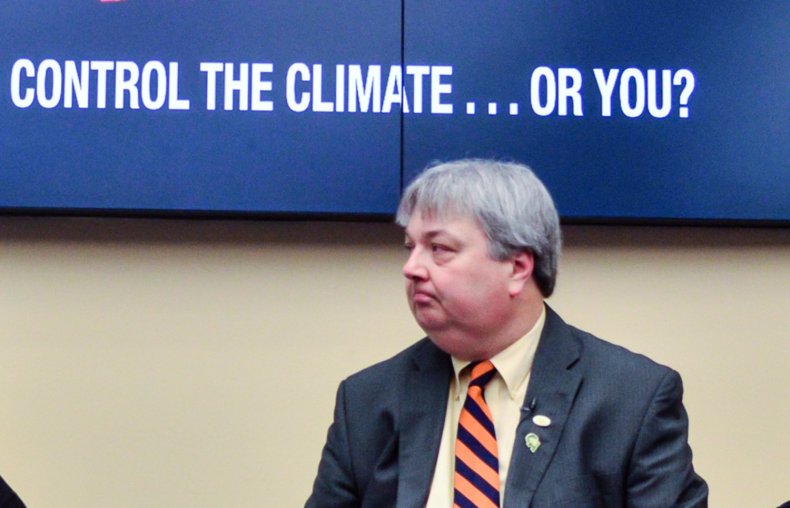 Ebell, who was formerly in charge of President Donald Trump's Environmental Protection Agency transition team and is the director of the Center for Energy and Environment at the Competitive Enterprise Institute, told Science this is the direction the administration will be going in should the president win a second term in the November election.
He said Legates would play a big role in the next National Climate Assessment, which looks at impacts of climate change on the U.S. "It's a very good sign that after sitting on their hands for three-and-a-half years, the administration is finally going to inject some science into official climate science," Ebell told the magazine. "This is the kind of thing we have been pushing for since before Trump was elected, to get real science into the assessment, instead of junk science, which NASA and NOAA have been doing for years."
It is widely accepted among the scientific community that the burning of fossil fuels and subsequent release of greenhouse gases has led to an increase in global temperatures. While climate change does happen naturally, the current trends are unprecedented and cannot be attributed to natural fluctuations alone.
Legates has been appointed as deputy assistant secretary of commerce for observation and prediction of the NOAA, according to NPR. The move has been widely condemned by climate scientists.
"David Legates has spent his career attacking mainstream climate science and serving as a mouthpiece for the fossil fuel industry," Michael Mann, professor of atmospheric science at Pennsylvania State University, said in an email to Newsweek. "It is truly atrocious that someone who has shown such antipathy for science would be appointed to a high-level position within NOAA.
"It is particularly misguided, at a time when the devastating impacts of climate change are playing out before our very eyes in the form of unprecedented wildfires out West and super-storms back East, that someone like Legates would be appointed to position of leadership at an agency that is tasked with assessing the risks we face from climate change-fueled extreme weather events."
Jane Lubchenco, the former head of the NOAA and marine biologist at Oregon State University, tweeted: "The last thing the world needs is the appointment of a climate denier to a key senior position at NOAA, the science agency that tells the truth about #ClimateChange."
In an interview with NPR, she said of the appointment: "He's not just in left field—he's not even near the ballpark."
Mark Nevitt, Associate Professor of Law at Syracuse University, focuses on climate change and environmental law. He told Newsweek Legates' views on climate change were "out of step" with scientific consensus and that the appointment "does not bode well for federal climate research at NOAA in the short term."
"It is reasonable to anticipate that Legates will be challenging the work of many of the climate scientists and career non-political appointees that will report to him," he said in an email. "Whether this has a chilling effect on objective, peer-reviewed climate research at NOAA remains to be seen."
Katharine Hayhoe, atmospheric scientist and professor of political science at Texas Tech University, tweeted: "NOAA has hired a man who explicitly rejects 170 years of published peer-reviewed climate science to 'help shape' the U.S. National Climate Assessment, a comprehensive summary of the peer-reviewed science authored by hundreds of fed and non-fed scientists."
Hayhoe said the "only consistency" in the arguments from climate change deniers like Legates was to prevent climate action. "They don't care which argument they have to use to ensure that outcome—it's not happening, it's not us us, it's not bad, it's too expensive, or it's too late. They all lead to the same place."
In response to the news, Peter Gleick, co-founder of the Pacific Institute in Oakland, California, tweeted: "The bottom of the barrel has been scraped pretty thin."
The appointment was also criticized by Sheldon Whitehouse, a member of the U.S. Senate from Rhode Island, who tweeted: "Sneaking a notorious climate change denier into a top position at NOAA is disturbing. David Legates is an operative of the climate denial machine, sent to degrade the scientific independence of a federal agency Americans rely on."
This article has been updated to include quotes from Mark Nevitt.
Correction 6.45 a.m. ET: Jane Lubchenco's affiliation has been corrected to Oregon State University.