David Letterman Thought Howard Stern Had No 'Feelings' in Shock Jock Era
Late-night talk show legend David Letterman stated he was "afraid" of Howard Stern during his shock jock days because he thought Stern had no feelings.
Letterman has retired from the late-night scene but still occasionally pops up, and he commented on his relationship with Stern during an appearance on Jimmy Kimmel Live, which was broadcast from New York City's borough of Brooklyn on Tuesday.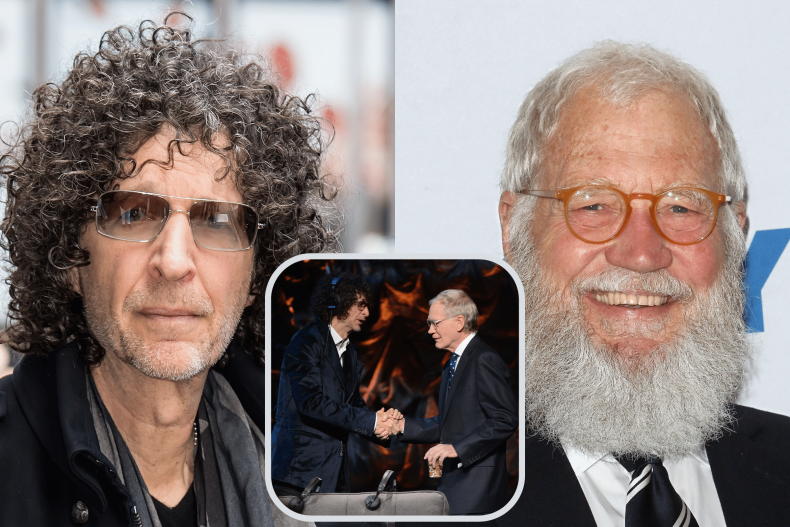 He recalled to Kimmel how he and Stern worked in the same building just 30 years ago, but Letterman tried to steer clear in an attempt to stay on the radio host's good side.
"In those days Howard was 'shock jock Howard,' and I was always afraid of Howard," Letterman told Kimmel. "I didn't want Howard to say unpleasant things about me—but he did.
"And I kept thinking to myself: He must not have any feelings because he would say hurtful things and the more hurtful things he would say, the greater his audience would become, and I thought, I'm in the wrong business here," Letterman said.
Stern is best known for hosting The Howard Stern Show from 1986 to 2005 on terrestrial radio before moving over to Sirius XM Satellite Radio in 2006. He averaged 20 million listeners at his peak and has been involved with numerous controversies over the decades. He even had a stint judging on America's Got Talent.
Letterman continued, "Now over the years, Howard and I have spent some time together, and I've gotten to know Howard, and he was such a sweet man to apologize for intimidating me. 'I'm sorry I frightened you,' and I got to know him as a completely different guy." Letterman added that he only speaks to Stern about once a year, "that's enough," he quipped. "I think arm's length may be the way to go here."
After over 50 years on the airwaves, 68-year-old Stern continues to remain relevant in pop culture and in politics. Recently, he welcomed Jon Hamm onto his show where the pair made headlines for their conversation about the Real Housewives of Beverly Hills.
Elsewhere Stern's numerous comments about former President Donald Trump often riles up his supporters. Earlier this month, he said there's seemingly "no laws for Donald Trump" after the Department of Justice failed to indict him for his handling of classified documents. He also angered many in August by calling Trump supporters "morons" and suggesting they should "live in Russia." On both occasions, Newsweek reached out to Trump and Stern for further comment.