David Perdue Concedes Georgia Senate Race to Jon Ossoff, Forgoes Legal Challenge to Results
Days after his campaign said it would "exhaust every legal recourse" to make sure all legal ballots were counted, Republican Senator David Perdue conceded his runoff election to Jon Ossoff.
In a statement released Friday, Perdue said that serving Georgia in the U.S. Senate "has been the honor of a lifetime" and that he and his wife were "deeply grateful" for the support he received over the years.
"Although we won the general election, we came up short of Georgia's 50% rule, and now I want to congratulate the Democratic Party and my opponent for this runoff win. Bonnie and I will continue to pray for our wonderful state and our great country. May God continue to bless Georgia and the United States of America," the statement read.
As of 3 p.m. Friday, Ossoff led Perdue by 1 percent, or roughly 45,000 votes. For Perdue to be able to request a recount, the margin of victory had to be equal to or less than 0.5 percent.
Perdue's concession appears to be a reversal from the statement his campaign put out Tuesday night, in which it vowed to "mobilize every available resource and exhaust every legal recourse to ensure all legally cast ballots are properly counted."
"We believe in the end, Senator Perdue will be victorious," the campaign said at the time.
Newsweek reached out to the Perdue campaign for further comment on his concession and threats of potential legal action, but did not receive a response before publication.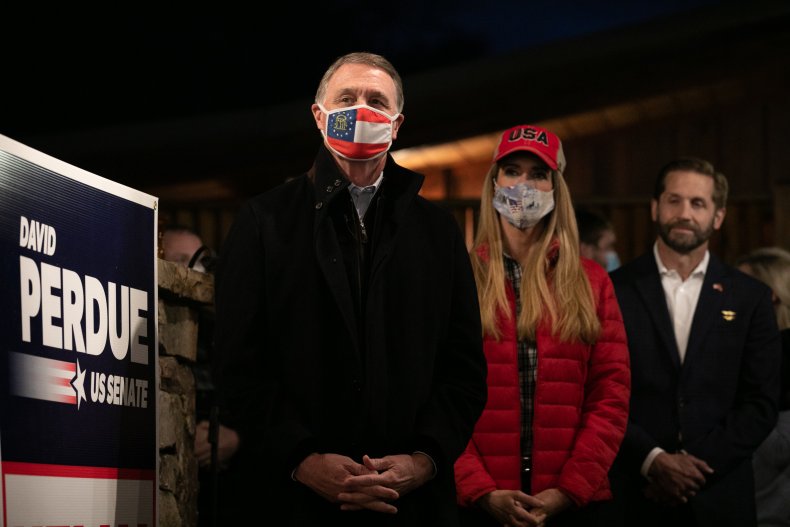 All eyes were on Georgia as the state's two Senate seats went to runoff elections on January 5. The unprecedented twin runoffs, between Ossoff and Perdue and Kelly Loeffler and Raphael Warnock, resulted because none of the candidates secured 50 percent of the vote in November's election.
In a video posted online, Loeffler conceded her race against Warnock on Thursday, thanking her supporters and promising to remain politically active. Warnock was projected the winner by the Associated Press at 2 a.m. Eastern time on Wednesday.
"I fully intend to stay in this fight for freedom, for our values and for the future of this great country," Loeffler said.
Ossoff's and Warnock's victories gives majority control of the U.S. Senate to the Democratic Party, as Vice President-elect Kamala Harris will be able to cast any tie-breaking votes in the evenly split chamber.
"We are sending an African-American pastor of Ebenezer Baptist Church, where Martin Luther King Jr. served, and also Jon Ossoff, a young Jewish man, the son of an immigrant, to the U.S. Senate," Warnock told ABC's Good Morning America earlier this week. "This is the reversal of the old Southern strategy that sought to divide people. In this moment, we've got to bring people together in order to do the hard work."