David Perdue Defends Trump's Call to Fox News, 'Something Untoward Happened Here in Georgia'
Georgia Republican Senator David Perdue on Monday defended President Donald Trump's call with Secretary of State Brad Raffensperger, who was pressured by the president to alter the state's election results.
While appearing on Fox News, Perdue was asked about the leaked call, which was published by The Washington Post on Sunday.
"I didn't hear anything in that tape that the president hasn't already said for weeks now since the November election calling for some sort of investigation, some sort of resolution to the improprieties and the irregularities that we now see happened in November here in Georgia," Perdue said. "What he is saying, a lot of people in Georgia and 75 million Americans, I think, align with him right now that something untoward happened here in Georgia, and we have not gotten to the bottom of it."
During his interview, Perdue, who will face Democratic candidate Jon Ossoff in the state's Senate runoff election on January 5, also called the leaked call "disgusting."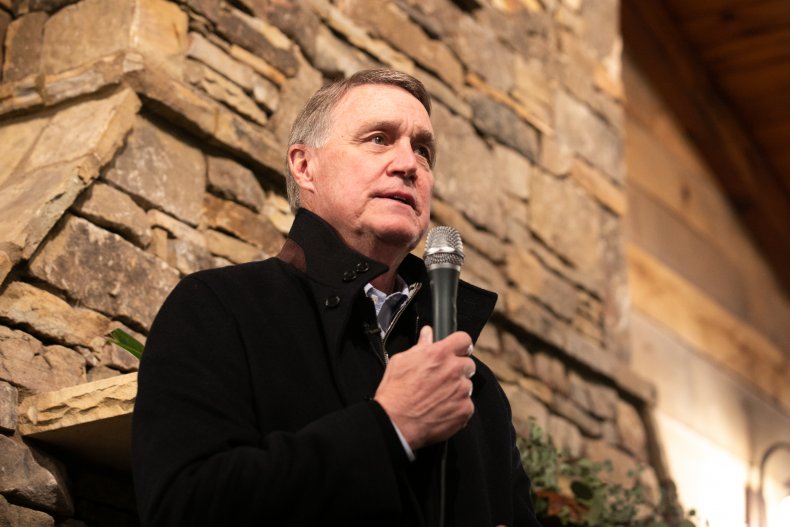 Perdue's comments come one day after the call was leaked, where Trump can be heard stating that the ballots in Georgia "are corrupt," and asked Raffensperger to "find" more votes that would provide Trump with a victory in the state.
"The ballots are corrupt," Trump said on the call. "And you're going to find that they are—which is totally illegal, it is more illegal for you than it is for them, because you know what they did, and you're not reporting it."
He continued, "The people of Georgia are angry, the people of the country are angry," adding that "I just want to find 11,780 votes, which is one more than we have because we won the state."
After the call was leaked, Trump faced criticism from many Democrats and even some Republicans.
"This is absolutely appalling. To every member of Congress considering objecting to the election results, you cannot- in light of this- do so with a clean conscience," Illinois Republican Representative Adam Kinzinger wrote in a tweet.
While speaking at a rally on Sunday, Ossoff also criticized Trump, saying, "When the president of the United States calls up Georgia elections officials and tries to intimidate them…that is a direct attack on our democracy, and if David Perdue and Kelly Loeffler had one piece of steel in their spine, one shred of integrity, they would be out here defending Georgia voters from that kind of assault."
On the other hand, House Minority Leader Kevin McCarthy made comments similar to Perdue's while appearing on Fox News' Fox & Friends on Monday.
"The president has always been concerned about the integrity of the election, and the president believes there are things that happened in Georgia and he wants to see the accountability for it," McCarthy said.
Newsweek reached out to Perdue for comment but did not receive a response in time for publication.