David Perdue Says Georgia Senate Seats Are 'Last Line of Defense' Against Court Packing
Georgia Senator David Perdue said the state's two seats in the upper chamber were the "last line of defense" against Supreme Court packing and a raft of progressive policies, ahead of the all-important runoff contests in January.
Appearing on Fox News on Sunday morning, the Republican claimed the Democratic Senate Minority Leader Chuck Schumer would "change the rules" so his party could "do anything they want" with an effective majority in the Senate.
If Democrats were to unseat both Republican incumbents in Georgia it would create a 50-50 split in the Senate — handing Vice-President Elect Kamala Harris the power to settle tie-breaker votes.
Perdue added that Democratic control of the Senate could "do away with the electoral college" system and push through other reforms without Democrats negotiating with their Republicans counterparts.
Speaking to Maria Bartiromo on Sunday Morning Futures, he said: "Schumer will change the rules in the Senate so they can do anything they want with 50 votes plus the vice president's vote as a tiebreaker. They'll pack the court—they want to add four new Democrat seats by adding two new states—and they eventually want to do away with the electoral college.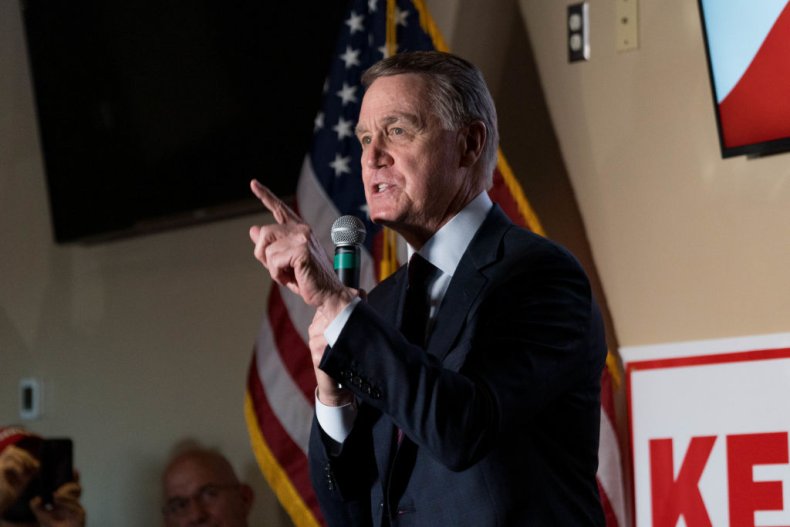 "That will allow them to perpetrate this agenda they've been espousing now through the presidential primary all year, and that is Green New Deal, they want to defund the police, open borders. They want to have sanctuary cities."
After claiming that Democrats would also seek to "take away" private health insurance with control of the upper chamber, Perdue added: "That's what's at stake here. We're the last line of defense."
Perdue is slated to defend his Georgia seat against Democratic challenger Jon Ossoff at the start of next year, while his GOP colleague Sen. Kelly Loeffler looks to fend off her rival Raphael Warnock in a special election.
Ahead of Georgia's runoff elections, Republicans have 50 Senate seats while Democrats have 48, having picked up one extra in this month's elections.
Georgia's runoff elections are scheduled for January 5 next year, roughly a fortnight before Joe Biden's inauguration. The outcome of the races could have a major impact on his first two years in office.
Ron Klain, who is expected to become Biden's chief of staff, told NBC News that the president-elect would be campaigning in Georgia as the Democratic Party ploughed "people, money, resources" into the state ahead of January's Election Day.
The first Georgia Senate runoff election poll published last week showed Sens. Loeffler and Perdue both leading their Democratic challengers by narrow margins.