David Perdue, a former U.S. senator who lost his seat to Democrat Jon Ossoff in one of Georgia's two January 5 runoff races, indicated he might run for office again in 2022.
In a lengthy Twitter post Tuesday, the Republican said he decided to keep his options open for an upcoming election in order to prevent Georgia from having two "radically liberal" senators, and to "regain a Republican majority in the U.S. Senate."
Though Ossoff defeated Perdue for a full term and will not be on the ballot again until 2026, Georgia Democratic Senator Raphael Warnock will have to run again in 2022, and Perdue is seriously looking to challenge him.
Alongside Ossoff, Warnock won during the January 5 runoff races, defeating GOP Senator Kelly Loeffler. Due to both Democratic challengers winning the Georgia runoffs, their party now has control of the upper chamber.
"Georgia is not a blue state, and yet, as I write this today, the people of Georgia are represented by two of the most radically liberal individuals to ever occupy a seat on the hallowed floor of the United States Senate," Perdue wrote. "They do not fairly represent most Georgians."
"Because we already have clear evidence of how radical the Biden administration will be, it is imperative that Republicans regain the majority in the U.S. Senate in 2022 to have a balanced government," Perdue added.
Perdue was first elected to represent Georgia in the Senate in 2014 and ran against Ossoff in his first bid for re-election during the 2020 general election.
In Georgia, state law says that a candidate must win at least 50 percent of the votes cast in an election in order to win. Since neither Perdue nor Ossoff reached that goal, both candidates participated in the January 5 runoff election, which Ossoff won by about 1.2 percent.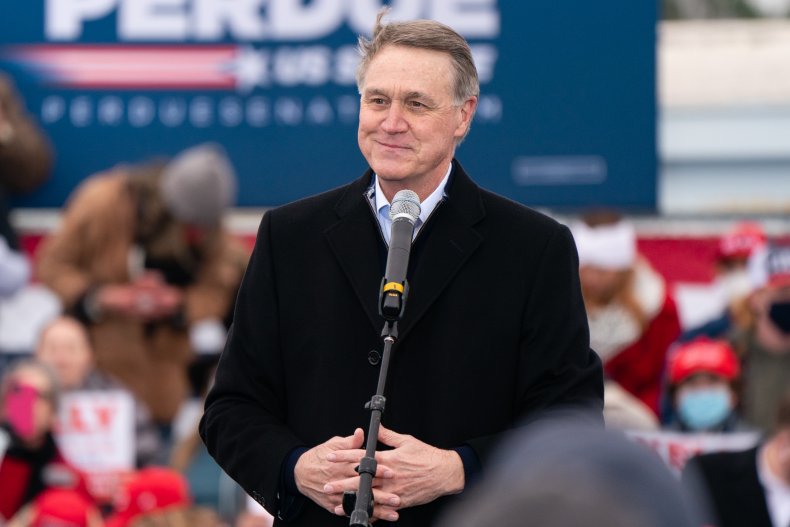 During the first race in November, Perdue led Ossoff by almost two points.
"More than 52 percent of Georgians rejected my opponent and the liberal Democrat agenda. Five million Georgians, the most ever, voted in that General Election and it is the best poll of where Georgia is right now," Perdue said Tuesday.
Warnock and Loeffler also had to focus on the January runoff race after failing to get a majority of votes in November, which Warnock won by two percentage points.
Though Perdue has not officially announced a run for Warnock's seat, the fact that he filed paperwork with the Federal Election Commission leaves the possibility open.
"Over the next few weeks, Bonnie and I will diligently consider our options about how to best serve the people of Georgia. My mom and dad were public school teachers who really cared for their students and they instilled in me this drive to lead and to serve," Perdue said Tuesday.
A top aide to Perdue told Politico on Tuesday that he is "close to making a decision" and "leaning heavily towards it."
Newsweek reached out to Perdue for additional comment, but did not hear back in time for publication.