In Georgia's Senate runoff race, both Republican incumbents, David Perdue and Kelly Loeffler have been outraised by their Democratic challengers, Jon Ossoff and Raphael Warnock, according to reports.
In one of the state's runoff elections, Ossoff raised $106.8 million, according to Bloomberg, which cited his campaign's latest filing with the Federal Elections Commission, during the period from October 15 to December 16. According to multiple reports, Ossoff ended the period with 17.5 million in the bank and spent $93.5 million.
In comparison, Ossoff's opponent, Perdue, raised $68.1 million and ended the filing period with $16 million cash on hand, according to Bloomberg.
Newsweek reached out to Ossoff and Perdue's campaigns but did not receive a response in time for publication.
In the state's special election, Warnock raised $103.4 million during the same period, according to Bloomberg, while his opponent, Loeffler, raised $64 million. Warnock spent $86.1 million at the end of the period and had $22.8 million in cash as of Thursday.
Loeffler had $21.3 million in the bank as her campaign enters its final weeks.
In an email sent to Newsweek, Warnock's campaign manager, Jerid Kurtz wrote, "We're humbled by the grassroots support and generosity that continues to power Reverend Warnock's campaign to represent all Georgians in the U.S. Senate."
"Millions of people have donated their time, energy and contributions to help us communicate with Georgians all over this state to help deliver Reverend Warnock's strong, moral leadership and bring change to Washington on January 5th," the email said.
Newsweek reached out to Loeffler's campaign but did not receive a response in time for publication.
Overall, both Democrats combined outraised their opponents by $78.1 million, according to Bloomberg. Each of the candidate's filings include money raised in the general election and the runoffs.
While the Democratic candidates outraised their opponents, all four candidates surpassed the $57.9 million raised by South Carolina Democrat Senate candidate Jaime Harrison in his race against GOP incumbent Lindsey Graham, which set the record for the most money raised in a quarter for any Senate candidate ever.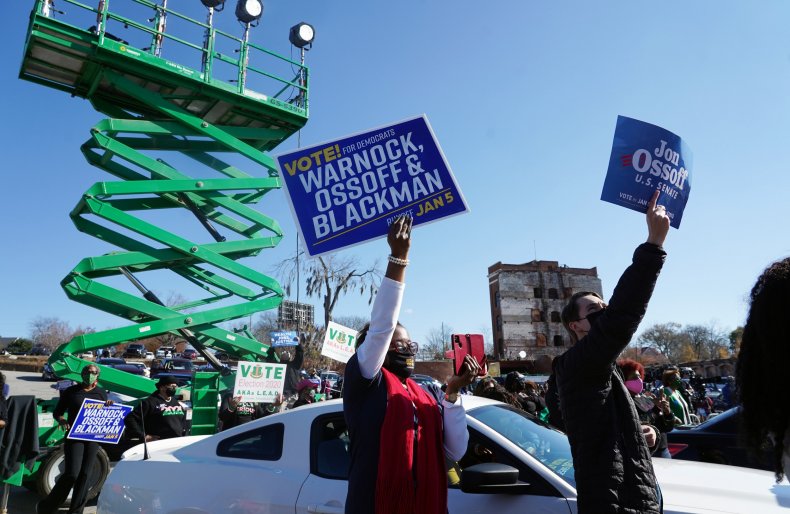 The fundraising reports from each of the candidates come less than a month before they face off in the Senate runoff election, scheduled for January 5. The race will decide if Republicans are able to maintain majority control of the Senate.
On the other hand, if both Democrats win, the Senate will be divided with each party holding 50 seats and Vice President-elect Kamala Harris will cast tie-breaking votes.
Many recently conducted polls have shown each of the races being tightly contested.
One poll conducted by InsiderAdvatnage/WAGA-TV, found Perdue leading Ossoff by one point (49 to 48 percent), while Warnock led Loeffler by two points (49 to 47 percent).
Another poll from Emerson College found both Republican incumbents leading by three points, as they each received 51 percent of support compared to 48 percent received by both Warnock and Ossoff.
Updated December 25, 2020, 11:40 a.m. ET, to include a statement from Warnock's campaign.