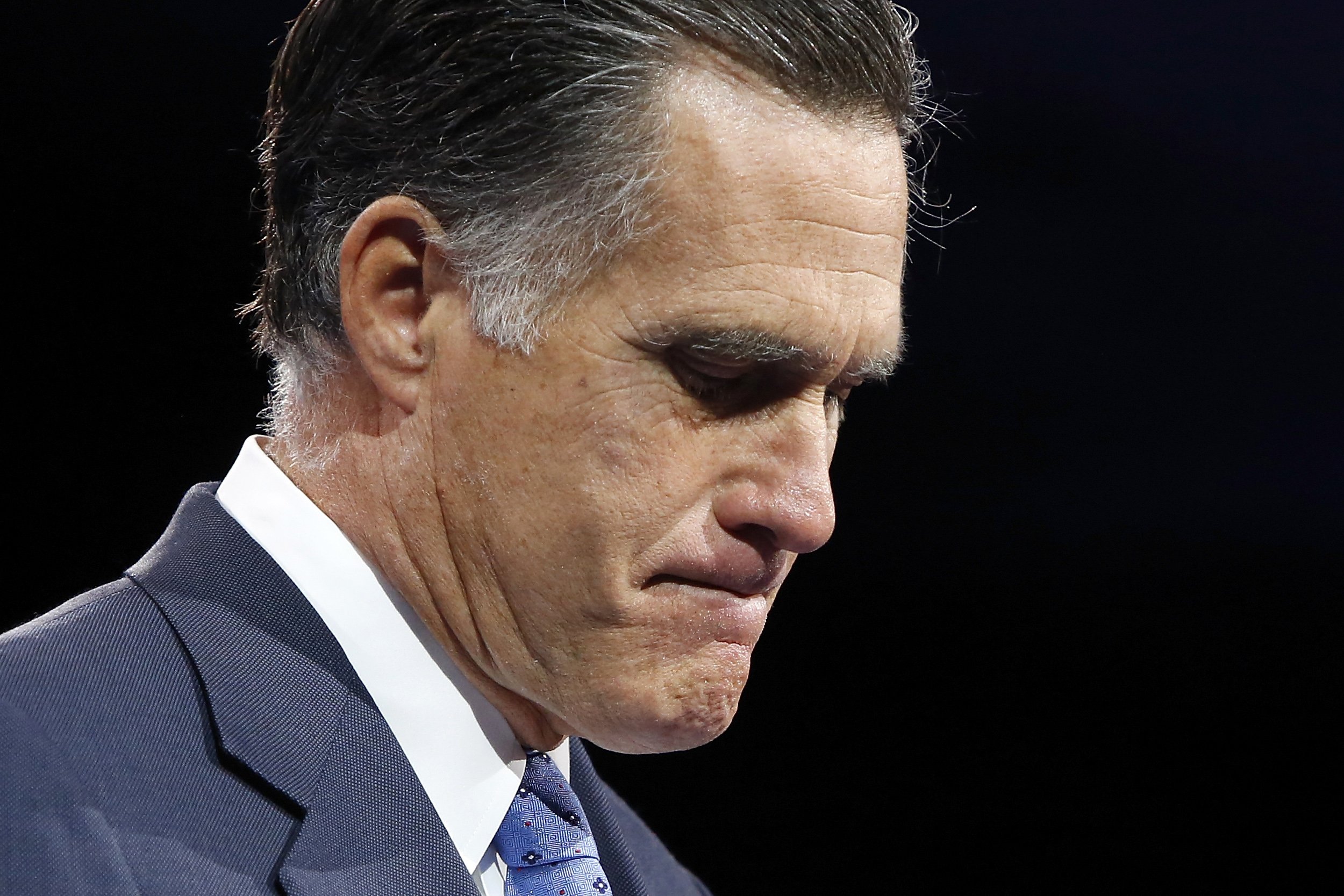 Two years ago, Republican Mitt Romney, a former private equity businessman, tried to run for president as a job creator but instead got slammed for gutting companies and outsourcing jobs.
Now, Republicans in Georgia have just selected Romney 2.0 -- or at least that's what Democrats want voters to think.
After a bruising primary followed by a nasty run-off, businessman David Perdue emerged late Tuesday as the Republican nominee for Georgia's open Senate seat this November. Perdue will face off against Democrat Michelle Nunn.
Both candidates have positioned themselves as outsiders, despite their political pedigrees: Nunn is the daughter of former Georgia Democratic Senator Sam Nunn; Perdue is the cousin of former Georgia Republican Governor Sonny Perdue. Also on the ballot, state Senator Jason Carter, grandson of former President and Georgia Governor Jimmy Carter, is running to unseat Republican Governor Nathan Deal.
But Democrats, who are mounting a credible bid for the seat in red Georgia, don't want voters to associate Perdue with his cousin. They want voters to think of Mitt Romney.
Like Romney's work turning around flagging businesses, Perdue's record as a CEO at several companies opens the door to attacks over layoffs and outsourcing. Romney faced brutal attack ads for his work at Bain Capital and Democrats are already laying the groundwork for a similar assault on Perdue. Representative Jack Kingston of Georgia, who faced off against Perdue in the GOP runoff, has already got the ball rolling, deriding Perdue's business record in one ad with the line: "Perdue got rich and left us with the mess."
Democrats are eager to build on Kingston's attacks. Some have told Politico there's a lot of dirt on Perdue's business record that hasn't come out yet.
"David Perdue has spent his career tearing apart companies and communities by slashing thousands of jobs in Georgia and across the country and outsourcing jobs to Asia, while walking away with millions for himself," Guy Cecil, the executive director of the Democratic Senatorial Campaign Committee (DSCC) which supports Democratic Senate candidates, said in a statement Tuesday night. "It's clear multi-millionaire David Perdue is only looking out for himself—his shady business dealings have left companies billions in debt and bankrupt while leaving thousands jobless."
It's only been a few hours since Perdue became the nominee, winning the nomination late Tuesday night by a slim margin, but Democrats are already in lockstep on this message. "There is a clear contrast in this race between Michelle Nunn, a leader who has spent the last 25 years leading volunteer organizations and lifting communities up, and David Perdue, someone who has spent his career enriching himself while often times tearing companies and communities apart," Democratic Party of Georgia Chair DuBose Porter said in a statement late Tuesday, echoing the message coming from the DSCC in Washington, D.C.
American Bridge, the Democratic-allied super PAC which digs up dirt on GOP candidates, was more explicit in drawing the comparison between Perdue and Romney Tuesday night. A memo to the press carried the subject line: "Georgia, Meet Mitt Romney Lite."
The memo contains highlights from Perdue's business career, including a stint as CEO of Dollar General, and then dives into his policy positions. Echoing attacks on Romney two years ago, this is a one-two punch: Make the point that Romney/Perdue got rich off of outsourcing jobs, then paint their policy positions as pro-the rich and anti-middle class.
"From what little glimpse we have into Perdue's stated policy positions, they are exactly as you would expect from his self-interested business career," the memo reads. "Massive tax cuts for wealthy folks like himself and corporations, while increasing the tax burden on working families. Opposition to raising the minimum wage. Opposition to extending unemployment insurance for job seekers."
It's not yet clear whether this strategy is a winning one in Georgia; after all, Romney ended up winning the Peach State. But the political landscape in Georgia is rapidly shifting -- one of a number of Southern states where growing black, Hispanic and Asian populations are turning deep red territory into an electoral battle ground. Nunn has held her own in the polls and amassed a sizable war chest. Though political forecasters generally think the Republican will win, Nunn is mounting a serious challenge.
The GOP primary has sheltered Nunn from what will now be unrelenting attacks from now until November. As Nunn starts to feel the full brunt of the GOP's attacks, Perdue will have to withstand the Democrats' Mitt Romney playbook.