David Perdue Throws Support Behind Trump's Rival After Massive Primary Loss
Former Senator David Perdue—who was not only endorsed by former President Donald Trump but encouraged by Trump to make his gubernatorial bid—threw his support behind one of Trump's greatest rivals in Georgia, Governor Brian Kemp, after Perdue suffered a massive loss in Tuesday's primary.
"Everything I said about Brian Kemp was true, but here's the other thing I said was true: He is a much better choice than Ms. Stacey Abrams," Perdue said as he conceded the race to Kemp. "And so we are going to get behind our governor."
"We're gonna do everything we can to make damn sure Stacey Abrams doesn't take over this state and let the woke mob take over our beloved children and grandchildren."
Kemp, who became a key Trump target after he refused to help the former president overturn the results of the 2020 election, won 72 percent of the GOP vote—over Perdue's 22 percent—at the time the race was called by the Associated Press.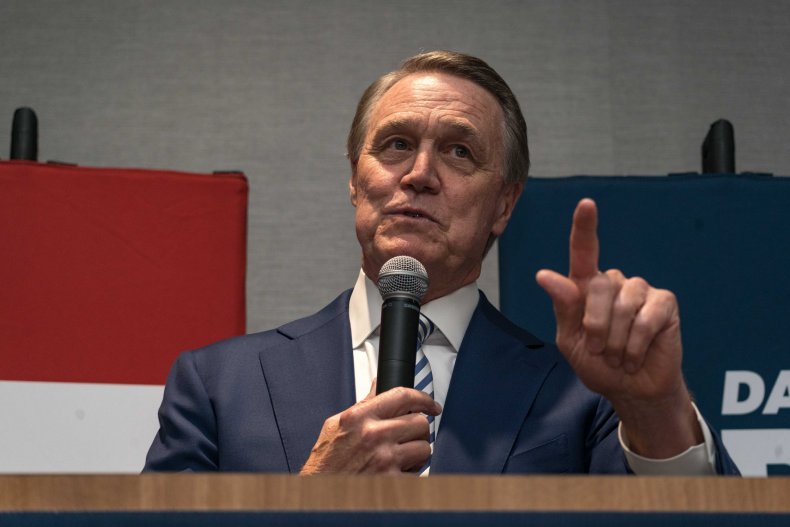 The current governor will now go head-to-head against Democratic nominee Stacey Abrams in the general election. It will be the second time the two have battled it out for statewide office. In 2018, Kemp defeated Abrams 50.2 to 48.8 percent.
Perdue's endorsement of Kemp breaks from Trump, who has previously stated that he thinks Georgia "might be better" with Abrams as governor over Kemp.
Trump was determined to seek revenge with his endorsements in Georgia, backing Perdue and Representative Jody Hice in an effort to punish Kemp and Secretary of State Brad Raffensperger for not overturning the state's 2020 election results. Trump lost Georgia to Biden by a little more than 12,000 votes.
"Even in the middle of a tough primary, conservatives across our state didn't listen to the noise. They didn't get distracted," Kemp said in his primary victory speech on Tuesday. "They knew our record of fighting and winning for hardworking Georgians. And tonight, because of your support, Georgia Republicans went to the ballot box and overwhelmingly endorsed four more years of our vision for this great state."
"I want to also thank David Perdue for the nice phone call that he gave me just a little while ago, pledging his full support to make sure that Stacey Abrams is never our governor," Kemp added. "Our battle is far from over. Tonight, the fight for the soul of our state begins to make sure that Stacey Abrams is not going to be our governor or the next president."