David Perdue Won't Pursue Another Senate Run, Had Considered Challenging Raphael Warnock
Georgia Republican David Perdue has announced he will not be running for U.S. Senate again in 2022.
"This is a personal decision, not a political one," Perdue said in a statement on Tuesday. "I am confident that whoever wins the Republican primary next year will defeat the Democrat candidate in the general election for this seat, and I will do everything I can to make that happen."
Perdue's statement comes roughly a week after he filed paperwork to run against Senator Raphael Warnock, one of the two newly elected Democratic senators from the Peach State. Perdue wrote on Twitter that he filed the paperwork as "a necessary legal step" in order to keep his options open.
Perdue lost his Senate seat to Democrat Jon Ossoff in the unprecedented double runoff elections in January. In her race against Warnock, Perdue's Republican colleague Kelly Loeffler also lost her seat in the chamber.
"These two current liberal U.S. senators do not represent the values of a majority of Georgians," Perdue said in his statement.
He also asserted that Georgia was "not a blue state" and that the "more Georgians that vote, the better Republicans do."
But the Peach State favored Democrats in the 2020 election cycle, with record-breaking levels of turnout in the November general election and the January runoff races. President Joe Biden was the first Democratic candidate to win the state in 28 years.
Perdue was defeated by Ossoff by roughly 55,000 votes last month. Warnock defeated Loeffler by 93,00 votes. The upset victories by the two liberal challengers flipped control of the Senate, giving Democrats a slim 50-50 advantage in the chamber, since Vice President Kamala Harris can cast a tie-breaking vote. Warnock is the state's first Black senator, and Ossoff is the youngest Democrat elected to the Senate since Biden in 1973.
When asked about Perdue's announcement, Warnock told reporters Tuesday: "I am prepared to defeat whatever Republican they come up with."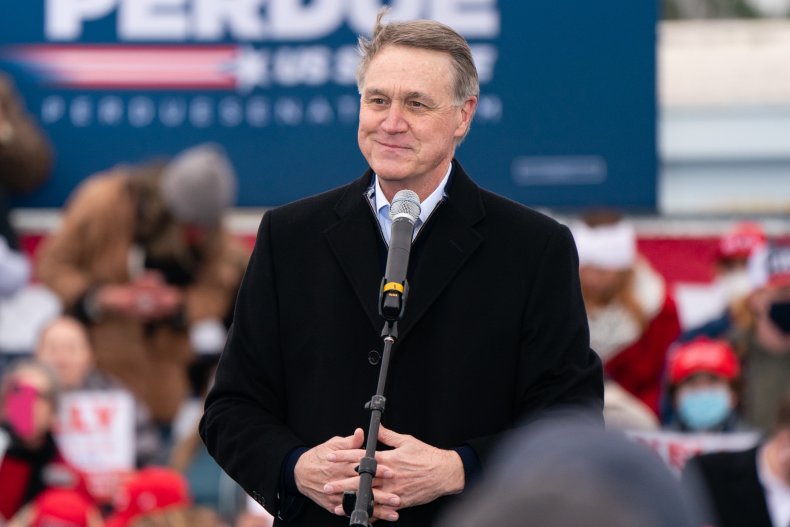 Warnock, who was elected to fill the expired term of former Republican Senator Johnny Isakson, will be running for a full term in 2022. Ossoff won a full six-year term in January, which means his seat will not be open again until 2026.
Since her loss to Warnock, Loeffler has launched the organization Greater Georgia to boost Republican turnout in future elections. She also hinted at a potential 2022 run during an interview with The Atlanta Journal-Constitution on Monday, saying it was "certainly on the table" but a decision wasn't imminent.
Newsweek reached out to Warnock's office for comment on Perdue's announcement but did not hear back before publication.
Update: This story has been updated to include Warnock's remarks to reporters about Perdue deciding not to run against him in 2022.