David Petraeus Scandal: The Fall of a General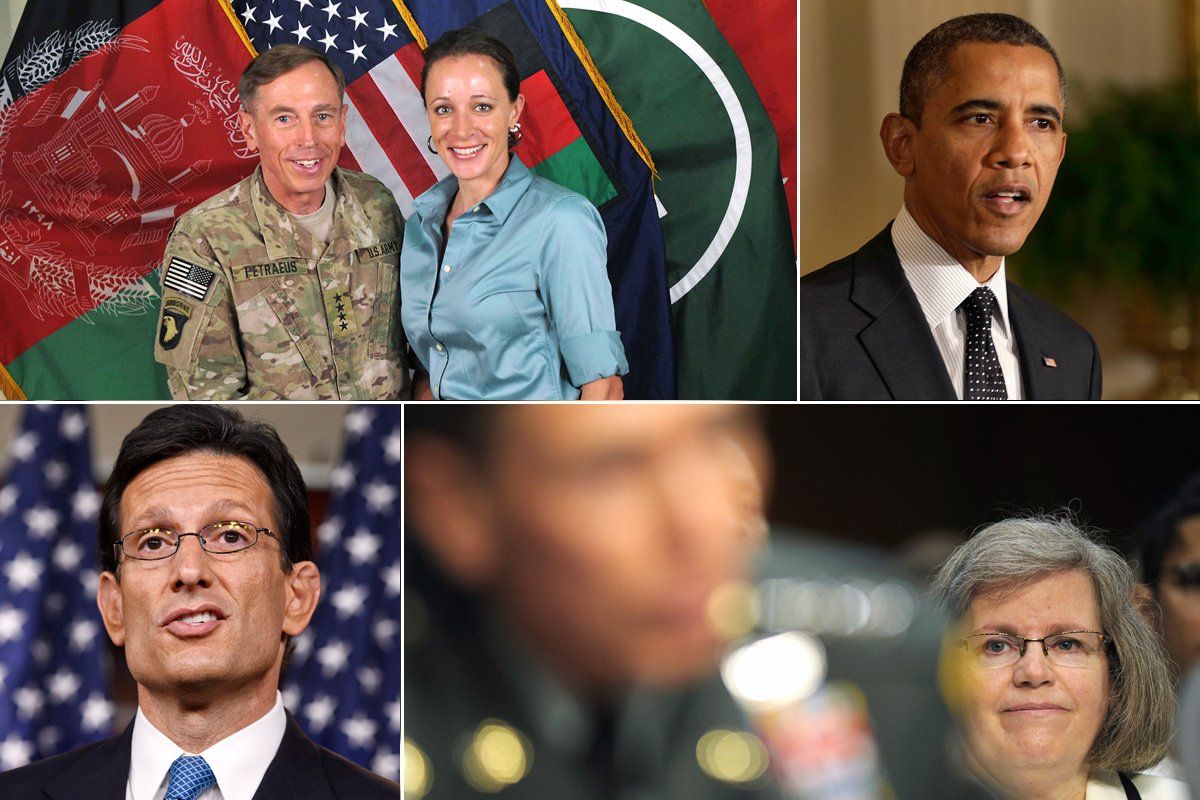 From all appearances, David Petraeus was in his element. It was the evening of Wednesday, Nov. 7, and the CIA director was the keynote speaker at a high-minded foreign-policy conference in Washington held by the World Affairs Councils of America. The audience of roughly 250 people crowded into a ballroom to hear what was billed as an off-the-record conversation with the legendary general–turned–spy chief.
Petraeus held forth on a vast range of global topics, including U.S. economic competitiveness, China, Afghanistan-Pakistan policy, and the turmoil in the Middle East. "He was thoughtful and methodical," gushed one participant. "Wow, what an amazing mind." It was the kind of virtuoso performance for which Petraeus had become known: an effortless, incisive tour of the world.
At that very moment, however, Petraeus's own private world was cracking at the seams. Earlier that day, his boss, Director of National Intelligence James Clapper, had confronted Petraeus about his affair with his 40-year-old biographer, Paula Broadwell. Clapper had urged his colleague to resign, and Petraeus agreed that he had no other choice. "It was," says Shawn Turner, a spokesman for Clapper, "a difficult and wrenching conversation."
Now as Petraeus wowed the audience at the World Affairs conference, Clapper was delivering the news of the CIA director's affair to the White House. After the event, as the guest of honor sped off into the night, people still milled about the ballroom where the conference was being held. They had no idea that anything was amiss.
Soon enough, the people who attended the event, like the rest of America, would begin to learn about a different side of Petraeus. But even as details of the scandal have trickled out, some fundamental questions about the relationship between Petraeus and Broadwell have remained cloudy. What drove this most disciplined of men to be so reckless? What accounted for the bond that he formed with Broadwell? And above all: what might have caused these two particular people to have an affair at this particular time?
Petraeus may have moved effortlessly from the battlefield to the corridors of power in Washington, but it is important to remember that he was a pure product of the military's insular culture, with its own language, tribal codes, and belief systems. He had grown up the son of a "crusty old Dutch sea captain," with exacting expectations, as he put it to Newsweek in 2011. Failing to meet standards resulted in an icy-blue stare and a growl. "Results, boy, results!" his father would say, according to Petraeus.
During his remarkable rise through the military's ranks, Petraeus certainly delivered results. Speaking in Washington at a summit sponsored by Newsweek last week (at which Petraeus had been scheduled to appear), Adm. William McRaven, while making clear that he did not condone his colleague's extramarital affair, summed up his achievements this way: "David Petraeus made decisions every day ... that saved thousands of lives—tens of thousands of lives. You'll never know who those people were, because their lives were saved by the decisions that David Petraeus made. I've never seen a guy more committed to his job, more caring about his soldiers. He had a great sense of duty."
After leading the successful surge in Iraq, Petraeus had been elevated to the head of Central Command, based in Tampa, where he oversaw the wars in Afghanistan and Iraq. His relentless travel pace kept him away from his home base for all but about four days a month. Nevertheless he found time to mingle with the local community, which is how he met Jill Kelley, a socialite and "honorary" ambassador to CentCom—and the person who would later allege that she was being cyberstalked, triggering the investigation that led to Petraeus's downfall.
In 2010, Obama tapped Petraeus to be the top battlefield commander for the conflict in Afghanistan. Technically, it was a step down, but it was also a chance for Petraeus to once again be a white knight and save another flagging war. (Appearing before Congress as he assumed command of the Afghan war effort, Petraeus said all the right things about his wife, Holly: "She is the symbol of the strength and dedication of families around the globe who wait at home for their loved ones ... She has hung tough while I have been deployed for over five and a half years since 9/11.")
The headquarters of the International Security Assistance Force in Kabul—to which Petraeus soon relocated—was known as Camp Cupcake. "ISAF is a very dusty place," says one staffer who's worked with Petraeus. "You breathe in dust and fetid air." In the winter the atmosphere is literally toxic as Afghans burn anything and everything, including rubber tires, to try to stay warm. Feral cats are everywhere, slipping through the shadows, crying for food. It's the kind of place where people quickly come to feel out of touch with the wider world—distant from family, totally involved with their mission, and, sometimes, with each other. "ISAF is a relatively small base and small community," says the staffer. "People are away from home, and they form bonds."
One bond that appears to have formed—or at least intensified—at Camp Cupcake was the one between Petraeus and Broadwell. Broadwell had grown up in North Dakota, where, even as a teenager, it was evident that she had a 
ferocious, if somewhat unfocused, ambition. "The one thing that stood out about Paula was that she was so assertive," Julie Stavn, track coach at Century High School where Broadwell became an all-state basketball player, told the Daily Mail. "The only thing she really seemed to know is that she wanted to be significant."
At 18, Broadwell applied to enter the Air Force Academy. But she was only "going through the motions," she admitted in a speech she gave in late October at the University of Denver. In the interview to get a nomination from her senator, she let him know she wanted to become a world leader. He countered, "But you've never said you wanted to fly!" He couldn't recommend her. "Being very competitive," she said, "my heart sank." Instead, he offered her a nomination for West Point.
Broadwell spent five years on active duty, traveling around the world as an intelligence officer. In 2000, the year she married Capt. Scott Broadwell, a radiologist who commanded an Army medical clinic in Germany where both were stationed, she also transferred to the Army Reserve. She was recalled to duty three times after 9/11, but eventually ended up getting a master's degree at the University of Denver. She then went to the Kennedy School at Harvard University for her doctoral work—and it was there, in the spring of 2006, that she first met Petraeus, who had come to the university to give a speech on counterinsurgency.
"I was fascinated by this individual who could get the big idea right," she said in her University of Denver speech. She flattered him by asking if she could use him as a case study for her doctoral dissertation. He agreed and gave her his card. She followed up with emails, until Petraeus proposed they discuss the project on a run along the Potomac—a rite of passage for aides to be admitted to his inner circle. They started at the Pentagon. Recorder in hand, she threw a barrage of questions at him, expecting a man 20 years her senior to become winded. Petraeus shrewdly kept his answers to "yes," "no," or "that's classified." At mile three or four he began picking up the pace. She shut off her recorder and decided to race him. She beat the general—"but it didn't really count," she said, because he was going through radiation treatments for prostate cancer.
In 2007, she had been asked to leave Harvard because her work did not measure up to the school's standards, according to The Washington Post. But she landed on her feet in a doctoral program at King's College London. Then in 2010, when she learned that President Obama was sending Petraeus to Afghanistan, Broadwell approached New York literary agents to get a book contract. One A-list agent she talked to says she was forthright about her real agenda: to use the book—her first—as a springboard to a political career. "This was about merchandising herself," he told Newsweek. "Her ambitions were beyond the beyond." Eventually, she signed with Andrew Wylie, who got her a six-figure advance with Penguin Press.
Petraeus and Broadwell in some respects mirrored each other. Both brilliant overachievers, West Point graduates, and superlative athletes with zero body fat, they had both reached for the stars, though in Broadwell's case, she had crashed "a man's world." In an interview on Claudia Chan's media blog, she predicted that doing so "uniquely positioned me to ... serve at the highest levels of government in the future."
Petraeus agreed to cooperate on the book, and Broadwell subsequently made several more trips to Afghanistan. During these trips, she left behind an infant son and a 3-year-old as well as her husband, Scott. "Her mother or Scott's parents were here every minute to take over with the children," says Gary Levinson, the couple's next-door neighbor in the upscale Dilworth suburb of Charlotte, N.C. "Paula didn't leave a single hole in her family life when she was away."
The competitive companionship that had first surfaced during Petraeus and Broadwell's run from the Pentagon to the Washington Monument appears to have continued at Camp Cupcake—a place that was very much preoccupied with physical training. "PT is the main social activity," says the staffer who's worked with Petraeus. "No booze is allowed or served anywhere on the base, and that is strictly observed." Though Petraeus has said his affair with Broadwell did not begin until they left Afghanistan, it seems likely that they bonded at Camp Cupcake over their shared devotion to exercise, to competition—in short, to military culture.
That culture was very different from the one Petraeus would encounter at his next job. Petraeus had thought that, following his stint in Afghanistan, he might be rewarded for his duty and sacrifice by being appointed chairman of the Joint Chiefs of Staff, according to a retired general who spoke to him about the matter. But it wasn't to be. The Obama White House was suspicious of Petraeus, believing that he potentially wanted to run for president. According to friends, Petraeus was crushed not to get the job—but he kept moving. It was Petraeus who floated the idea that he become CIA director. Obama was intrigued, but the White House decided he could only have the job under certain conditions. To lead the civilian agency, he would have to take off his uniform. And perhaps more important, he would have to dramatically lower his profile. There would be no showboating in the media, or fraternizing with White House rivals in Congress. Obama aides called the agreement "the grand bargain." Petraeus consented.
During his confirmation hearing, Petraeus promised to give up his military retinue when he arrived at the CIA. "If confirmed I will, in short, get out of my vehicle alone on the day that I report to Langley," he said. But some longtime CIA watchers seemed to understand, perhaps better than Petraeus, that the four-star general was in for a difficult transition.
"This is the first time a major commander has come directly from the battlefield into the directorship into the CIA, and that is a monumental transition," Sen. Dianne Feinstein, chair of the Senate Intelligence Committee, told Newsweek last spring. "Petraeus appeared before the Senate with medals from his shoulder down to his waist," she added. "Then one day he had to put all that aside, put on a plain suit, give up his entourage. He drove himself to the agency on the first day and went to work in a very large and different kind of agency than one a general would command. Here things would be discussed in a far more relaxed environment with less hierarchy than the battlefield, and so I think for him it was a tremendous adjustment."
During the weeks between his arrival home from Afghanistan and his official start at the CIA in September 2011, Petraeus was kept busy with everything from briefings to buying a house. "He's always been the Energizer bunny," says one of his old comrades in arms, who suggested that this very whirl of activity served to insulate Petraeus from any real sense that he had retired from the military.
But then came Langley—where Petraeus was alone. As a four-star general, he had been treated like a proconsul. In Kabul, as in Baghdad, he had a personal staff of 10 (not counting his security detail). He even had a personal photographer who dutifully snapped pictures for posterity. These staffers—from his top aide, the executive officer, to the most junior member, the enlisted aide who served as his valet—were like family to him. He saw them every day. Most of them he'd picked personally. He knew all of them well, and in most cases had even met their families.
Some friends had counseled him to bring at least one trusted Army staffer to Langley with him, but Petraeus rejected the idea. He didn't want to give the slightest impression that he didn't think there were qualified people in the CIA, and so he left his power base behind.
There were other differences between Petraeus's new life and his old one. Compared with the Army, the CIA is a relatively flat organization, with a jealously guarded tradition of speaking truth to power. Red-teaming, when a secondary unit is tasked with challenging the judgments and assumptions of the lead group of analysts, is an ingrained part of the agency's ethos. Moreover, Petraeus did not always have as much control as he might have liked. Retired and current U.S. intelligence officials say he was often frustrated by John Brennan, the president's top counterterrorism and Homeland Security adviser, who would at times call CIA officers directly, without clearing it with Petraeus. (Brennan was himself a longtime CIA veteran.)
To be sure, the transition from the military to the CIA was not as jarring as it might have been a generation, or even a decade, ago. Under the Obama administration, the CIA has been running an expanded drone war in Pakistan—and in the process has become more of a military organization than it was before.
Still, plenty of cultural gaps remain. And, although Petraeus relished the intellectual rigor of the job, he at first stumbled with the cultural adjustment. An exercise fanatic, Petraeus alienated staff with his emphasis on physical fitness. According to one source, soon after arriving he asked for a briefing while he took a run through the compound at Langley. A senior military official relates that when he visited the agency in fall 2011, he was taken aside by nervous employees who asked whether they could say they didn't want to exercise with the director. Petraeus's ramrod-straight military style was particularly jarring after the tenure of Leon Panetta, a garrulous, laissez-faire pol.
There was also evidence that Petraeus missed the public recognition. He no longer cooperated with glossy magazine profiles and when he spoke at think tanks the appearances were off the record. But he still found time to cultivate Washington's most influential reporters, inviting them to his private dining room, which is attached to the director's suite. And though he'd given up his uniform, he sometimes put his medals back on for formal events. According to one Petraeus friend, he was highly attuned to the reverential reaction of a crowd when an officer bedecked with medals walked into a room. "It was his shield," this source says.
An old friend who remains in contact with Petraeus put it this way: "He didn't realize how much retirement [from the military] affected him personally. As that sank in, he hit a low point. He was depressed. I don't mean he wasn't in full control of his faculties. But he was vulnerable." His affair with Broadwell began about two months into his CIA tenure.
Of course, the affair would not have precipitated Petraeus's downfall if the FBI hadn't decided to investigate. It all began when the FBI fielded a complaint from Jill Kelley that she was being harassed via email. When agents began looking at the emails, they wondered if the sender—Broadwell—posed a threat to the CIA director's safety. "She knew his schedule, and that was pretty troubling," says one law-enforcement official. Once they discovered that the two were having an affair, agents had to examine the possibility that she was extracting secrets from Petraeus for a foreign intelligence service. They quickly dismissed that scenario. Next, investigators looked for evidence that Petraeus had disclosed classified information to Broadwell, even if not as part of an espionage plot. No evidence supported that theory. The FBI also looked at whether Petraeus might have been complicit in Broadwell's alleged cyber-harassment of Kelley, but that was a dead end.
"He didn't realize how much retirement affected him personally. He hit a low point ... He was vulnerable."
"For officers who've made their life in the military, the return to civilian life can be devastating," says one retired general. "You lose your friends, and in a sense, your family. It can be very disorienting."
By the middle of last summer, the FBI had no evidence of a crime. They were only left with the tell-tale emails of a love affair that had recently ended by mutual consent. By that time, FBI Director Robert Mueller and Attorney General Eric Holder had been informed of the Petraeus case. Both men recognized from the get-go that the case was fraught with political danger. The first question was whether the House and Senate Intelligence Committees needed to be notified. The executive branch is required to notify the congressional panels of significant intelligence operations. But the rules are murky, and the FBI has traditionally been wary of tipping off Congress to criminal investigations for fear that leaks will harm the reputations of people who have not been charged. A senior law-enforcement official tells Newsweek that was a key reason Mueller did not inform the committees of the probe. And once the case seemed to revolve largely around marital infidelity, its relevance as a national-security matter appeared greatly diminished.
By late September, FBI agents were far enough along in their probe that they were ready to interview the principal subjects: Broadwell and Petraeus. Questioned first, Broadwell admitted her affair with Petraeus. She also denied that the CIA director had leaked any classified information to her. Agents interviewed Petraeus during the last week in October. He too admitted the affair and denied any inappropriate disclosures.
Mueller, according to a senior law-
enforcement official, was "profoundly uncomfortable" that his agents had found themselves in a position where they needed to ask Petraeus about his sex life. Government sources say Mueller was mindful of the FBI's legacy under J. Edgar Hoover of sexual investigations, not to mention the bureau's historical rivalry with the CIA. Some officials thought the Petraeus case had troubling echoes of the tactics of Hoover, who used sex to blackmail his rivals.
But despite his reservations about the direction the investigation had taken, Mueller felt he had to share the results with his superiors. He recognized that the revelations about Petraeus had institutional implications for the CIA. And he understood that the president or the director of National Intelligence could conclude that the affair compromised Petraeus's ability to continue serving as CIA chief. Mueller, his associates say, believes it is not his role to make policy decisions affecting other agencies, let alone major presidential personnel decisions. He reasoned that by withholding the information he would, in effect, be making policy.
But then there was the question of timing: when should others in the administration, especially the president, be told? It wasn't a hard choice for Holder, according to associates. Under well-established protocols, the Justice Department does not typically inform the president of ongoing criminal cases unless they bear significantly on the functioning of the executive branch or raise serious national-security concerns. Holder concluded that the Petraeus affair did not come close to meeting this threshold. According to advisers, Holder was intent on avoiding any appearance that the White House might try to meddle with the investigation. In doing so, Holder likely saw another benefit: shielding the president from political controversy in the days before a hotly contested presidential election.
Mueller also likely had the election on his mind. Congress will almost certainly demand to know why the FBI waited until election night to inform Clapper of the Petraeus affair. Was it happenstance or was it a politically motivated effort to suppress a scandal before the election? In Mueller's case it may have been neither. Officials say he may have simply wanted to insulate the case from the furies and passions of the election.
During this time, Petraeus continued to push forward publicly as if nothing was wrong. In early October, he hosted the advisory board of a major Washington think tank at CIA headquarters in Langley. By this point, he almost certainly knew about the investigation: Broadwell had been interviewed by agents just days before, and the two were still talking. Yet at the briefing, Petraeus was his usual charismatic self. In fact, his chief preoccupation that day seemed to be a different scandal: the CIA had recently been under fire over the Benghazi attacks. Petraeus, however, told his guests that the CIA was preparing to fight back. Ever the Energizer bunny, he was very much focused on this next challenge.
The meeting, scheduled for an hour, ran long. Petraeus's aides were getting a little agitated, but Petraeus gamely continued. "He enjoys an audience," recalled one participant in the meeting, "and he seemed very happy to stay."
If it is difficult to now picture David Petraeus without some new achievement in his sights—or without a link to the military culture he loved so much—the same might be said for Paula Broadwell. Now that her life has been upended, where will her ultra-competitive streak—the one that likely helped her to bond with Petraeus—find an outlet?
This past summer, encountering a journalist at the Aspen Institute's Security Forum, she had sounded like someone who believed she was only getting started. When the journalist, speaking to her on a bus, complimented Broadwell on having racked up so many accomplishments at such a young age, she replied, "I haven't done anything yet."
At some point, Broadwell and her family will presumably return to their home in Charlotte. "We're all ignoring what happened and getting ready to welcome them back," says Levinson, the next-door neighbor. "We only know Paula as a strong, dedicated individual and a committed member of the community—a good person."
For his part, Paul Kranz, Broadwell's father, speaking from the small farm he owns in Bismarck, N.D., told Newsweek that there is much we still don't know about the scandal. "A lot more," he said, "is going to come out."
With reporting by John Barry, Christopher Dickey, Jesse Ellison, and Eli Lake.