Seinfeld Actor Patrick Warburton Reenacts Famous David Puddy Scene Before New Jersey Devils Game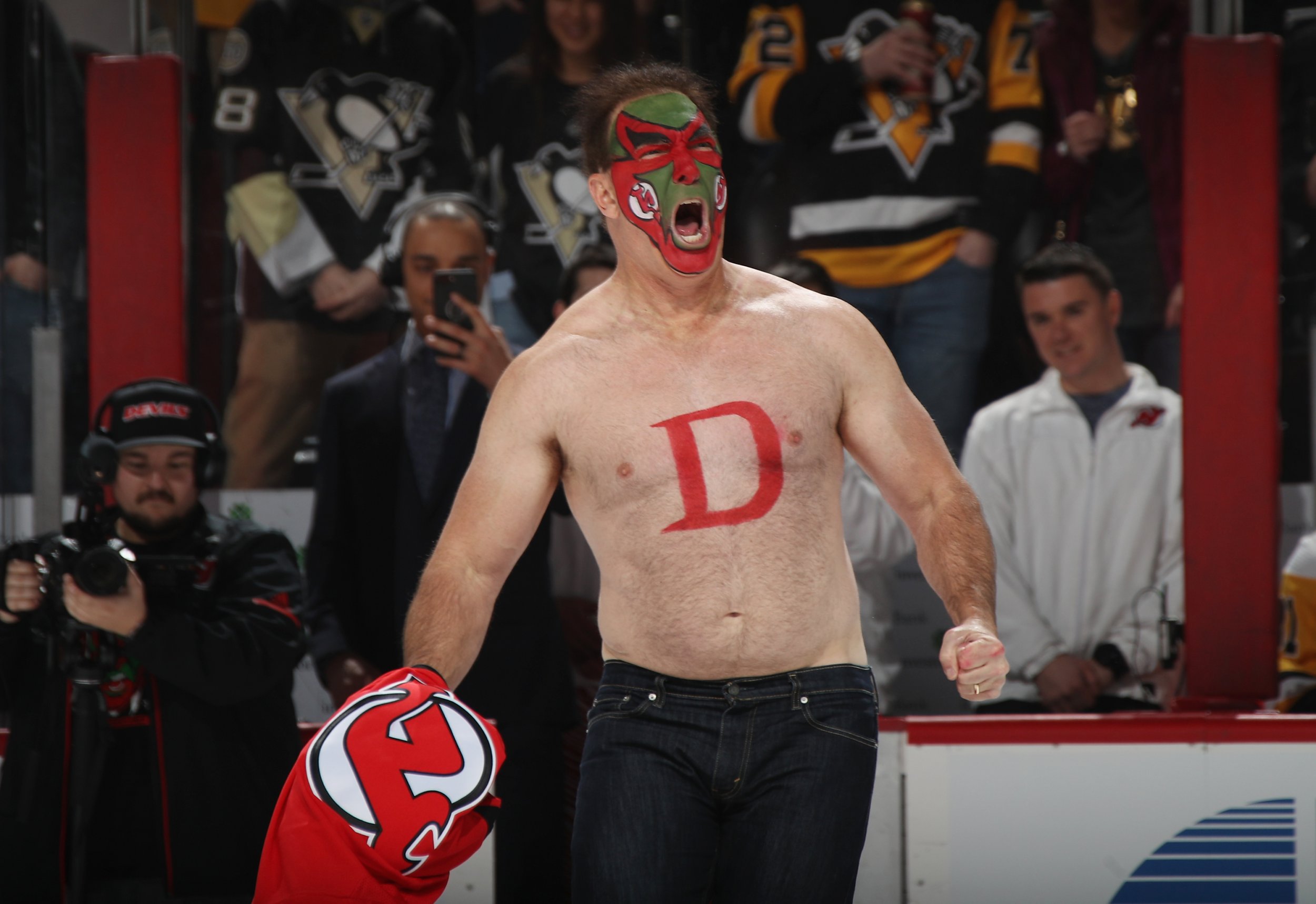 The New Jersey Devils welcomed back an iconic figure in franchise history on Tuesday night. It was, however, neither Patrik Elias nor Scott Stevens, but Patrick Warburton.
The 54-year-old is best known for playing David Puddy in Seinfeld, the hugely successful TV series that ran on NBC between 1988 and 1998.
In the series, Puddy is a passionate Devils fan and in a season six episode he takes his on-off girlfriend Elaine Benes—played by Julia Louis-Dreyfus - to watch his beloved team against the New York Rangers at Madison Square Garden.
In the episode, called "The Face Painter", Puddy famously sports face painting with the team's logo and a red "D" painted on his chest.
The clip is replayed at the Prudential Center every time the Devils play at home and some teams have also used when hosting the team.
On Tuesday, Warburton donned the face paint again and appeared in a Devils jersey for a puck-drop ceremony ahead of the Devils' home game against the Pittsburgh Penguins.
The actor then removed his Devils jersey to reveal a "D" painted on his chest, just as did in the TV series.
"When does a guy in his early 50s not want to don the face paint and just be as big of a ridiculous goof as he can?" Warburton was quoted as saying by USA Today.
Fans attending the game were given a bobblehead bearing the character's likeness and it was all for a good cause.
The actor declined to receive an appearance fee and asked the Devils to donate to St. Jude's Hospital instead. The team was happy to accommodate Warburton and signed off a check for $25,000 to the hospital.
While Warburton was born in New Jersey, he was raised in Orange County and grew watching the Los Angeles Kings, as opposed to the Devils.
Given Seinfeld's popularity, that made for a rather uncomfortable situation in 2012, when the Devils and the Kings met in the Stanley Cup Final.
"Needless to say, it was very tricky for me during the Stanley Cup in 2012," he added. "I kind of had to hide out at those games."
The Kings won the series 4-2 and the Devils had to wait until last year to return to the playoffs.
They are unlikely to return to the postseason this year, however, as they are bottom of the Metropolitan Division with 54 points and Tuesday's 4-3 defeat did not help matters.