David Rodriguez: The General Who Planned the Afghan Surge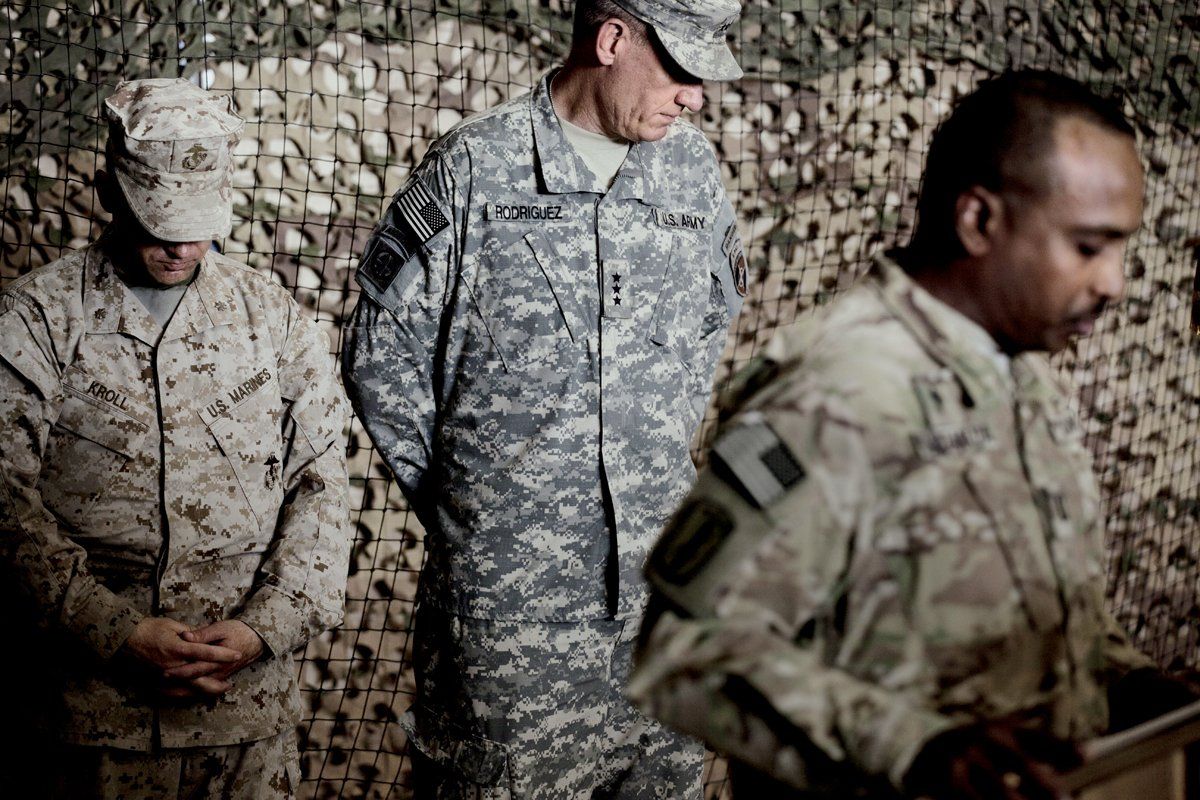 If the past 18 months of U.S. military gains withstand the upcoming troop drawdown in Afghanistan, people can thank Lt. Gen. David Rodriguez. Few Americans are likely to do that. In fact, not many even know the publicity-shy general's name. "He'll never tell you that this whole thing was his baby," says his top aide, Col. Kimberly Field. "But it was." Although Rodriguez's mediagenic boss, Gen. David Petraeus, gets most credit for the Afghan surge's success, it was actually Rodriguez—General Rod, his troops call him—who drafted the operational plan even before President Obama announced the executive decision to send in 30,000 additional U.S. troops in November 2009. "You never hear of General Rod as long as General Petraeus is within a hundred miles," says one of Rodriguez's staff officers. "But he could care less."
You wouldn't think the 6-foot-5 paratrooper was easy to ignore. "He looks kind of scary," one of his officers confesses. But his staff officers describe him as gentle, low-key, even humble. And low-maintenance: in contrast to some three-stars, they say, Rodriguez doesn't demand to be treated like royalty. In fact, his unassuming nature is one of his most valuable strengths: he knows how to listen. "I tell everybody, 'If we used our two ears and one mouth in the same ratio we had them, we would be better off,' " he told NEWSWEEK in an exclusive interview. As Rodriguez drew up and refined his plans for the surge, he took the unconventional step of consulting civilian and military Afghan officials, who helped him identify the key terrain that had to be secured. "We have all the technology and skills, but they know the human terrain," he says. "You just have to ask them and listen. They know what they have to do to win this fight."
Rodriguez called his plan Operation Omid (the Dari word for "hope"), and it has centered from the very start on enabling the Afghan government forces to stand on their own. The country's security forces have grown by 94,000 new police and soldiers since the surge began, Rodriguez says, and their total strength is expected to reach 350,000 by next year. Afghanistan's highly regarded chief of Army staff, Gen. Shir Mohammad Karimi, credits Rodriguez with building professionalism and loyalty in the Afghan National Army (ANA). "He's patient and tolerant," says Karimi, "but most important, he listens to Afghan ideas, suggestions, and recommendations." For one thing, Karimi says, Rodriguez is now paying closer attention to sparsely populated Nuristan province, where the Americans pulled out in late 2009. "Rod frankly says that Afghan proposals are sometimes better than those he worked on with his own staff," he adds.
No matter how well Rodriguez gets on with Afghan officers like Karimi, he's not blind to the failings that afflict the senior ranks. Rodriguez often warns his people in the field that corrupt Afghan commanders and officials are every bit as dangerous as the Taliban, if not worse. "Rod tells his officers: 'You've got to give these guys red lines—you have to make clear what is unacceptable,' " says Field. Some are "plain greedy and corrupt," she says, and he'll have nothing to do with them, but others seem salvageable, and he pushes them to mend their ways. "The government has to prove itself to the people through its actions," says Alisa Stack, an American civilian who is Rodriguez's main liaison to key Afghan ministries. "People can see and feel the corruption." Indiscriminate handouts of international aid have only aggravated the situation, the general warns: "We've been taken in by anyone who speaks English, even if he is a crook."
To help his team sort out the country's impossibly tangled alliances and enmities, Rodriguez devised a database known as Afghan Wiki. Just click on a district or province, and the screen displays complete listings and profiles, not only of local Taliban commanders and their ties but also of government officials and power brokers, high and low, and their networks. The constantly updated database includes 1,800 Afghan officials who are regarded as crucial, either in building a better Afghanistan or in undermining that effort by corruption, abuse of power, or flat-out incompetence. Rodriguez proudly quotes the reaction of a visiting American general who had previously served in Afghanistan: "Last time we could never find the answer. We didn't know who the people were; we didn't know anything. This is a new world."
The surge has created a new world on the ground, too—for the time being, at least. Improved cooperation between U.S. and Afghan government forces has helped drive the Taliban out of former strongholds in Helmand and Kandahar provinces. Some of the fiercest fighting took place in the Arghandab River valley and neighboring districts of Panjwaii and Zhari, where the Taliban fought from behind low, heavily mined stone walls, concealed by grape arbors. Rodriguez called in assets from all over Afghanistan: anti-mine teams from the north, monster U.S. Marine armored vehicles from the southwest, and heavy-lift helicopters from the east, together with 40 dog teams and four additional American and Afghan infantry battalions. "We piled on," says Col. Christopher Forbes, another of the general's top aides. After intense combat, the area was finally cleared. Since then, security and functioning local governments have been established, and some small development projects started. Roads and schools are open; markets are thriving; and families now feel safe enough to picnic on the banks of the Arghandab River on Friday afternoons.
The progress on the ground has been reinforced by tougher security along the Pakistani border. With encouragement from General Karimi's side (if any were needed), the Americans have intensified their air and ground patrols there. For years Rodriguez and other American officers have railed against Pakistan's policy of allowing the Taliban's leadership to operate from Pakistani soil without interference. U.S. intelligence has pinpointed seven IED factories and IED training facilities in the Pakistani border town of Chaman, as well as the precise houses where senior Taliban commanders routinely stop over on their trips into and out of Kandahar. Even so, Pakistan refuses to move against the targets, and political concerns still keep U.S. troops and armed drones from taking action. "Our sense is that [Pakistan's cooperation] won't get any better," says a senior U.S. military intelligence officer. "We're just hoping it doesn't get too much worse."
With or without Islamabad's help, the Americans are finding some cause for optimism. According to U.S. intelligence officers, insurgent leaders are fuming to each other that their spring offensive has been a dud because it's become so hard for fighters to cross the frontier. There are also signs of friction between Taliban leaders on the front lines and their senior commanders living in the safety of Pakistan. "We hope this tension will break down their sense that they can wait us out," says the intelligence officer. Now U.S. officials are hoping important Taliban commanders will break ranks and cut their own peace deals with Afghan President Hamid Karzai and the Americans. "The fact that the Taliban and other groups are decentralized provides an opportunity to take [fighters] away from the bottom up," Rodriguez says. "We want to peel the people away."
That may be a false hope. The Taliban, with an estimated 20,000 to 30,000 fighters, may be on the defensive right now, but in nearly nine years of fighting, only small numbers of fighters have abandoned the cause, and they've never had a senior commander who defected. Still, something is happening. Defense Secretary Robert Gates recently confirmed that America is engaged in "preliminary" contacts with the Taliban, and an Afghan official with close ties to Karzai tells NEWSWEEK that U.S. delegates have met with two Taliban officials, one of them a man known as Mullah Abdul Aziz, and the other an English speaker named Tayyab Agha who once served as private secretary to the Taliban's supreme leader, Mullah Mohammed Omar. The encounters were only "get acquainted" meetings, the source says, and no further talks have been scheduled. "They have opened up a new page, but nothing has been written yet," the Afghan source says. Nothing has changed, a senior Taliban source who has proved reliable in the past tells NEWSWEEK: "We are still sticking to our old demands." If so, the talks are going nowhere.
Even so, American commanders are convinced that America's recent strategic gains in the south have been a serious setback for the insurgents. "They're coming back as hard as they can, but they've been failing so far," says Rodriguez. Although Taliban attacks are up 12 percent this year, most of the incidents have taken place at the fringes of the insurgents' former strongholds, which the Taliban have little hope of recapturing at present. In addition to the group's relentless losses of commanders and fighters, they're also losing huge stockpiles of ammunition and explosives: coalition forces seized three times more insurgent arms caches this past winter than last. Even so, those setbacks haven't stopped the war. Rather than hitting military targets, the Taliban are focusing on suicide bombings to assassinate local officials.
Rodriguez says he's confident that Afghan soldiers at the platoon and company level are up to the job of taking over from U.S. forces. "We're going to get them in the front line from the bottom to the top," he says. "We've got to keep the momentum going while we are doing less and less." Still, he acknowledges, building up the ANA's command-and-control capacity will take a little longer. His friend and counterpart General Karimi promises that the ANA will be ready to replace the withdrawing U.S. forces—as long as his men have what he calls "enablers": artillery, air, helicopter gunship, medevac, and logistical support from the Americans, together with U.S. intelligence feeds. Rodriguez says Karimi can count on all those until at least 2014, the deadline President Obama has set for a final withdrawal of U.S. combat forces. The backup Karimi's men need will leave only at the tail end of the pullout, at the same time as U.S. Special Operations troops and a quick reaction force, Rodriguez says.
No matter how the war goes in the coming year, Rodriguez won't be there to see it. This summer he's scheduled to receive his fourth star and relocate to Atlanta, where he'll take over as head of the U.S. Army Forces Command. He's abundantly qualified to direct ForsCom's mission: training, mobilizing, and deploying troops for any future U.S. conflict. General Petraeus will also be returning to the States, having been nominated to take over as director of the CIA, but his job in Afghanistan will be taken by Marine Gen. John A. Allen. Despite Rodriguez's sterling record, Allen seems better equipped to deal with the painful but inevitable task of talking to Congress and the White House. Rodriguez is happiest when he's out in the field with his troops. "Would he like to be the top commander?" asks one of Rodriguez's top aides. "I think so. He loves Afghanistan, his mission, and wants to see it through." Rodriguez wants to be there when Afghanistan's security forces are ready to stand alone. "They can do it," says General Rod.
With Sami Yousafzai