David Tennant—A Villain (Again) in 'Bad Samaritan'—Thinks Jodie Whittaker Will Be a 'Splendid' Doctor Who
For nearly five years, David Tennant was the charming leading man (or rather, the charming leading alien) in the immensely popular British sci-fi series Doctor Who. Being typecast as the fun-loving doctor can be hard to avoid, and Tennant remained in the role longer than most. Now, more than eight years after leaving the show, he's adding more diabolical characters to his résumé: first, the mind-controlling rapist Kilgrave on Netflix's Jessica Jones, and now a cold-blooded murderer in the new thriller Bad Samaritan, directed by Dean Devlin(best known for producing the Independence Day films).
The latter stars Robert Sheehan (Misfits) as a poor Irish immigrant working as a restaurant valet; he and a pal rob the rich people who entrust them with their cars. This seems genius—at first. After Tennant's arrogant character, Cale Ehrendreich, drops off his car and heads into the restaurant, Sheehan makes a beeline to his apartment, breaks in...and finds a kidnapped woman in his study, tied up, with a horse's bit in her mouth.
Tennant insisted he was "not consciously" exploring his darker side; he just enjoys the challenge of finding humanity in a malevolent characters. He spoke to Newsweek about getting into a killer's head, and watching the new Doctor Who.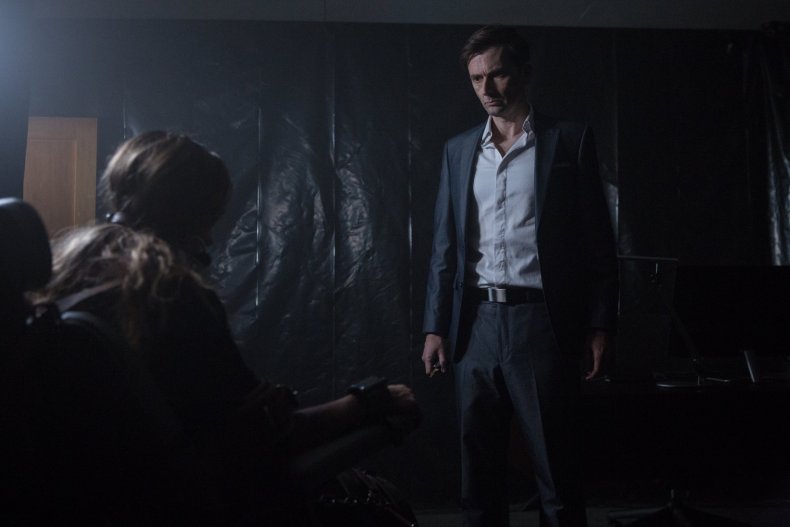 You've been playing a lot of villains recently. What gives?
I guess there's been a couple, yeah! I never think very tactically. I just take whatever comes up that feels different. For this film, the initial valets-robbing-customers concept seemed...fantastically obvious. Then this character Cale goes through the middle of the story like an icicle. It felt like it was going to be a thrill in an almost old-fashioned sense.
How did you get into Cale's head? He's not the most relatable guy.
[Laughs.] No, he's not! You want Cale's psychopathy to be more than just a plot point. You want to feel like there's a reason for it. The more you can believe that a character like this exists, the scarier it becomes. The acting challenge is trying to serve all the terrifying, inhuman aspects of the character, but also find those chinks of vulnerability so it's not a pantomime villain but a damaged human being.
Did you have input into his character?
A bit. Brandon [Boyce] was very keen to knock some ideas around, but I'm always wary of that: of assuming to tell a writer how to do their job or give them suggestions. I don't write scripts because I don't have that skill set. My job is to interpret what's on the page rather than to shape it. There's a danger in actors trying to write their own parts; it doesn't make for the best creative experience.
The film was shot in Portland, Oregon, and the final chase is through some serious snow.
It was snowing the first day I got there, and they kept telling me this was unheard of in December. There was a worry at one point that it was going to stop us filming, but in the end it was perfect. It gives that final sequence a brilliant atmosphere that we couldn't have predicted. There was something rather classic about it.
I was getting Shining vibes.
Exactly, yeah! It was a very fortunate accident, that snow.
Is it hard to shake a villain once you're done?
People ask me that all the time, "Do you take these things home with you, does it influence your life outside?" I'm never convinced that it does. My wife's mentioned a couple of times that she can sense that characters have an influence on me, either for bad or good. But I don't let it take over my life; I think I'm relatively well adjusted. I didn't go back to my hotel room in Portland and look for horses to torch.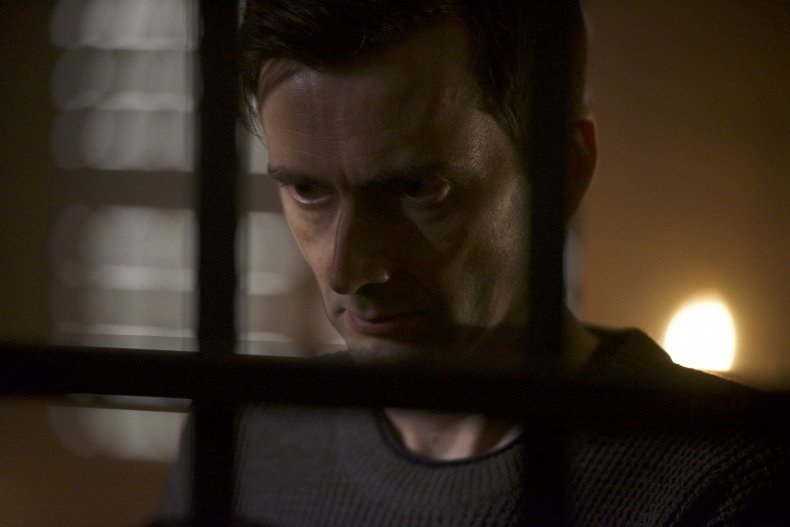 Is it a different process than your approach to hero characters like the Doctor?
The same principles apply: You're just trying to find what makes that human being connected, and the moments an audience will recognize. People need to see a real person, however extreme the circumstances might be. Even with someone like Kilgrave, who's got superpowers, you're still trying to find the human being. I suppose that's more challenging if that human being is less like other human beings, but that doesn't mean you can't find role models in the world around you.
Have you been keeping up with the new Doctor Who episodes?
I have! And I'm excited to see what's going to happen with Jodie [Whittaker, who takes on the lead role this October]. I think she's going to be a sensation.
Jodie was your co-star on the wonderful ITV crime series Broadchurch. What was your reaction when you heard about her playing your old character?
I've known her for years. I just can't wait for everyone to see her burn it up—she's going to be a sensation. She called me up to tell me the news, which was a very exciting phone call. She's absolutely ready for it, she has such great enthusiasm for it, and that's what it needs—a joy, enthusiasm and energy.
Did you give her any words of wisdom?
Oh no, no, it's such an extraordinary and unique experience! Also, I wouldn't dare to give Jodie advice; she needs no advice for me on anything. We did talk about what it does to your life; that's really the only insight I can offer. The level of affection that show generates, and the enthusiasm that it generates—when you're at the center of that, it is quite peculiar. I mean, it's lovely and it's an honor and privilege, but it can be overwhelming at times.
What do you say to fans who don't think Doctor Who can be played by a woman?
There is always a resistance to change in every aspect of life, and maybe this feels like a big change to some people. I watched it as a kid, and I can remember when the Doctor changed it felt like losing a dear friend. But then another dear friend pops up and you fall in love with them. That's how that show works. The nervousness and the confusion about somebody new stepping into the role—irrespective of their gender—it's just part of what happens.
The show has always thrived and survived and been reinvigorated with every new actor that's come along, and I have absolutely no doubt it's going to be the same with Jodie. The gender issue is only an issue until people get over it. And then, "Of course she's the Doctor! Why not?"
Bad Samaritan opens in theaters on May 4.