Da'Vonne Rogers Called Out 'Big Brother' for Having No Black Winners
Da'Vonne Rogers was evicted from the Big Brother house on Thursday night, but she didn't go out without an important note to Big Brother players, viewers and CBS as a whole. Rogers, who was the last Black woman left on the season (there were only two to begin with), spoke of how there has never been a Black winner on the show and why.
In a moving speech, Rogers seemed to expect her own elimination. So, she used the floor to advocate for more diversity on shows like Big Brother, and more acceptance from the players.
Rogers began by naming a list of inspiring Black women who have appeared on the series already. One, Tamar Braxton, even won Celebrity Big Brother. But the regular seasons have never seen a Black person make it to the end.
"I have a desire to join that list of women and be the first African-American to ever win this game," she said in the address to her fellow houseguests. "Twenty-one seasons of winners and not one of those faces look like mine... Not seeing a face that looks like mine is very discouraging, it's hurtful and it does make me feel like maybe it's impossible."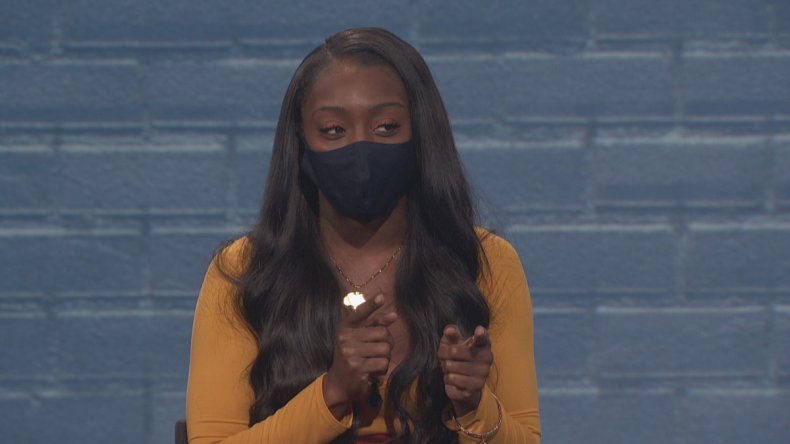 Rogers is not the first person to comment on the lack of Black representation on Big Brother. David Alexander, who is a current houseguest, addressed the concept when he appeared on Big Brother in 2019. "The reason I wanted to win—the reason I wanted to compete and be on this show—I want to be the first, like, Black person to win Big Brother," he said when he was evicted, Distractify reported. "I wanted to represent African-American culture in a different light. I wanted to show that."
Though Rogers's dream is not hers alone, the advocacy fell on her shoulders. Like many seasons before, some viewers caught wind of white players forming alliances and targeting people of color. Most notably, this happened on Big Brother 21 in 2019. Alexander, the only Black man in the house, was eliminated immediately. The next to go was the only Black woman in the house, Kemi Fakunle.
The struggles don't appear to have fallen on deaf ears. While nothing too obvious has changed, Big Brother apparently hosted diversity training for Season 22 in an attempt to eliminate racist wording and behavior in the house. Host Julie Chen has also commented on the importance of Black Lives Matter this season, and conversations from houseguests on race and sexuality have appeared on the show.
But it doesn't change Rogers's point: Houseguests are still hesitant to allow a Black person to find their way to the end of the series. "It's definitely possible," Rogers continued. "We can do it, it just hasn't been done yet."
Chen responded to Rogers's speech in a comment to Entertainment Weekly, which referenced former minority winners, too. "Kaycee (season 20 winner), Josh (season 19 winner), and Jun (season 4 winner) might argue they are all minorities who were outnumbered but went on to win," she began. "That being said, I do see the point Da'Vonne made and the one you are asking. I personally have asked the same question to myself."
The host continued to point to different kinds of gameplay, which all continue to influence who wins each season. People have won Big Brother both by lying their way through and breaking promises, as opposed to many winners who took first place by being genuine and kind. "It's hard to pinpoint how disadvantaged someone is if not many people in the house look like them. There are so many different factors that play a role in making it to the end," Chen said.
Newsweek reached out to CBS for further comment on diversity in the Big Brother game but didn't receive a response in time for publication.