Davos 2016: The Highlights and How to Watch Them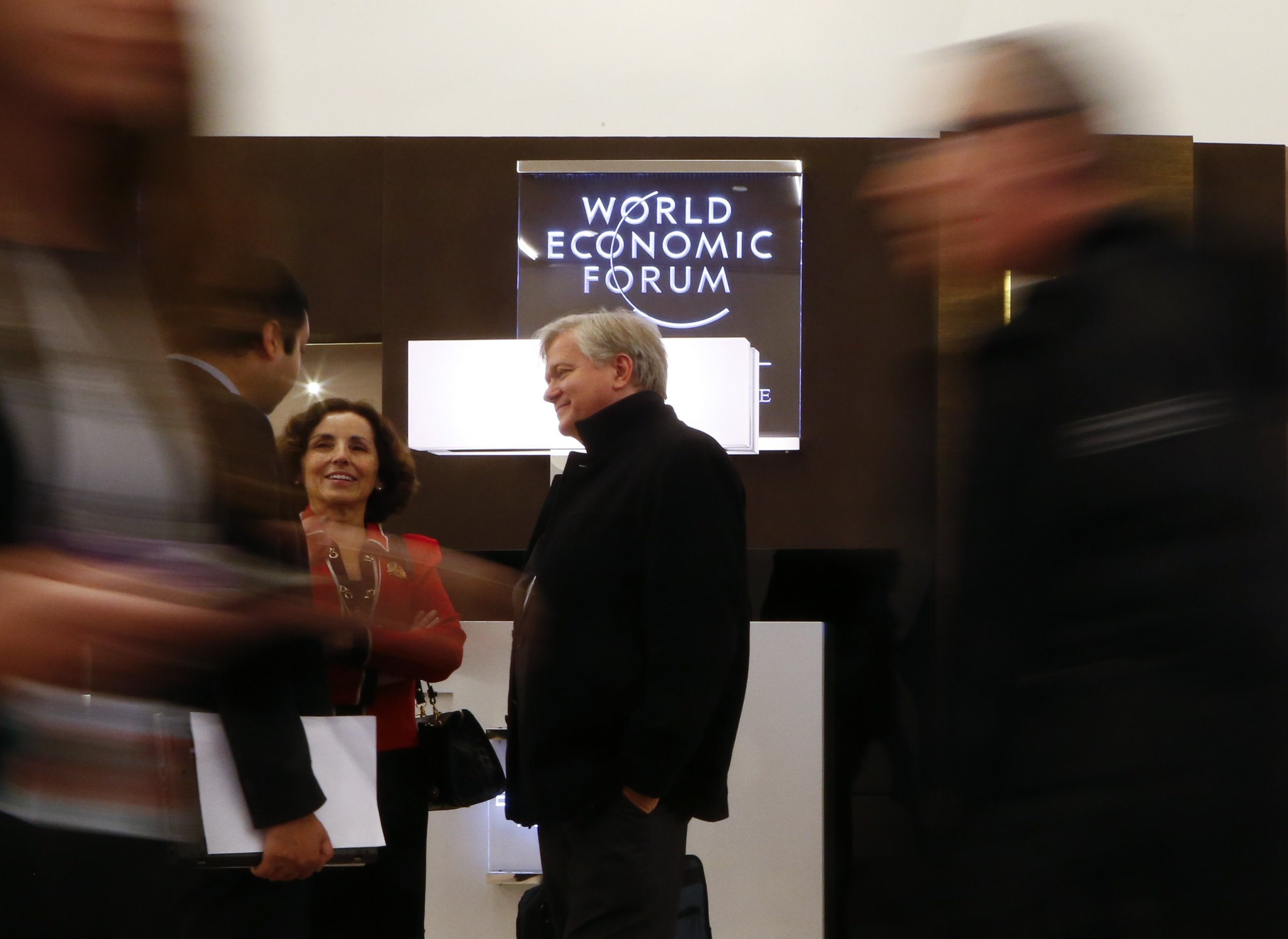 From Wednesday until Saturday, world leaders, policymakers and tycoons will gather in Davos-Klosters in the Swiss Alps for this year's World Economic Forum (WEF).
The annual gathering, a sort of Glastonbury for the brainier end of the business community, brings together huge names from global politics and economics to address contemporary challenges.
If you don't happen to be a member of the global super-elite, you can still keep up with speeches and debates via WEF's site. To ready you, take a look at Newsweek's latest issue, which includes pre-Davos essays from Tony Blair, U.K. Chancellor George Osborne and NATO secretary-general Jens Stoltenberg.
So what can you expect this year?
A FOURTH INDUSTRIAL REVOLUTION
"We stand on the brink of a technological revolution that will fundamentally alter the way we live, work, and relate to one another," says a blog by WEF founder and chairman Klaus Schwab on the forum's website.
With that in mind, this year's theme is the "fourth industrial revolution." This, says Schwab, "is characterized by a fusion of technologies that is blurring the lines between the physical, digital, and biological spheres." He says we live in a time of unprecedented change. This idea has already come in for a broadside from economist Jeremy Rifkin who, writing for the Huffington Post, said the trends Schwab describes still form part of the Third Industrial Revolution that for the past half century has seen digital technology encroach further and further on our life and work.
Expect more debate as the week rolls on.
If you're interested, you should watch:
The Transformation of Tomorrow
The Digital Transformation of Industries
What if: You Are Still Alive in 2100?
CHINA'S SLOWDOWN
Tremors in China's economy, including slowing growth and tumbling stocks in the opening days of 2016, are being felt across the world. That's especially true in emerging markets like Brazil, Mexico, Turkey, Poland and South Africa.
None of China's leaders will be at Davos, but the Chinese businessman Ya-Qin Zhang, president of search-engine operator Baidu, will feature, and the country's fortunes are likely to feed into a range of other discussions.
If you're interested, you should watch:
Where Is the Chinese Economy Heading? (featuring Newsweek cover star Christine Lagarde.)
The State of Artificial Intelligence (featuring Ya-Qin Zhang, president of Chinese web services company Baidu.)
HOW TO RUN AN ECONOMY
With 10 heads of national central banks, including those of England, France, India, Japan and Brazil, slated to take part, as well as Lagarde, who leads the International Monetary Fund (IMF), monetary policy is likely to loom large.
A speaker to watch for potential news value here is European Central Bank (ECB) President Mario Draghi: economists predict that the ECB is likely to announce more quantitative easing measures this year amid flatlining oil prices. U.S. Federal Reserve governor Janet Yellen won't appear, but the impact of her bank's decision in 2015 to raise interest rates for the first time since 2006 is likely to feature heavily in other discussions.
If you're interested, you should watch:
The Year Ahead: The Economic Outlook for the Eurozone (featuring Draghi)
How to Reboot the Global Economy?
KEEPING THE WORLD SAFE
With the aftershocks of terror attacks in Jakarta, Paris, Mali and elsewhere still reverberating, and politicians scrambling to deal with the impact of a refugee crisis that spreads from Africa to Europe and beyond, security will be high on the agenda at Davos.
The EU's foreign policy chief Federica Mogherini will appear, as will Iraqi Prime Minister Haidar Abadi, who knows more than most about the threat from the Islamic State militant group (ISIS).
If you're interested, you should watch:
Securing the Middle East and North Africa
The Evolution of Political Islam
STAYING GREEN
The COP21 climate agreement in 2015 was hailed as an important breakthrough in the fight against climate change, benefiting from the involvement of both the public and private sectors. In that light, the WEF wants to explore challenges facing other "global commons"—resources or areas that lie out of the political reach of any one nation state, such as the high seas or outer space.
Laurent Fabius, the French foreign minister who won plaudits for chairing COP21, is down to attend, as is Al Gore, the former U.S. vice president who has become a global authority on climate change.
If you're interested, you should watch:
The New Climate and Development Imperative