Davos 2018: Donald Trump to Deliver 'Special' Address at World Economic Forum, Despite Protests
President Donald Trump is set to deliver a "special" closing address at the World Economic Forum's 48th annual meeting in Davos, Switzerland, despite protests over his attendance.
The four-day Davos assembly brings together more than 2,500 participants, including world leaders, business titans and renowned activists from around the world.
In addition to Trump, a record number of leaders from G7 economies are expected to participate in the talks this year, including Canadian Prime Minister Justin Trudeau and British Prime Minister Theresa May.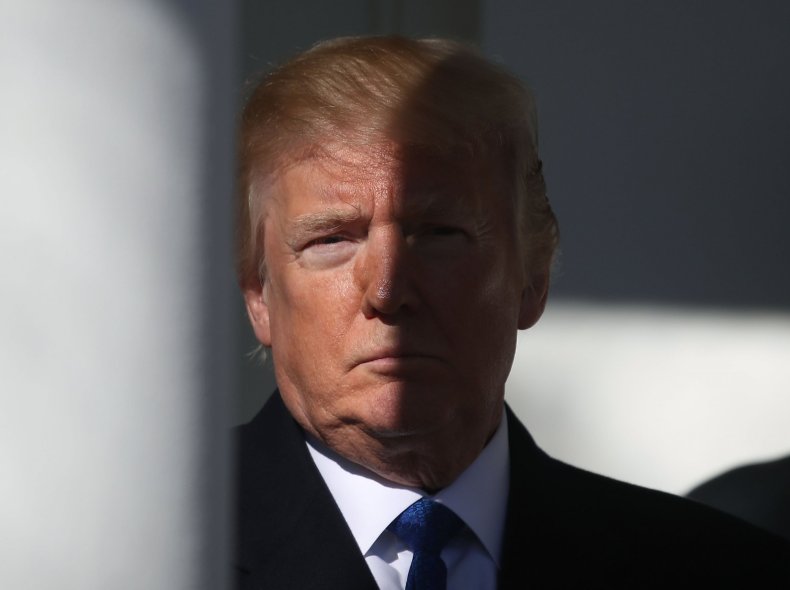 While the opening address at the annual forum will be delivered by Indian Prime Minister Narendra Modi, the U.S. leader is expected to close out the meeting with what was referred to as a "keynote" speech on the event's official website.
A spokesperson for Davos 2018 seemed to downgrade the importance of the address however, stating that there are "no keynotes" in the program and that Trump would, in fact, be delivering a "special address."
It is still unclear what the president plans to say in his speech.
Each year, the Davos forum adopts a specific theme to promote discussion and this year's topic is "Creating a shared future in a fractured world."
However, it remains to be seen whether Trump will follow that agenda, with White House Press Secretary Sarah Huckabee Sanders suggesting earlier this month that the president will be using his attendance at the forum "to advance his America First agenda with world leaders."
She said in a statement: "the president looks forward to promoting his policies to strengthen American businesses, American industries and American workers."
Read more: Protesters march against president ahead of Davos Visit
Already, there has been at least one major protest in response to news the the U.S. president would be attending this year's forum in Davos.
Up to 500 anti-globalization demonstrators marched through the streets of Switzerland's capital city of Bern earlier this month in a protest against Trump's participation in the talks, organized by a group called RJG Bern.
Bern police have launched a criminal investigation, according to local reports, after at least one banner in the peaceful protest was seen carrying a violent message, with the words "Kill Trump with his own weapon," written alongside a depiction of the president next to a red button.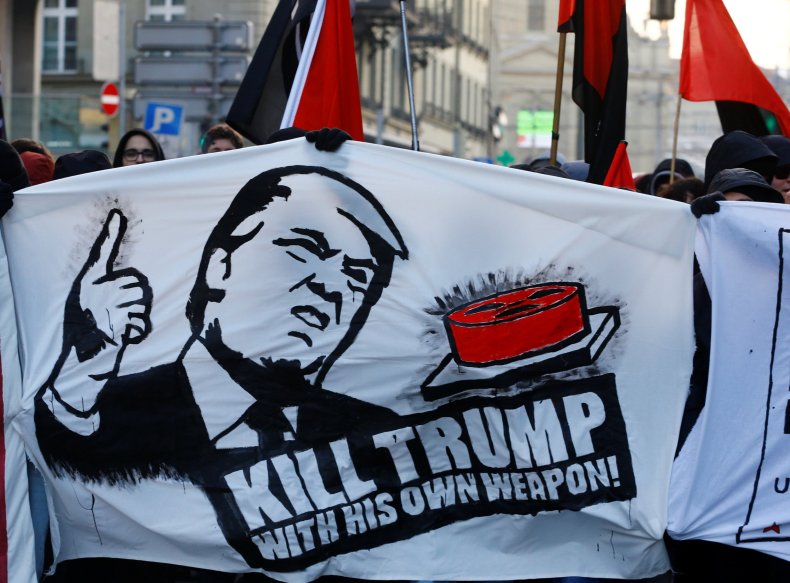 RJG Bern has called for another demonstration on Tuesday, when the forum officially launches, calling the rally: "Trump: Welcome to Hell."
"As a representative of a new right-wing populism, [Trump] fuels nationalism and lends great impetus to racist movements worldwide," a translated message reads on the group's Facebook page.
"With slogans like "America First" and "Make America great again" Trump wants to promote a nationalist protectionism that only serves the richest and divides society."
The protest is set to be held in Zurich, which is the closest airport to Davos.
Meanwhile, another group called Campax has gathered more than 16,800 signatures since Wednesday on a petition calling for Trump to be banned from the talks.
The organization has also vowed to demonstrate near Zurich Airport Tuesday, along with a group of American expats in Switzerland who plan to stage a public event apologizing for the Trump administration's past year in power.
Trump is slated to become the first sitting U.S. president to attend the forum since Bill Clinton participated in 2000.
There have been some concerns over whether the recent federal government shutdown in the U.S. will affect the president's ability to attend the talks.
White House officials said over the weekend it was unlikely that the shutdown would affect the visit, but budget director Mick Mulvaney warned that a final decision had yet to be made.