Postponing Davos Talks on Climate Change Probably Slowed Climate Change
For the second year in a row, the World Economic Forum event in Davos, Switzerland will not be held due to ongoing concerns around the surge of COVID-19 tied to the highly-infectious Omicron variant.
The event, which was supposed to take place from January 17-21 and was set to focus on the theme of "Working Together, Restoring Trust," will now take place in "early summer," allowing attendees more time to consider what it means to "work together" when it comes to travel.
The postponement of the event could have a positive impact on the environment.
When the event was last held in January 2020, approximately 1,300 private jets descended on the small Swiss town for the event, according to a report submitted to the Swiss parliament by the Green Party of Switzerland.
According to data from the U.S. Energy Information Administration and reporting by the Independent, the average private jet emits roughly 13,300 pounds of CO2 during a three-hour flight.
While the length of all flights taken to the conference would vary depending on their origin, if three hours is used as the average length of time for arriving and departing flights, Davos would see almost 34.6 million pounds or almost 16,000 metric tons of CO2 burned during the event (there are approximately 2,200 pounds in a metric ton).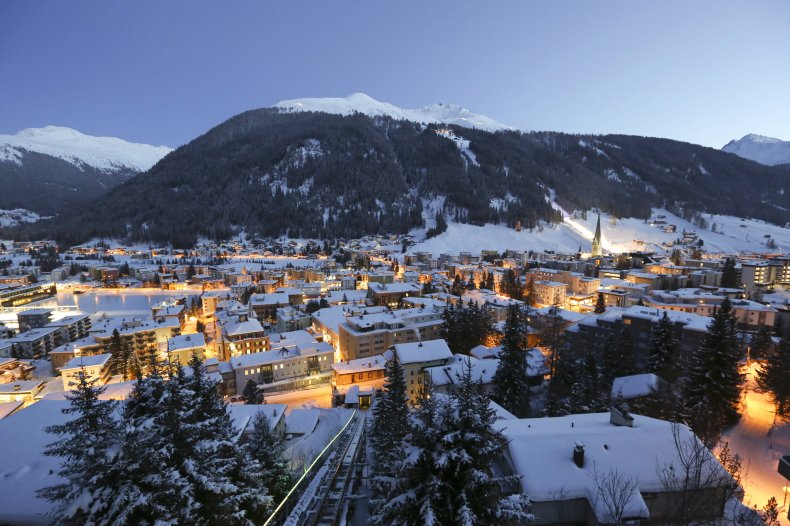 The issue of private jet emissions tied to Davos gained major media traction in 2019 when 95-year-old naturalist and British broadcaster David Attenborough appeared at the event and gave a speech where he told attendees that "the Garden of Eden is no more" and urged them to take greater action in combatting climate change.
Davos has taken steps in recent years to reduce the number of private jet arrivals at its event, encouraging attendees to share planes "if they have to use them" and offering incentives to people who arrive using public transportation.
"From an environmental perspective, taking a private jet is the worst way to travel to Davos," the World Economic Forum wrote in 2019, adding that it "offsets" the emissions. "For those who do travel to Davos by plane, we fully offset the flights – private or otherwise.
During the upcoming Forum, climate change is expected to be one of the focuses, especially within the context of "working together." The Forum's Global Risks Report identifies that if global divergence continues to increase tensions between nations, it risks "complicating the coordination needed to tackle common challenges including strengthening climate action."