Dawabsha Family Home to be Turned Into Museum by Palestinians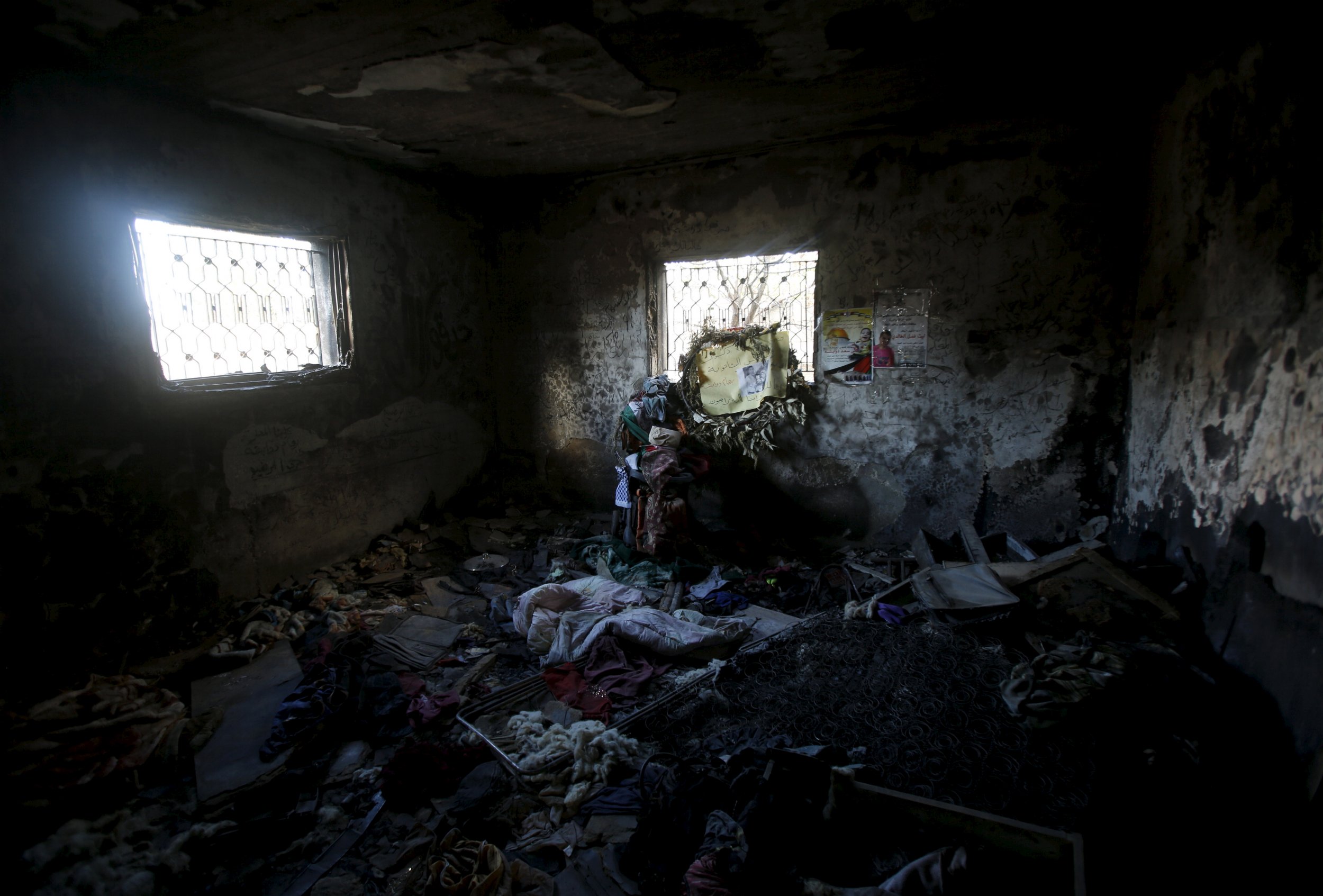 The home of the three Palestinian family members killed in an arson attack in the West Bank village of Duma in July is to be converted into a museum, a Palestinian presidential source said on Monday.
Israeli authorities indicted 21-year-old Jewish extremist Amiram Ben-Uliel on Sunday for the murder of three members of the Dawabsha family—18-month-old Ali and his parents Saad and Reham, on July 31.
The suspected attacker sprayed the word "revenge" in Hebrew on the walls of the family home and threw petrol bombs through the property's windows while the family slept, leaving four-year-old Ahmad as the only remaining survivor in the immediate family.
An adviser to Palestinian President Mahmoud Abbas, speaking to Newsweek on condition of anonymity as he was not authorized to speak to the media, confirmed that the museum conversion was being planned but said that local authorities and volunteers were behind the project, and not the Palestinian Authority, as reported in the Israeli press.
"They are the ones who suggested to offer this, the land and to make the fundraising for the museum," the official says. "It's not the Palestinian Authority. It's not a government fund. It's volunteered by many people. Local authorities will facilitate whatever [the volunteers] want to do. They want to help."
Nasser Dawabsha, the uncle of 18-month-old Ali, also confirmed that the residence would be turned into a museum in order to "perpetuate the crimes of the occupation," The Times of Israel reported.
Despite Abbas's office declining any involvement, Nasser said that the body that oversees the West Bank had pledged $1 million to help with the museum's construction and that the Palestinian leader's office was spearheading the project. "There is already an organized plan for the whole structure," he said.
The house would be kept in the condition the attack left it in but "with the exception of a cosmetic arrangement of the objects in order to allow people to enter the rooms," Nassar added.
Entry to the museum would be free, Nassar continued, "as the aim is to expose as many people as possible to the crime perpetuated against the Palestinians and the danger of the occupation and the settlements."
A second Israeli suspect, whose identity has been withheld because of his age, was also charged of being an accessory to murder on Sunday in connection with the Duma attack. The lawyers of the two suspects charged have said that the pair only confessed to committing the attack under duress during interrogations by Israeli authorities but Israeli Prime Minister Benjamin Netanyahu and the domestic Shin Bet security service have both denied the allegations.