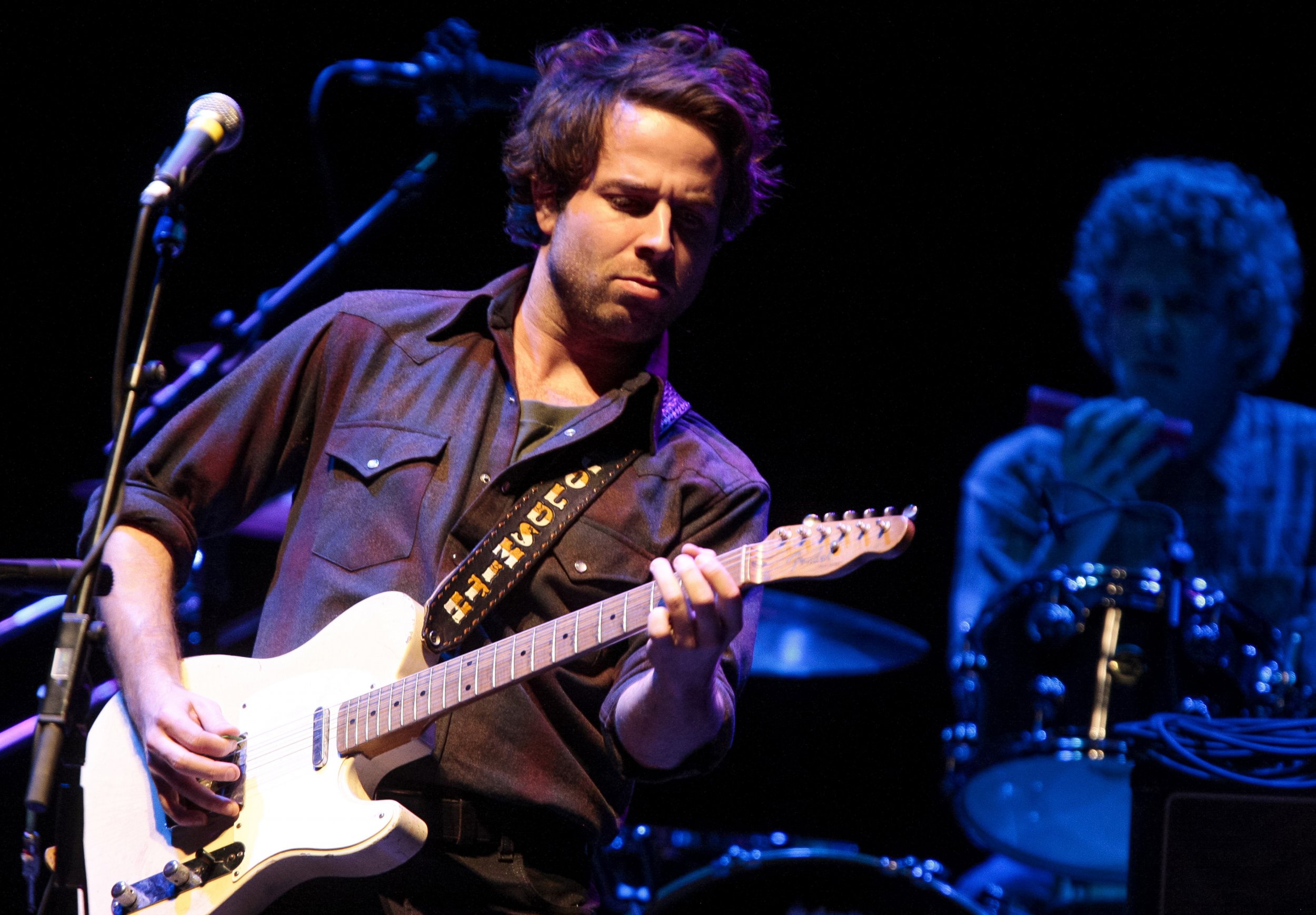 All Your Favorite Bands is a curious title for the new album, out Tuesday, from Los Angeles-based rock group Dawes. In the song of the same name, lead singer Taylor Goldsmith raises a toast to "late-night drives and hot french fries," and to the often tiring, occasionally thrilling, eternally ramshackle life of a touring musician.
"It's acknowledging the power of what your favorite bands are, like 'live long and prosper' or something," Goldsmith, 29, tells Newsweek on a recent afternoon in late April, the day after Dawes made its sixth (and final) appearance on Late Show With David Letterman.
It's hard not to also read the title of All Your Favorite Bands as a sly commentary on the way Dawes has been both praised and pigeonholed throughout the course of its six-year career, as the inheritors of '70s-style California folk-rock. That may hurt them when it comes to clocking Top 40 hits—it's not a sound that teeny-bopping tastemakers seem to be clamoring to hear more of. But by specifically not jumping onto the flashy sounds of pop radio, Dawes's members could do worse when it comes to a long shelf life.
"You want to be this career artist," Goldsmith says, citing examples such as Willie Nelson and Pearl Jam. "It's an ineffable quality every great artist has—a fingerprint—something that immediately separates them from everything else you've ever heard."
For Goldsmith and his group, the search for their own ineffable quality has meant spending the past six years perfecting the group's harmony-laden, country-tinged rock, set to Goldsmith's cautiously hopeful tales of 20-something fragility and early-onset nostalgia. Each of their first four records (including their latest) sounds more or less the same, which is hardly a criticism. In fact, it just might be the point: In an age where flashy marketing campaigns and attention-grabbing genre shake-ups are often the only way for a contemporary rock band to get any attention, Dawes's stubborn insistence upon dependable consistency offers an alternative model for 21st century rock and roll success.
At this point, Goldsmith has made peace with the way the media tend to sell his band. "At this point, I don't care how someone needs to tell our story. If someone wants to say Laurel Canyon, that's cool," he says, referring to the often mythologized neighborhood that became the hotbed of so much of Los Angeles's folk-rock and singer-songwriter music in the '60s and '70s. "It's always been the same story with us—where we've never lived there, we've never hung out there."
After high-profile performances with classic rock giants like Robbie Robertson, John Fogerty and Jackson Browne a few years ago, Dawes's members seemed fine with the idea that they'd fashioned themselves, purposefully or not, into the younger generation's act most redolent of yesteryear's folk-rock titans. They've embraced numerous opportunities to associate themselves with that genre, covering Warren Zevon in concert and touring as the opening act for Bob Dylan and, more recently, as the backing band for Conor Oberst, who a decade ago was receiving the same type of "second coming of '60s/'70s folk-rock" accolades that Dawes is getting now.
Those sorts of associations have been Dawes's biggest blessing and greatest curse. On one hand, the band has earned the adoration of nostalgic baby boomers and their classic-rock-worshipping children, two of the remaining record-buying demographics. Yet there is a sense that such unhip praise has prevented the group from fully registering with younger, indie-rock audiences in the way that groups like Deer Tick and the National have. Every tour the band has spent opening for acts like Browne, Alison Krauss and Dylan has been time it hasn't spent courting a larger, contemporary fan base, and if the band has come to terms with its vintage associations, it's also trying to move past them.
On the eve of its new album's release, Dawes now seems readier than ever to embrace opportunities to appear in front of a younger, more mainstream audience. The group will be spending a good portion of this summer opening for Hozier and Mumford & Sons, two contemporary folk-rock acts that get played on Top 40 radio. "There's a stigma with hit music, and a pride in not writing according to what's going to resonate," says Goldsmith. "I guess I've put that behind me in some way."
Yet for all his talk of becoming more open to pop music, Goldsmith acknowledges that he doesn't quite have the tools to write a hit. "I'm not saying that we've made a record thinking we've written any singles," he says of All Your Favorite Bands, "because it's a Dawes record, and the ceiling for what it can do is pretty close to what it's always been." When he considers the Top 40 potential of his new on-the-road companions like Mumford & Sons, who have experienced crossover hits with tracks like "Little Lion Man" and "The Cave," Goldsmith demurs. "I don't write songs like that. As much as I wish I had that skill, I don't. I do a different thing."
Yet Goldsmith's specific brand of songwriting, which mixes old-fashioned heartbreak with a thoroughly jaded take on Los Angeles privilege and millennial anxiety, is steadily catching on. The band's last record peaked at 36 on the Billboard 200 chart, Dawes's highest position to date. But regardless of whether All Your Favorite Bands, which is very much in line with the previous body of work, finally brings Dawes the level of acclaim and popularity it has yet to achieve after more than half a decade, the group will continue to wait for its fans to come to it, not the other way around.
"If we get to that level, it'll be by a different path [than Mumford & Sons]," says Goldsmith, referring to the British band's quick and massive rise to pop stardom. "Maybe by then we've made 20 albums and people are forced to pay attention," he jokes.
Kidding aside, Dawes very well might be the only contemporary rock band thinking ahead to its 20th album. In fact, the most retro thing about Dawes—more than its sunny harmonies, thoughtful songwriting or midtempo grooves—is its desire to one day, decades from now, earn the same type of long-standing critical respect and committed community of fans that veteran acts like Browne and Tom Petty and the Heartbreakers enjoy today.
When I ask Goldsmith if the group is ever tempted to try something completely different, he seems skeptical. Discussing Gillian Welch and David Rawlings's most recent record, 2011's The Harrow and the Harvest, as a comparison, Goldsmith says, "They're doing what they've always done, and they're doing it beautifully, and I would listen to 50 more records that sound just like that. If we just try to write good songs and play as well as we can and do the songs justice, and that was our whole career…" Goldsmith trails off, not quite completing his thought, and pauses, pondering such a best-case scenario.