Who Is Kayti Edwards? Dax Shepard Denies Cheating on Kristen Bell With Julie Andrews's Granddaughter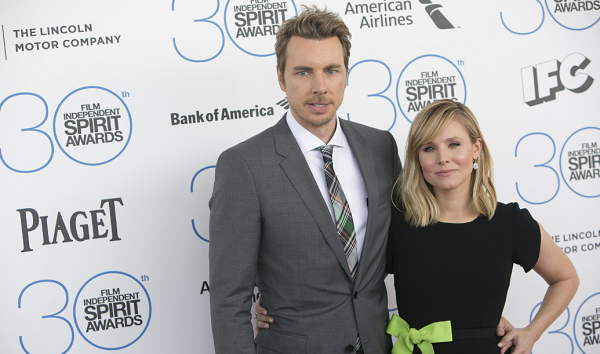 After finding himself at the epicenter of cheating rumors, Dax Shepard denied having an affair while being married—or dating—his wife Kristen Bell.
The Parenthood alum took to Instagram to shoot down claims a woman named Kayti Edwards made to Daily Mail, alleging she engaged in an affair with Shepard two years after he started dating Bell. Shepard posted a screenshot of the Daily Mail article, which included old photos of Shepard and Edwards kissing. Edwards, who is the granddaughter of legendary actor Julie Andrews, told the publication the photos were from nine years ago.
"Hey Daily Mail, that photo is 13 years old, not 9. Also, Kayti has sold stories to tabloids about Matthew Perry, Jack Osbourne, Kid Rock, and now me. I look forward to her next one. Fingers crossed it's about my #1, Brad Pitt," Shepard wrote.
In her interview, Edwards claimed to have met Shepard in 2005 and recalled encountering him at a party in Hollywood in late 2009. "I saw him and we hadn't seen each other in a few years. So it was, like, a very friends, 'Oh my gosh, I haven't seen you in forever. Nice to see you,'" Edwards said.
She claimed Shepard invited her to take photos in the picture booth, and it was there when he kissed her. "'Let's pick this up where we left off,'" she recalled him allegedly saying.
She went on to say after the photo booth kiss, the pair went to a friend's house nearby and "made love."
"We had sex twice and he stayed until the morning," Edwards said. "I didn't know he had a girlfriend at the time. He didn't seem to care."
Shepard first met The Good Place star Bell at a mutual friend's birthday dinner in 2007. The couple married in 2013 and share two daughters, 5-year-old Lincoln and Delta, 3.
Edwards claimed she is no longer in contact with Shepard and doesn't want "anything to do with Dax."
"I hope that they're happily married," she told the publication. "I mean, they have children. So my wish is that they're happy and stable for the kids."