Baltimore Mayor Brandon Scott announced a wave of COVID-19 restrictions on Wednesday, as cases and hospitalizations surge in the city.
The restrictions, which go into effect Friday, include limiting the capacity for indoor and outdoor gatherings and restricting restaurants to carryout, delivery and drive-thru only.
"We know that our restaurant industry has been one of the hardest hit by this pandemic," Scott, who was sworn into office Tuesday, said during a Wednesday briefing. "The city has been proactive in seeking ways to support our restaurant community."
Baltimore has awarded $5.5 million in grants to the city's small businesses since the beginning of the pandemic, according to local station WJZ-TV. Totaling $2.8 million, 235 of those grants were given to restaurants and bars in the city.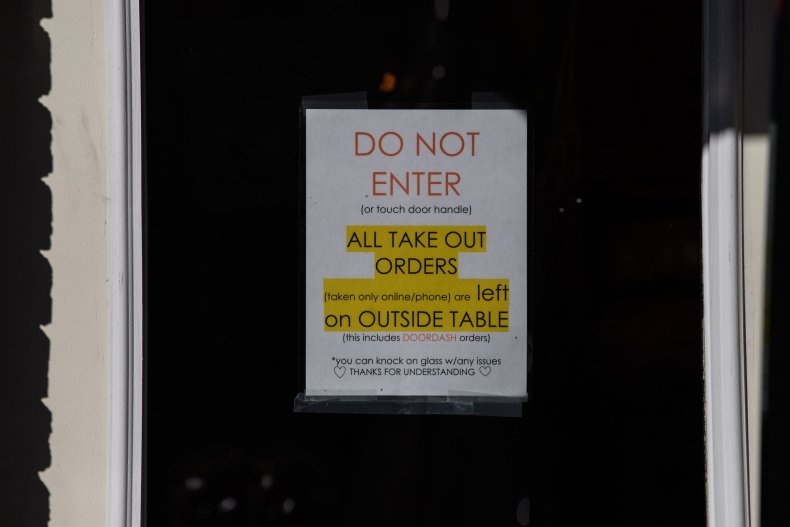 Nearly 30 percent of the grants awarded to local restaurants reportedly went to those that didn't receive federal or state pandemic relief funds. However, Scott said an additional $6.5 million in grants will be awarded beginning next week by the state of Maryland.
"When it comes to the well-being of our residents, I am not afraid to do the right thing over the popular one," said Scott. "This is about saving lives. Nothing more, nothing less."
The mayor continued: "Instituting these restrictions today for the public health of the residents of Baltimore, I am committing to you, the people of Baltimore, that I will be here every week to bring you the necessary information as we continued to battle this pandemic, with the hope that you will make informed decisions for you and your family."
Baltimore, like many other cities in the U.S., has seen a surge in coronavirus cases over the past month. According to data from the city's health department, Baltimore reported a 7.7 percent positivity rate this past week, an 85 percent increase compared with last month.
The city reported an average of 245.3 new cases and 3.4 deaths every day last week. Over the course of the pandemic, Baltimore has seen more than 26,800 coronavirus cases and 550 deaths, according to the health department.
Maryland, as a whole, reported a grim milestone on Wednesday, as the state saw 1,715 COVID-19 hospitalizations, its highest since April.
"The health and safety of Baltimoreans is my top priority, and I will continue to make decisions based on science and guidance from our public health professionals," the mayor told Newsweek Thursday.
He continued, "In Baltimore, our test positivity rate, average number of daily deaths and number of hospitalizations are all at their highest levels since late spring. These new restrictions may be unpopular, but they are the actions we must take now to save lives."
In addition to the new COVID-19 restrictions, Scott urged city residents to continue wearing face masks and getting tested to curb the spread of the virus.
"I want to ensure that every Baltimorean wears a mask," said the mayor. "I want to ensure that every Baltimorean gets tested and have access to the vaccine. Our decisions will not always be easy, and often will feel harsh, but they will always be guarded by the advice of public health officials."
Uncommon Knowledge
Newsweek is committed to challenging conventional wisdom and finding connections in the search for common ground.
Newsweek is committed to challenging conventional wisdom and finding connections in the search for common ground.