Day Care Centers Struggle to Find Teachers as Child Waitlists Mount Across U.S.
Staffing shortages amidst the COVID-19 pandemic at day care centers are creating up to year-long waitlists for parents and children, and teachers are hard to find.
Cindy Lehnhoff, director of the National Child Care Association (NCCA), told Newsweek that COVID has put the child care industry through the wringer.
"In the very beginning, child care was very impacted because we didn't know what we didn't know about COVID. Governors started pulling the plug on child care centers being open or being able to operate at full capacity," Lehnhoff said. Limiting the number of children in day care was a "huge financial strain" on the centers, she added.
With the highly contagious Omicron variant causing rising cases of COVID nationwide, child care centers are now struggling to find enough teachers willing to be in the field.
"Unfortunately, child care lost about a third of its workforce," said Lehnhoff. She explained that teachers found themselves quitting due to personal health worries, wanting to spend more time taking care of their own children, or simply finding the job not worth the risk of infection anymore.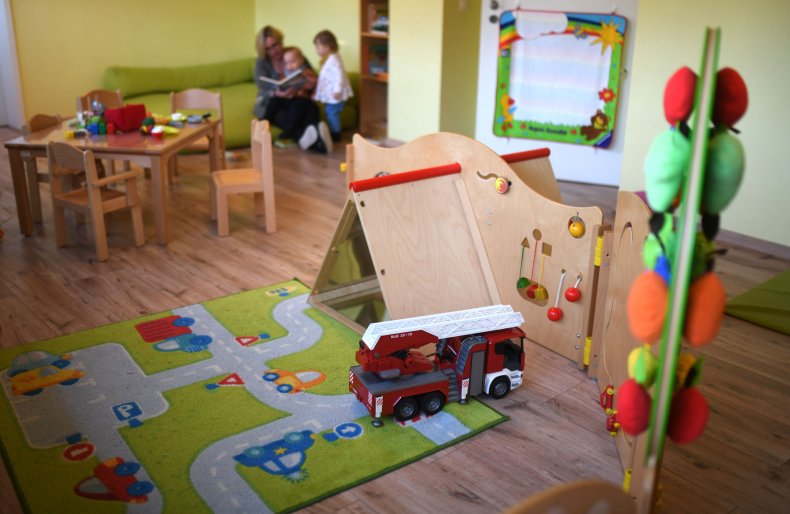 "When it was time to bring the workforce back, people weren't applying," Lehnhoff added. "You could find thousands of jobs posted for day cares and child care. You can post a job, and if you're lucky, you might get two or three applicants, and typically they aren't even qualified."
Lehnhoff stated that there are a lot more jobs for teachers and child care workers than there are applicants, and that has forced centers to turn away parents and children.
Teddy Bear Daycare and Preschool has three facilities in the state of Michigan, each one struggling to keep up with constant COVID-19 exposure and staff changes.
The owner of all three facilities, Beth Fryer, and her daughter-in-law, Anna, have had to acclimate accordingly, reducing the capacity of their classrooms and sometimes combining classrooms due to the lack of teachers, which they try to avoid doing for social distancing purposes.
"We are very grateful that we did not have a single child in care test positive and spread COVID in the center until the middle of December 2021," Beth and Anna told Newsweek. "We feel as though our strategy and plan worked very well. Unfortunately, the changes that have been coming our way is what will cause staff and families to leave the child care center."
Waitlists for children in need of day care have reached the hundreds. "We combine our waitlists for all three centers to potentially get children into a spot quicker. We have over 250 children on the waitlist, and 90 percent of those are ages 0-2.5 years," they said.
With a waitlist this long, it would take years for some children to get into the facility. "Parents are greatly struggling," they added.
"Many of us parents have said that daycare is more stressful [than] the pandemic and it is very true," said Allison Plummer, the treasurer for the day care Cooperation Station in Minnesota.
Families have told Teddy Bear Daycare that they could soon lose their jobs because of COVID-19 guidelines, as parents trying to go back to work struggle to find childcare.
Child care facilities have taken huge hits financially as well, as Beth and Anna note that their facilities have lost up to $10,000 between the three of them.
With waitlists and financial struggles caused by staffing issues, the parents greatly struggle too. "Parents are paying way more for child care—especially if they have more than two children—than they are for their home. And more than what they would pay if their children were going to a two-year college today, and that's a concern," Lehnhoff said.
It is worrisome for those in the child care industry who are struggling, as the staffing shortage will not be immediately fixed when COVID is stabilized.
"People don't realize it. We are an essential workforce that allows all other workforces to work," said Lehnhoff. "This is not a subject that we have talked about enough in the past and it is now a crisis for working families and for our economy."
Update 01/25/22, 2:45 p.m. ET: This article was updated with a quote from Cooperation Station treasurer Allison Plummer.