What is Day of the Dead? How to Celebrate Dia de los Muertos Without Being Offensive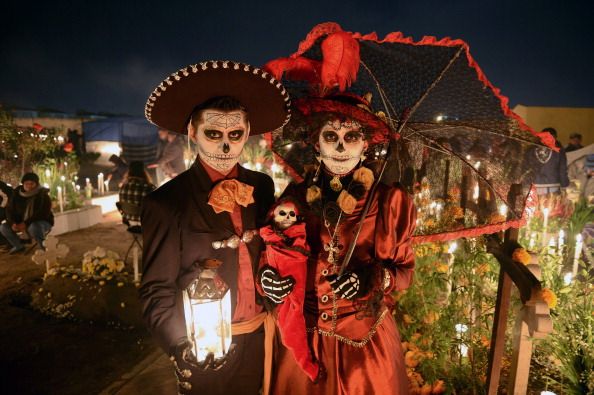 Day of the Dead, or Dia de los Muertos, is the Mexican holiday when people celebrate and honor loved ones who have passed away. Celebrations typically run from Halloween, October 31, to All Saints Day, November 2. Non-Mexicans may recognize the sugar skull aesthetic from their friends' ill-advised Halloween costumes, but many may not realize where the iconography of skeletons bearing flowers, fruit and candy comes from. Is it even possible for someone who isn't from Mexico to celebrate the holiday without being an annoying gringo? It's complicated, but not impossible.
Though Day of the Dead may strike Americans as a St. Patrick's Day-esque holiday, on which the general public is encouraged to celebrate being Irish (regardless of who you are), the Mexican holiday's religious and cultural roots make it a trickier event for outsiders. There's certainly nothing wrong with getting involved and supporting cultural events in your city, but proceed with caution if you're just passing through.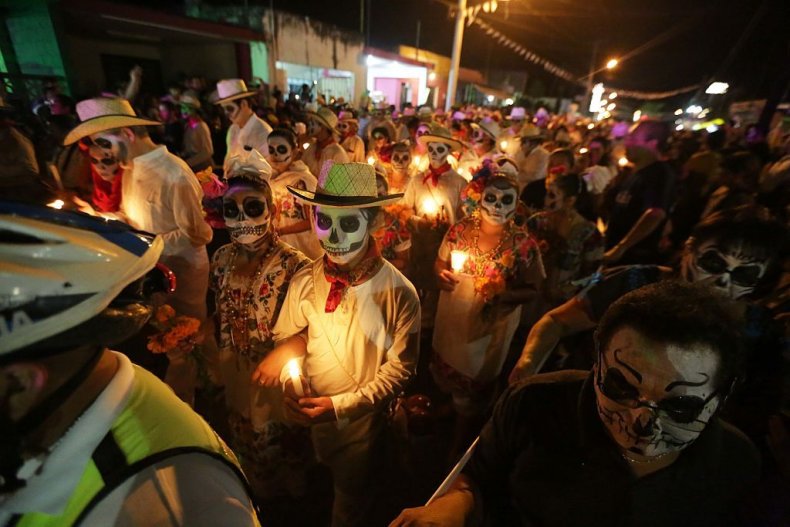 Though the subject of the holiday—dead relatives—is solemn, in practice, Day of the Dead is a brightly colored and joyous celebration. Everyone's welcome at public events like the annual parade, though outsiders aren't typically encouraged by Mexican Catholics to don traditional clothing or paint skull make-up on their faces. That make-up is done in the style of La Catrina, a Mexican cultural figure originally designed by Jose Guadalupe Posada. La Catrina, the "dapper skeleton" or "elegant skull," is a satrical character meant to laugh in the face of death. She's the center of the holiday, which is pretty tongue-in-cheek, like an inside joke among Mexican Catholics (and therefore not fodder for outsiders to play with).
As author Lesley Téllez tells Travel + Leisure, conflating Day of the Dead with Halloween is a sore spot for many Mexicans. "There's kind of this big… simmering resentment about Halloween overtaking the Day of the Dead celebration," she says. "People view it as just another piece of gringo culture that's been exported to Mexico and is an imperialist sort of thing." Wearing Day of the Dead iconography as a Halloween costume, for instance, is a little tone-deaf.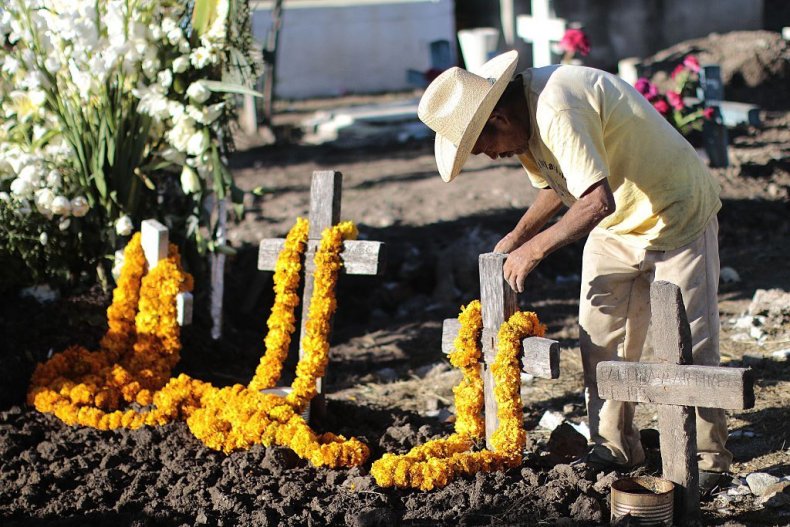 So what do people actually do?
November 1 is considered Día de los Inocentes​ or Día de los Angelitos, a holiday to honor dead children and infants. Adults who have passed away are remembered and honored on November 2, or Día de los Difuntos. Holiday partygoers go to cemeteries where loved ones are buried to construct whimsical altars laden with offerings, or ofrendas—typically gold marigold blooms, brightly colored paper, and alfeñiques, or tiny art pieces made from sugar (hence, "sugar skulls"). The vibe at a Day of the Dead visit to a graveyard is a lot like an Irish Catholic wake; it's more about sharing funny anecdotes and celebrating the life of those who have died rather than mourning.
Mexico has, in recent years, worked to create a public-facing aspect of the celebrations in order to appease tourists. On Saturday, the Day of the Dead parade was held in Mexico City to honor those who died in the two earthquakes the nation suffered this year. If you're not Mexican, but you want to take part in Day of the Dead in the United States, check to see if your city is hosting a parade or cultural event where the larger community is welcome. Albuquerque, New Mexico saves its Day of the Dead celebration for November 5, the same day when partygoers in Ft. Lauderdale, Florida, honor the tradition.
Day of the Dead iconography has spread into nations that don't typically celebrate the holiday, and Hollywood has taken notice. In 2014, 20th Century Fox released Book of Life, an animated film using La Catrina-esque imagery, and this fall, Disney and Pixar will release Coco, an animated film based on the exact same cultural imagery.