What Is Day of the Dead 2018? Where and When It's Celebrated
People across the United States woke up Wednesday morning and tossed on their Halloween costumes to head to work or school in the spirit of the holiday. But in Mexico the morning kicked off several days of celebration for Day of the Dead, or Día de los Muertos.
The holiday, traditionally celebrated in Mexico and some other parts of central or south American, begins as early as October 31 in the United States but runs until November 2, this year that means Wednesday to Friday. The holiday originally started as only the Day of the Dead, but it changed over the years to include All Saints Day on November 1 and then Soul's Day or Day of the Dead on November 2 in Mexico.
The holiday doesn't have much to do with Halloween, they just happen to fall around the same time of the year. Day of the Dead celebrations are actually quite religious and have to do with honoring dead ancestors. For the days of the event whole towns celebrate, in costume, in the streets and in public areas like parks in their cities and towns.
But the holiday is a celebration rather than a period of mourning. It's typically incredibly colorful and involves certain foods and activities. The tradition started with the ancient civilizations in the part of the world where Mexico is now.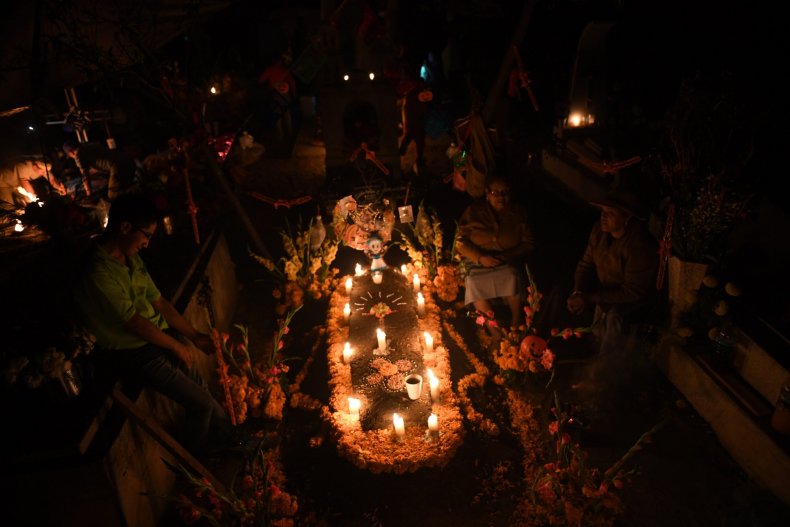 One of the most easily recognized symbols associated with the holiday is the calavera Catrina. The skull was first designed by Diego Rivera, inspired by an image by José Guadalupe Posada. But the idea of a woman or goddess at the center of death goes back to ancient civilizations, SFGate reported. The skull is one of the key features of Day of the Dead celebrations today.
Altars or ofrendas are set up in the homes of those honoring the dead, or sometimes in the cemetery where their ancestors are buried. Those ofrendas include items from the ancestors lifetime or items that would help make them feel more welcome like certain foods, candles, flowers and more. Certain foods like candy skulls made of sugar and bread of the dead are also part of the offerings made and are traditional foods for the holiday.
Colorful paper called papel picado is also a central decoration for the celebration. The colorful tissue paper is cut with patterns that is used to decorate the inside and outside of buildings during the holiday. The paper is used on holidays other than Day of the Dead and All Saints Day but it frequently associated with it.