When Is Day of the Dead? History, Greetings and Traditions Revealed
Celebrated within days of each other, many confuse Day of the Dead—or Día de los Muertos—for being the Mexican version of Halloween.
This is not the case and the history of the festivities is far more complex.
While Halloween celebrations are all about gore, terror and embracing fear, Day of the Dead is a much more joyful occasion.
Here is everything you need to know.
When Is Day of the Dead?
The celebration begins at midnight on November 1, when it's believed that the spirits of deceased children can be reunited with their families.
Altars, known as ofrendas, are constructed by their families and are covered in the child's favorite things to encourage them to visit. Sometimes the child's name will also be written on a sugar skull.
After 24 hours, at midnight on November 2, the celebration shifts to focus on the spirits of departed adults.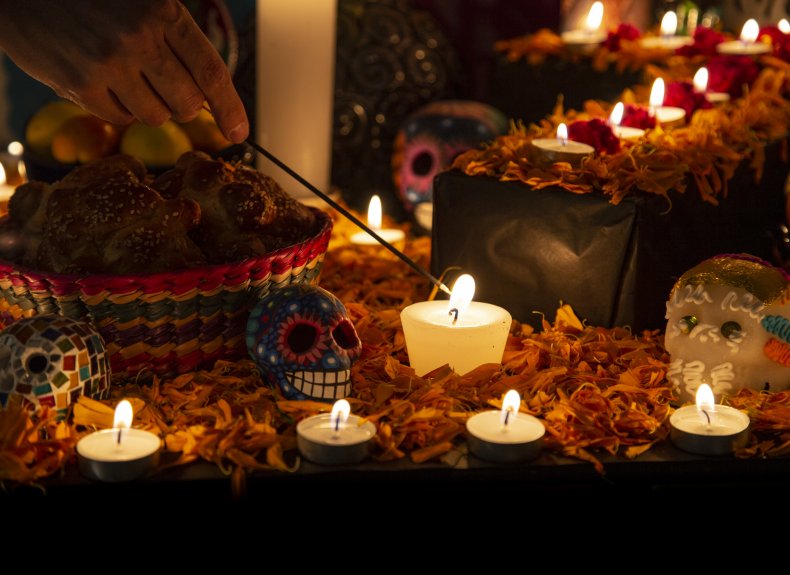 This is when families may leave more adult gifts on the ofrendas like tequila, or mezcal.
Families spend time together sharing memories of loved ones who have died.
Noon on November 2 marks the grand finale when communities come together to celebrate. Families will often also visit the cemeteries where their loved ones were laid to rest, clean their graves and decorate them with marigolds, gifts and sugar skulls.
What's the History of Day of the Dead?
Before the arrival of the Spaniards, Aztec, Toltec, and other Nahua people believed mourning the dead was disrespectful as death was a natural phase of life which didn't stop people from being members of the community.
In Aztec culture, Mictecacihuatl was a goddess of death who watched over the bones of the dead. She had a festival dedicated to her.
The modern Day of the Dead is an infusion of this and the Catholic celebrations All Saints' Day and All Souls' Day, which fall on the same days.
What Are the Traditional Day of the Dead Celebrations?
Ofrendas also often include a photo of the deceased person, as well as their favorite food and drink to satiate them after the long journey to the living world from the realm of the dead.
Marigolds are also used to decorate the altar and are believed to help guide wandering souls back to their final resting place, thanks to their bright color and strong smell.
Papel Picado, which means perforated paper, is often used as decoration on ofrendas and in the streets.
How to Wish Someone a Happy Day of the Dead in Spanish
If you want to send your good wishes to those who celebrate the occasion you can say, "Happy Day of the Dead."
In Spanish, this is "Feliz Día de los Muertos."