A Day in the Life of a California Water Cop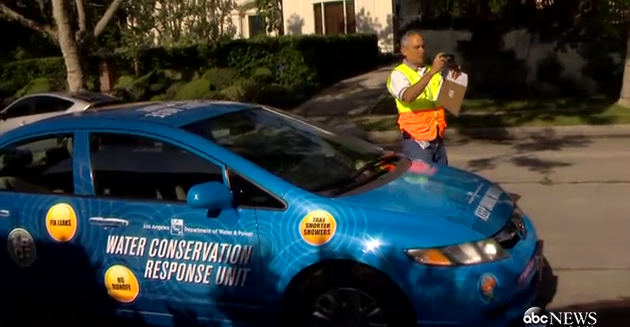 With California set to announce on Saturday draft regulations aimed at achieving Governor Jerry Brown's mandate of a 25 percent cut in water use by cities, ABC News explored what enforcement looks like at street level.
The network followed Rick Silva, a water conservation supervisor with the Los Angeles Department of Water and Power, whose job it is to patrol neighborhoods searching for water use violators; people who are watering their lawns on the wrong days or during the wrong hours. In other words, he's a water cop.
"We want to get the idea [out there] that you don't need a green lawn for your house to look good," Silva says in the video.
ABC Breaking US News | US News Videos
When people are caught watering their lawns inappropriately, Silva knocks on their doors and offers verbal warnings. If it happens a second time, the offender will be charged a $100 fine. The third time is a $200 fine, according to Silva.
Meanwhile, under the new regulations, water suppliers in urban areas are likely to face fines of up to $10,000 each day that they fail to meet the new water limits, according to the Los Angeles Times.