What Is 'Day Zero'? Cape Town Set to Become First Major City to Run Out of Water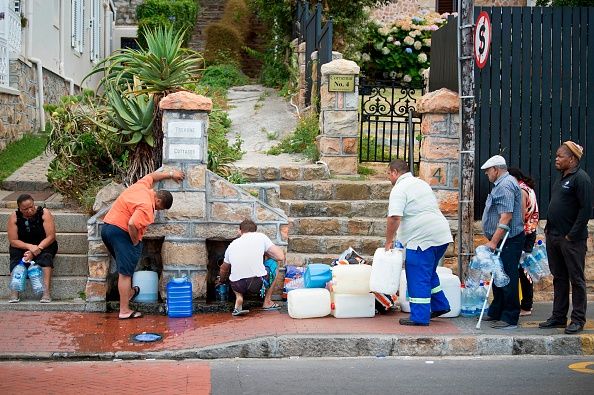 South Africa's Cape Town is fast approaching "Day Zero": when the city's water will go dry, a global first for a major metropolis.
For weeks, residents of South Africa's landmark city, where tourists flock to its beaches and scale Table Mountain, have been held up in daily long lines, collecting water. Many are stockpiling supplies, fearing the even graver scenario that awaits.
The city is experiencing its worst drought in close to a century and has entered its third year without reservoirs being significantly replenished.
Originally scheduled for April 22, it was announced this week that the ominous Day Zero has now been brought forward to April 12 if consumption does not lower for the coastal city's nearly 4 million people.
Cape Town's Deputy Mayor Ian Neilson said in a statement Friday that "due to a drop in the dam levels of 1.4 percent, Day Zero has, as of today, moved forward."
The city's leaders are attempting to stave off the crisis, lowering the daily allowance for residents to 50 liters from 87 liters, starting February 1. However, even the existing rationing has proved less than successful. Mayor Patricia de Lille accused 60 percent of residents of "callously" consuming more than 87 liters despite repeated warnings of the dire consequences.
"It is quite unbelievable that a majority of people do not seem to care and are sending all of us headlong towards Day Zero," the mayor said.
Highlighting the dire scenario, she added, "We have reached a point of no return."
Helen Zille, a premier of the Western Cape province and a former mayor of Cape Town—who will be directing the disaster management response upon Day Zero if it does arrive—warned that "every Capetonian needs to take this very seriously."
Capetonians would need to go to collection points for a daily consumption of 25 liters, or nearly 7 gallons. Special provisions would be made to ensure water was still available in hospitals and schools.
As residents geared up for the day, popular hashtags (#WaterCrisis, #EveryDropCounts) have emerged as Capetonians took to social media networks to show their preparation efforts.