Weeks After Delivering and Naming Her Baby Son 'Atom Bomb' At Weigh Station, Mom Accused Of Being Meth Trafficker
Weeks since delivering her miracle newborn son on the shoulder of a North Carolina highway on New Year's Day -- the mother who named him "Atom Bomb" was nabbed at a motel for allegedly pedaling crank, authorities, and family confirmed.
Jessica Killian, 32, was hauled into jail at around 1:15 a.m. on Tuesday morning at the Econo Lodge, located in Gastonia, North Carolina, allegedly attempting to vend 36 grams of methamphetamine from her 2011 Chevy Cruze car, Gastonia police told The Gaston Gazette.
The mom's meth charges were a pall for the woman's mother and elated machinist grandmother Barbara Pope.
"This bothers me and I'm concerned," Pope told Newsweek, adding that she and her daughter haven't spoken since the birthday of Atom Bomb.
The 32-year-old was also caught possessing drug paraphernalia like baggies and scales at the establishment.
Killian's 29-year-old cohort, Tiffany Queen was also booked at the same time for the same charges and was also allegedly packing a pair of firearms, according to a police report obtained by Newsweek.
The mother's arrest came on the heels of a highway birth on New Year's Day. Her mother submits that the baby was "the first baby born on New Year's Day."
Killian and her mechanic beau Earl Sain attempted to race to the hospital after she was suffering pains and was three days past her due date.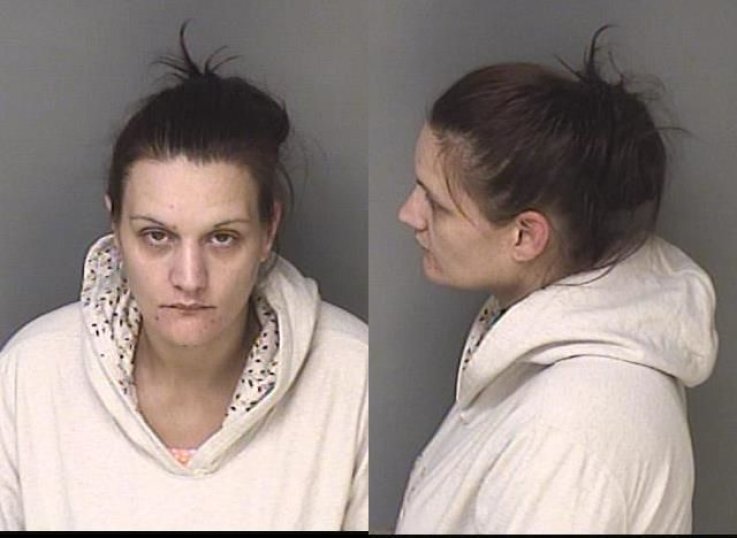 "She started having a lot of pressure," Pope remembered. "It started getting worse and she decided to go to the hospital."
But as she and Earl headed to CaroMont Regional Medical Center on the early morning of Jan. 1 when Pope said Killian's "water broke."
The coupled then pulled over at a weigh station and delivered a son that she said scaled in at a little more than 7 pounds and 20 inches tall.
"Earl delivered the baby," she said.
The new dad then texted Pope to let her know "the baby is here," she recalled.
At first, Pope was skeptical. "I was talking to her all day and the baby hadn't dropped yet."
The name was decided by the couple many months ago because of his tendency to raise a ruckus in the womb.
"The way she carried him, he would kick and hit her in the rear side, never the front," Pope remembered.
Then came the charges that her daughter was caught with meth just days after delivering her son.
Killian, who is raising four other children (all with conventional names), had previous run-ins with the law.
"This was not the first time," she said, without going into specifics. Attempts to reach Killian or her public defender were unsuccessful.
As far as the choice in naming her grandchild after population decimating war device, Pope says that Killian "is a grown woman" and has every right to choose his name.
"It's a mother's choice," she said. "I don't particularly like "Atomic Bomb" but I hope it works out for her."
By her account, the baby is healthy while in the custody of foster care, dispelling any notion that her daughter used meth while expecting.
"He's healthy from what I see and the hospital never said anything like that," she said.
Her newborn grandchild remains in the care of the county despite Killian posting $75,000 bond, jail records show.
Pope said that she would be ready to take on the parenting duties to raise "Atom Bomb" if the law required it; and also assured that she wouldn't attempt to go over Killian's head and change the boy's name.
"Atom is fine with me," Pope said, without pronouncing "Bomb." "I'll keep it unless she wanted it changed."
Weeks After Delivering and Naming Her Baby Son 'Atom Bomb' At Weigh Station, Mom Accused Of Being Meth Trafficker | U.S.