'Days Gone' Pre-Order Bonuses and Special Editions Revealed
Days Gone is now available for pre-order and publisher Sony has confirmed not one, but two different special editions. Like many other current game releases, there are also some exclusive bonuses for ordering your copy ahead of launch day.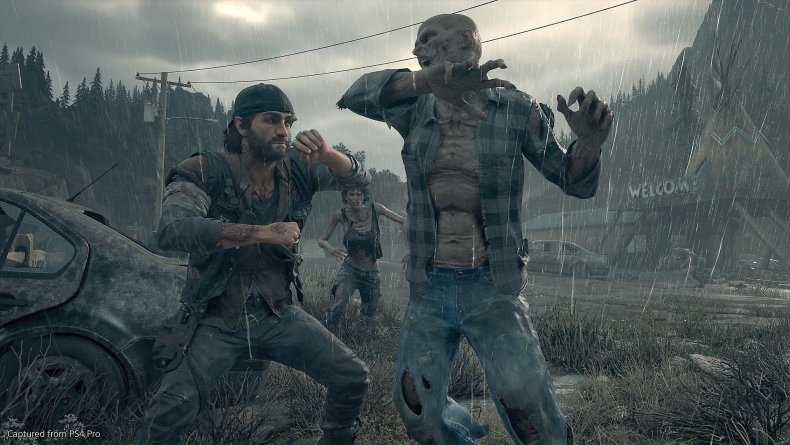 The pre-order bonuses are available if you reserve your copy of any version of Days Gone, either digitally or physically. Once Days Gone has released, players will receive a voucher to unlock a Drifter Crossbow weapon and upgrades for the drifter bike's Nitrous, gas tank and shroud earlier than other players. These upgrades should make survival in Days Gone just a little bit easier.
Players can get a little more by pre-ordering through PlayStation Store: the Days Gone Sawmill Dynamic Theme. The Dynamic Theme will be delivered immediately after you place your pre-order.
There are two different special editions of Days Gone available alongside the standard version. The Digital Deluxe Edition is a digital-only special edition that includes an artbook, a copy of the soundtrack, three drifter bike skins, the Monkey Wrench skill unlocked earlier and a second Dynamic Theme. The Digital Deluxe Edition of Days Gone is $69.99.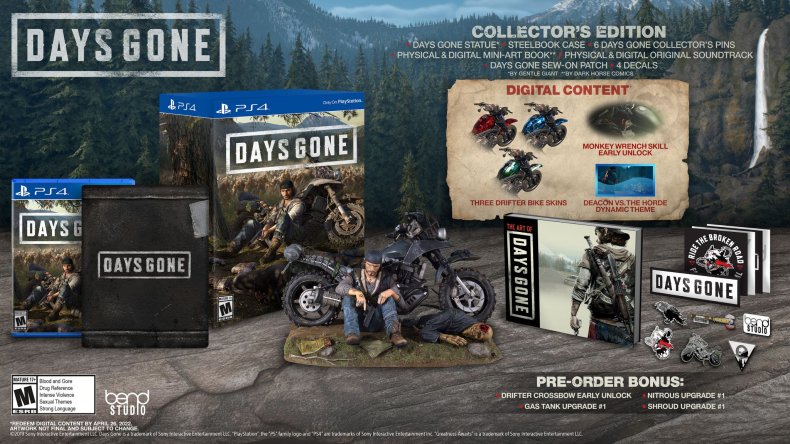 The second special edition of Days Gone is called the Collector's Edition. This version is a physical copy of Days Gone and includes everything from the Digital Deluxe Edition along with a collectible statue, a steelbook case, a sew-on patch, six pins, four decals, as well as physical copies of the art book and soundtrack. The Days Gone Collector's Edition costs $139.99.
In other Days Gone news, Sony released a new video Thursday exploring the world ofthe game. The video highlights the different environments in this digital take on Oregon, including ancient lava fields and snow-covered mountains. Oddly enough, snow is said to make the zombie-like Freaker enemies even more dangerous.
If you've been wondering why it seems like there's an endless supply of Freakers out in the middle of the woods, an answer has been provided in the video. The massive number of Freakers is because before society completely collapsed, trainloads of bodies were shipped to the wilderness for mass burial.
Days Gone releases exclusively for PS4 on April 26.
So what do you think? Are you excited to tear through the Oregon countryside when Days Gone releases in April? Will you pre-order any of the Days Gone special editions? Let us know your thoughts in the comments section below.