John Callahan's loved ones and former colleagues remembered the daytime television star on social media Saturday following his passing that morning at 66 years old. The veteran All My Children actor died following a stroke at his home in Palm Springs, California, according to a report from Variety.
Most celebrated for his role as Edmund Grey on the popular soap opera, which he held for more than a decade, Callahan appeared in numerous daytime series over the course of his career. His additional credits included General Hospital, Falcon Crest, Santa Barbara and Days of Our Lives. Responding to the news of his death, the Daytime Emmys official Twitter account shared a somber commemorative post Saturday afternoon.
"We're devastated to share that John Callahan passed away earlier today. Sending our deepest condolences to Eva LaRue and all his loved ones," the tweet read.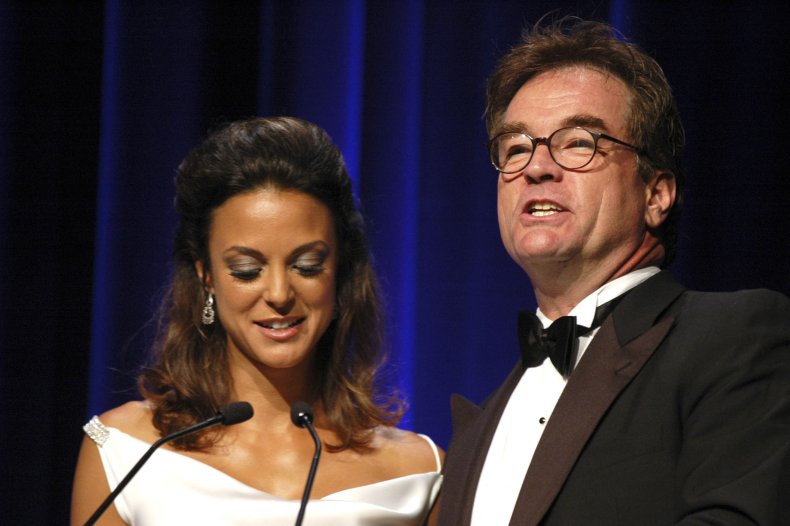 LaRue, Callahan's All My Children co-star and ex-wife, posted a lengthier tributary message to Instagram earlier on Saturday alongside a collection of family photos. LaRue and Callahan shared one child, Kaya Callahan, now 18 years old.
"May Flights of Angels Wing You to Your Rest my Dear Friend. Your bigger than life, gregarious personality will leave a hole in our hearts forever," LaRue wrote, going on to refer to Callahan as her "great friend," "co parent partner" and "loving father" to their daughter.
"Kaya and I are beyond broken hearted, so stunned, sorry that my thoughts are a mess," her post continued. "You gave the best most beautifully written tributes, and I am at a complete loss for words right now for you."
LaRue's commemorative address gave way to several others like it. Sarah Michelle Gellar and Kelly Ripa, both of whom also played opposite Callahan on All My Children, echoed her grief and remembrance in their own respective posts to Instagram.
"Get past the horrible eyebrows on me and you will notice the incredibly handsome man, standing beside, me at my high school graduation. That's #JohnCallahan or better know to me as GP (but why I called him that remains between us and those closest to him)," wrote Gellar, referencing the first in a string of photos spanning almost a decade. "He stepped into a lot of moments in my life because I didn't have a father to be there," the post went on. "I promise you GP just as you were there for me, I will always be there for smoosh (Kaya) and @evalarue as well."
Ripa, a series regular on All My Children from 1990 until 2002, trailed Gellar's Instagram post with a brief note accompanying a snapshot of Callahan and LaRue during a red carpet event. "Because there are no words, all i can muster is Rest In Peace #johncallahan," the talk show personality wrote on Instagram. "My heart breaks for you @evalarue and @kaya_callahan."
A handful of additional celebrities have expressed condolences in the aftermath of Callahan's passing, including All My Children and General Hospital's Finola Hughes, as well as actor and talk show host Holly Robinson Peete.