Dayton Mayor Reacts to Trump's Tweet Attacking Her: 'I'm Really Confused... We Said He Was Treated Very Well'
Dayton Mayor Nan Whaley responded to Donald Trump's tweet attacking her and Ohio Senator Sherrod Brown with a confused reaction on Wednesday, questioning why the president accused them of "misrepresenting what took place" during his visit to the state.
Trump and other White House officials lashed out at Whaley and Brown, two Ohio Democrats, earlier today after they joined him in visiting a Dayton hospital to greet victims, their families, and first responders of the mass shooting that occurred in the area over the weekend.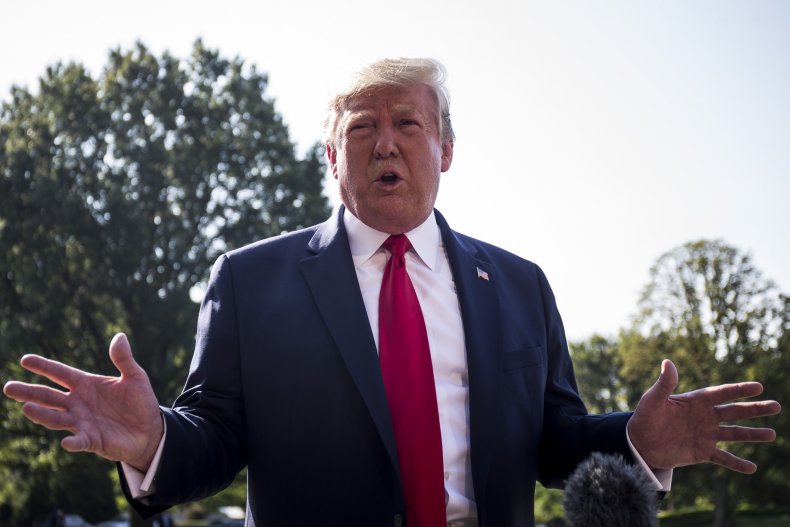 Despite Brown and Whaley saying that the victim's families appreciated Trump's visit at a subsequent press conference, the president called Brown a "failed Presidential Candidate" and accused both Democrats of "misrepresenting what took place inside of the hospital" on Twitter.
"Their news conference after I left for El Paso was a fraud," Trump said. "It bore no resemblance to what took place with those incredible people that I was so lucky to meet and spend time with."
Whaley reacted to Trump's tweet in a 30-second video shared by Cincinnati Enquirer reporter Scott Wartman on Wednesday afternoon. "Where is it? I don't see it," Whaley says in the video as she appears to be scrolling through Twitter. The Dayton Mayor then spots the two tweets referencing her and can be seen reading some words out loud.
"I'm really confused, we said he was treated very well," Whaley said, after reading Trump's remarks. "I don't know what he's talking about [when he says] 'misrepresenting,' so..."
"Oh well, he lives in his world of Twitter," she added.
During their news conference, Brown and Whaley complimented Trump's hospital visit and encouraged the president to back stricter gun control measures, including tougher background checks on purchasers.
"[Trump] was received as well as you can expect by the patients," Brown said of the hospital visit. "They are hurting. He was comforting. He and Melania did the right things. It's his job, in part, to comfort people. I'm glad he did it."
"I think the victims and the first responders were grateful that the president of the United States came to Dayton," Whaley added.
The Dayton mayor later responded to Trump's remarks on Twitter. "Not sure what the President thinks @SenSherrodBrown and I misrepresented," Whaley wrote. "As we said, the victims and first responders were comforted by his presence. Let's hope he's not one of these all talk, no action politicians and actually does something on gun control."