Dayton Shooting: Surveillance Video Shows People in Panic As Police Officers Run Towards Gunfire
Police have released CCTV footage of the moment Connor Betts began firing at bystanders in Dayton, Ohio, in the early hours of Sunday, ultimately killing at least nine people and wounding 27 others.
The footage was made public at a press conference held by Dayton Police Chief Richard Biehl on Sunday afternoon, Sky News reported.
The footage shows dozens of people fleeing in terror as Betts, 24, began firing outside a bar. As bystanders run, the footage also captures police arriving at the scene and moving to engage the shooter. Biehl said police engaged Betts within 20 seconds of the first shots being fired.
Betts—whose younger sister was among the dead—was shot dead by police while trying to force his way into a bar. He was wearing body armor and carrying a .223-caliber rifle with magazines capable of holding 100 rounds of ammunition, Biehl explained.
The police chief noted that the death toll could have been much higher had Betts managed to get into the bar. Biehl said the loss of life could have been "catastrophic."
Six police officers involved in the shooting have been placed on administrative leave, per standard protocol, according to local TV station WLWT5. Dayton Mayor Nan Whaley praised the performance of the first responders, and said she was "amazed" at their quick response. Their speed "literally saved hundreds of lives," she said.
Police are still investigating what drove Betts to launch the attack. Though six of the nine killed were black, Biehl said the short duration of the shooting makes it unlikely Betts was being discriminating as to his victims. Biehl said that at this stage, there is nothing to suggest a "bias motive."
Speaking with reporters, Whaley explained, "We don't know the thoughts of the shooter." The mayor said the area affected was "one of the safest places in the whole region," and expressed her shock that such a thing could happen.
"Frankly, we're at a situation now in our country that these are so random. What really goes through my mind is one seems completely preventable. I just question when is enough, enough?" Whaley said.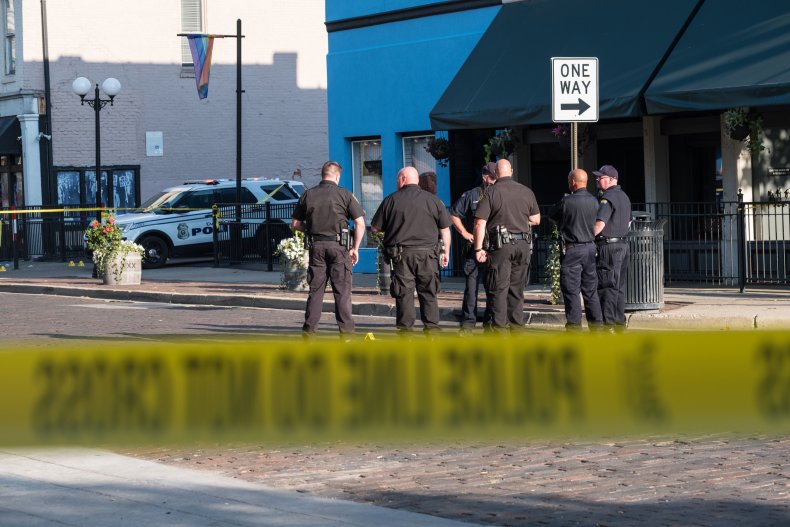 The Dayton attack was the one of two mass shootings this weekend. The other—in El Paso, Texas—left at least 20 people dead. Suspected white supremacist Patrick Cruisis, 21, shot shoppers at a Walmart store in the border town after posting an anti-immigrant manifesto online. He was arrested by police at the scene.