Dayton Survivor Says Mitch McConnell Is 'Failing Our Country' and Wants Americans to 'Forget' Mass Shootings
Christina Huelsman, a survivor of the mass shooting in Dayton, Ohio, earlier this month, called out Congress and specifically Senate Majority Leader Mitch McConnell for "failing" to act to address gun violence in the country.
Appearing on CNN for an interview on Wednesday morning, Huelsman detailed her experience running from the shooter, who killed nine people and injured more than a dozen others in less than a minute before being killed by police. The 21-year-old survivor criticized Congress for remaining on recess, instead of returning to Washington to take serious action to address the growing national threat of mass shootings.
"I think the decision to put [Congress] on recess, I think it's– right now it's failing our country," Huelsman said. She asserted that McConnell, a Republican from Kentucky, is hoping that Americans forget about the shootings before Congress returns from its break.
"I don't know why it's taken 251 mass shootings now this year for people to start waking up," she said. "Even then, [McConnell] is pushing it off until September ... I think the longer we wait, he thinks people might just forget. But I'm not gonna forget and I know millions of others aren't forgetting, and who knows, we could wake up tomorrow and another thing could be happening."
Thus far, McConnell has ignored the urging of Democratic lawmakers to end the summer recess and bring Congress back for an emergency session to address gun violence in the wake of twin shootings in Dayton and Ohio earlier this month. Combined, the two shootings left more than 30 dead and dozens injured.
"The time is not simply for reflection," Democratic Representative Steny Hoyer of Maryland, the House majority leader, said this week as he and other Democrats met with victims of mass shootings in Washington. "The time is not for a moment of silence. The time for the Senate is to act. The time is to listen to the American people."
Although Republicans generally push back against any major gun reforms, citing the Second Amendment of the Constitution to back their opposition, many have come out in favor of implementing state-by-state "Red Flag" laws in the wake of the mass shootings. These laws, which would have to be implemented and enforced by each individual state, would make it easier for law enforcement to remove guns from individuals believed to be potential threats.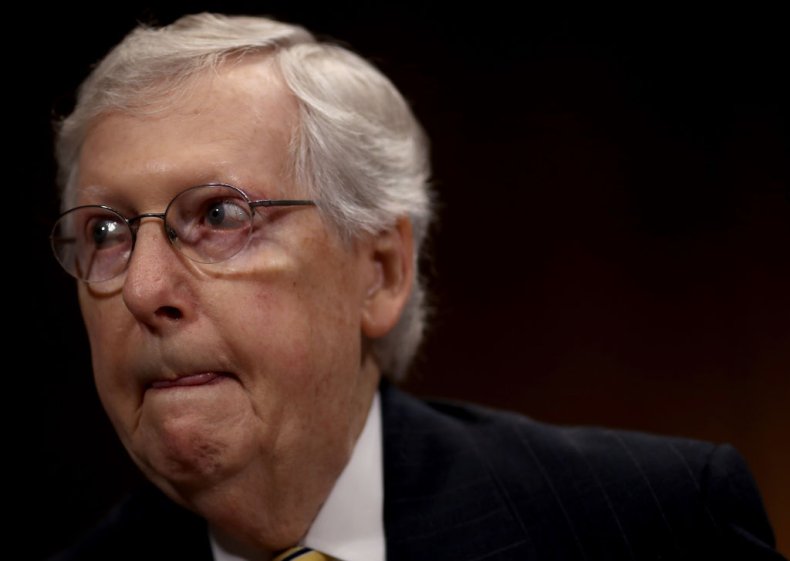 President Donald Trump has suggested he is supportive of going a step further, saying that he wants to expand background checks for people attempting to purchase guns. But many are skeptical that the president will push hard to make such a reform, and Democrats argue that it would not do nearly enough to address the problem. They are pushing for a ban on assault weapons, such as the ones used in the recent mass shootings as well as many others across the nation.
Such guns were previously banned by Congress, but in 2004 that ban expired and was never renewed. The House passed legislation to renew the ban, but the Senate––under McConnell's leadership––has refused to consider the bill.
While those weapons were banned, there was a notable decrease in gun deaths nationwide. Since the ban was lifted, gun deaths have increased significantly.