Daytona Beach Fire: Intense Blaze Forces Evacuations From Bayview Hotel
A massive fire that erupted at the Bayview Hotel in Daytona Beach, Florida, on Friday morning forced the evacuation of its 36 patrons.
The fire began early in the morning in the boiler room, according to WFTV. Firefighters were able to put out the initial blaze, but the fire reignited, causing "heavy flames and thick smoke," the Daytona Beach Fire Department said. Besides entering the building, firefighters set up two aerial apparatuses to get water on the "huge" fire.
"It was about 4 to 4:15 [a.m. ET], and I heard the smoke alarm, and I went out to see where the smoke was coming from," building resident Myron White told The Dayton Beach News-Journal. "I went up to the third floor and knocked on people's doors to make sure people got out."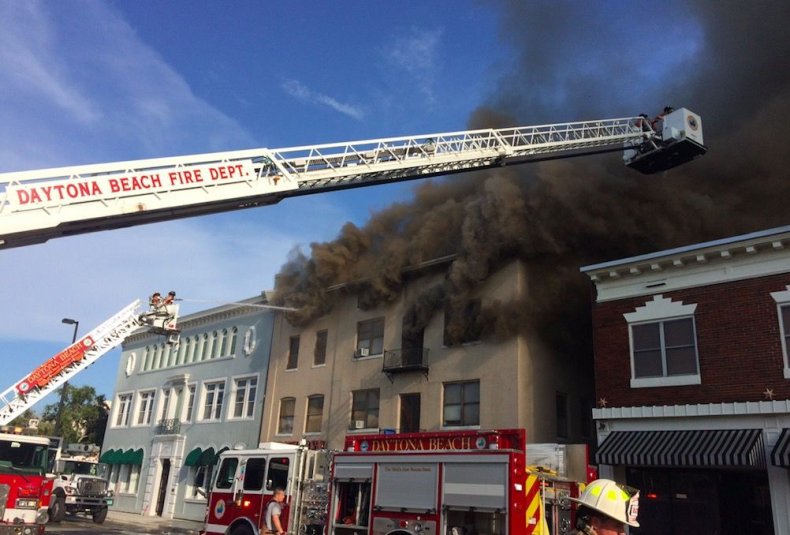 Shortly before 7 a.m. ET, the fire department tweeted that part of the roof had caved in and that firefighters were still "working extremely hard to get [the] intense fire under control." Patrons of the hotel were evacuated, but firefighters were able to prevent the blaze from spreading to the adjacent buildings.
Newsweek reached out to the Daytona Beach Fire Department for comment but did not receive a response in time for publication.
At 8:50 a.m. ET, firefighters were still battling the blaze, with "heavy flames still burning at the top of the building." It's unclear what caused the fire. The Red Cross was on the scene to begin helping victims.
This is a developing story and will be updated as more information becomes available.