Dazzling Double Rainbow Appears Over NYC on Pride Parade 50th Anniversary
Mother Nature provided a poignant tribute to mark the 50th anniversary of Pride, with a double rainbow in the sky above New York City.
New Yorkers documented the heartwarming scene on social media on Sunday.
"What a year — this was a nice gift for sure! Happy Pride" said Twitter user Seth Travis.
"Just when I thought I couldn't love NYC more- a double rainbow right outside my window DURING #PRIDE MONTH" wrote Christina Marie on Twitter.
Chase Sutton posted a picture of the rainbow and said on Twitter. "On the day that the annual Pride parade was supposed to take place in celebration of the 50th anniversary of the first Pride march in NYC".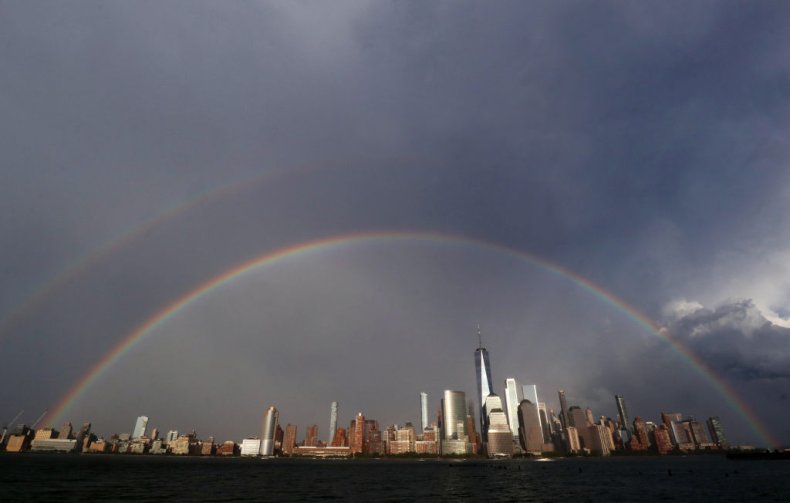 "Caught this beautiful rainbow across NYC as the day draws to a close. A sign that history will prove us right #QueerLiberationMarch," wrote a Twitter user named David.
Other residents captured magnificent images of the scene.
The first Pride march was held in New York City on June 28, 1970. It was organized a year after the Stonewall riots, in which a violent uprising took place after a police raid on the Stonewall Inn gay bar in Greenwich Village, Manhattan.
In 1970, thousands of individuals, spurred on by organisers Brenda Howard, Craig Rodwell, Fred Sargeant, Ellen Broidy and Linda Rhodes, walked 50 blocks in support of gay rights and started a tradition of Pride parades around the world in solidarity for LGBT issues.
Harvey Milk, a gay San Francisco politician, asked activist Gilbert Baker to design a flag for the LGBT movement. The rainbow flag, which originally had eight colors, was born in 1978, and the LGBT scene became known as the 'rainbow community.'
Today, around 150 pride events take place around the world, the largest to date being in the city that started it all; New York. The Stonewall 50 – WorldPride NYC 2019 event drew 5 million attendees.
Pride event organisers still believe there is much work to be done, as homosexuality remains illegal in 35 percent of the 193 United Nation states, and fewer than 30 countries recognize same-sex marriage.
This year, due to the coronavirus pandemic, New York's 50th Anniversary Pride parade was canceled, but some performances did take place online, and flags were still displayed from balconies and windows around the city.
Virtual events included performances from black queer singer Janelle Monáe, plus Deborah Cox, Billy Porter, Luísa Sonza, Rufus Wainwright, Michael James Scott and Tangina Stone among others.
The virtual event showed solidarity with fellow civil rights protesters Black Lives Matter, plus the frontline workers keeping communities safe and running during the pandemic.