D.C. AG Karl Racine Sues Proud Boys, Oath Keepers Over January 6 Riot
District of Columbia Attorney General Karl Racine announced on Tuesday a civil lawsuit against the right-wing groups Proud Boys and Oath Keepers over the January 6 Capitol riot.
The lawsuit marks the first civil lawsuit filed by a government entity against those who participated in the deadly January 6 riot, he wrote on Twitter.
"They caused extensive damage to the District, our democracy and particularly the brave men and women of our Metropolitan Police Department," he wrote on Twitter.
He added: "Today, we're holding these insurrectionists accountable for conspiring to terrorize the District by planning, promoting, and participating in the deadly attack on the Capitol. I'm seeking damages in this case and will keep working to ensure such an assault never happens again."
In court documents first reported by Axios, Racine points to injuries suffered by police officers responding to the riot as part of justification for the civil suit.
He also alleged that due to their actions, the District of Columbia "incurred significant damages" including an "unprecedented" deployment of police resources.
"While the costs to the District are still being investigated and tallied, the District
has preliminarily estimated that MPD incurred millions of dollars in costs during the week of January 6th alone," the lawsuit reads.
Racine alleged the two groups "through and with their leadership and certain members and affiliates conspired to commit acts of violence and attack the United States Congress on January 6, 2021" in order to prevent Congress and former Vice President Mike Pence from certifying the 2020 election results.
The suit names several specific individuals accused of plotting the riot. It outlines the events leading up to the riot. It accuses the groups of using the election results to recruit new members and using "coordinated violence" to intimidate the public and government.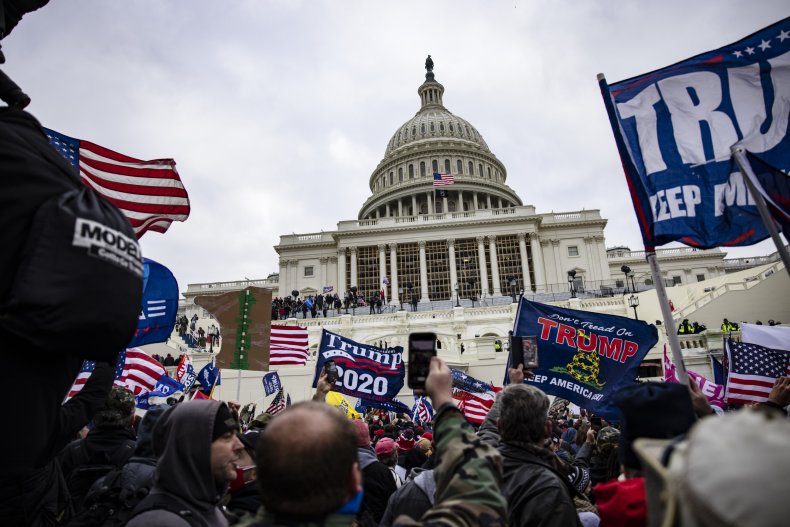 D.C. officials praised the lawsuit on Tuesday.
Congresswoman Eleanor Holmes Norton—who represents the District of Columbia—said in a statement the suit will help pay expenses beyond what she secured in a $9.1 million federal payment.
"It is appropriate that the perpetrators of the attack compensate D.C. for the other costs D.C. incurred that day, including for medical treatment and paid leave, which are outside the scope of the funding I was able to secure for the District," she wrote.
Metropolitan Police Officer Michael Fanone said in a statement released by the attorney general's office: "Those of us who suffered physical and emotional harm trying to defend democracy will never forget, nor will we cease working to hold accountable everyone responsible for inciting the mob, wherever the evidence may lead."
Update 12/14/2021 1:45 p.m. ET: This story has been updated to include comments from Norton and Fanone.