D.C. Cop Michael Fanone Emotionally Recounts Capitol Riot as Most 'Brutal, Savage' Combat of His Career
A member of the D.C. Metropolitan Police force emotionally recounted the insurrection at the U.S. Capitol on January 6, saying he experienced a group of people who were "trying to kill me to accomplish their goal."
"I experienced the most brutal, savage hand-to-hand combat of my entire life—let alone my policing career, which spans almost two decades," Officer Michael Fanone told CNN on Tuesday night.
Fanone was stun-gunned and beaten with a flagpole during the attack. Video footage captured rioters dragging Fanone down the steps. He said people were trying to rip off his badge and take his gun.
"It was nothing that I had ever thought would be part of my law enforcement career and nor was I prepared to experience," he added.
Fanone said he had an adrenaline high for the first two weeks after the insurrection, but shortly after began experiencing more psychological injuries such as post-traumatic stress disorder.
"Some days are better than others," he told CNN's Don Lemon. "Today's a good day."
Fanone added that he was happy to be able to give his account of what happened January 6 after what he's heard from other people and lawmakers.
"It's been very difficult seeing elected officials and other individuals kind of whitewash the events of that day or downplay what happened," he said. "Some of the terminology that was used like 'hugs and kisses' and, you know, 'very fine people', it's like very different from what I experienced and what my co-workers experienced on the 6th."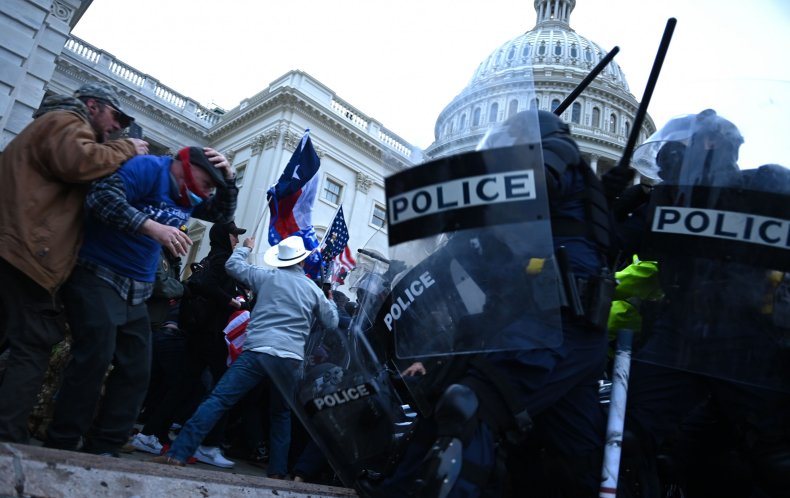 Thousands of Donald Trump supporters gathered in Washington, D.C., on January 6 to protest the congressional certification of President Joe Biden's victory. Photographs of the violent event show people clashing with law enforcement, breaching the building and making their way through lawmakers' offices
Five people died during or shortly after the attack, including Capitol Police officer Brian Sicknick, and dozens more were injured. Two officers who helped fight the Capitol mob later died by suicide. They were identified as Howard Liebengood, 51, and Jeffrey Smith, 35.
Federal prosecutors are continuing to charge participants in the Capitol riot. The Department of Justice has arrested 400 people from 43 states, according to a recent analysis from CNN. Prosecutors have filed charges against one man, Thomas Sibick, who allegedly took part in the assault against Fanone.
Fanone told CNN he wants the public to understand the significance of the January 6 insurrection and how "thousands of rioters came to the Capitol hell-bent on violence and destruction and murder."
Newsweek reached out to the D.C. Metropolitan Police Department for comment on Fanone's remarks but did not receive a response before publication.
If you have thoughts of suicide, confidential help is available for free at the National Suicide Prevention Lifeline. Call 1-800-273-8255. The line is available 24 hours, every day.