D.C. Dine-and-Dash: British Man Accused of Drinking $1,200 Shot of Whiskey, Skipping the Bill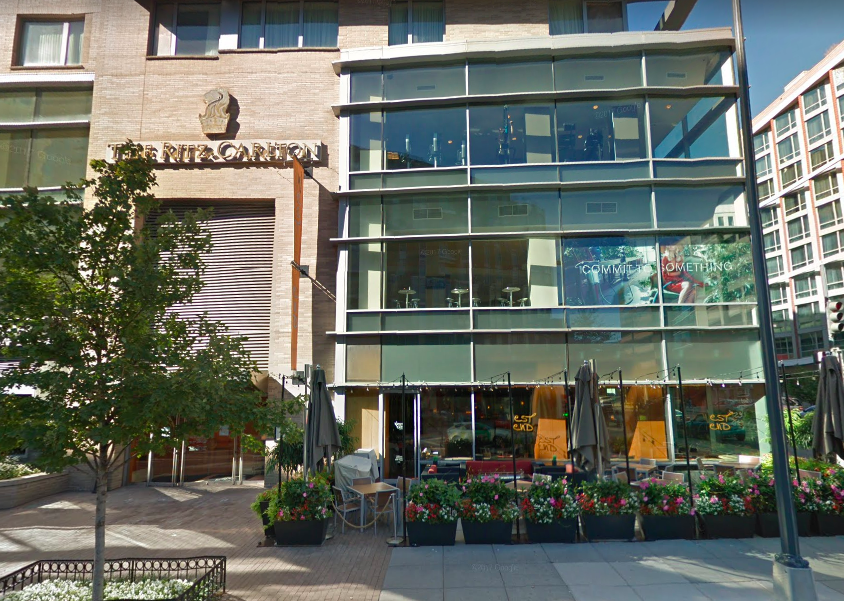 A British man thought to be a serial dine-and-dasher finished off an expensive meal at the Ritz-Carlton in Washington D.C. with $1,200 shot of rare whiskey before walking out on the tab, police said. He has allegedly pulled similar stunts at swanky D.C. locations before.
The man, who claimed to be from London, has been tracked at several D.C. hot spots, including the Willard InterContinental hotel and the Old Ebbitt Grill. At the Ritz-Carlton, police claimed the man capped off a meal of grilled octopus and rack of lamb with a $156 bottle of cabernet sauvignon and a $1,200 shot of a rare 34-year-old single-malt Irish whiskey.
Authorities said the man has visited different hotels and bars in the last two recent weeks, made expensive orders and then left without paying.
Nicholas James Cooper, a 21-year-old British citizen, has been arrested three times as a suspect but has been released pending his next court date on April 12. Court documents revealed that Cooper has been combative with police and has begged at least twice for officers to shoot him. Cooper has also reportedly attempted to hurt himself while in custody.
Two men, James Swanson and Michael F. Bishop, told The Washington Post that they met a man fitting Cooper's description at the Hay-Adams bar on Monday. Swanson, a bestselling author, said the man bragged about drinking a $1,200 shot at the Ritz-Carlton and living in the exclusive Kensington neighborhood in London.
The friends said they spoke to the man for a few minutes before he turned his attention to two young women.
"It was amusing watching him drink expensive drink after expensive drink over the period of a couple hours," Bishop told The Washington Post. "He appeared knowledgeable."
Bishop, the director of the National Churchill Library and Center at George Washington University, said that the two women, however, "seemed mortified…They were obviously trying to have a pleasant conversation between them, and he kept insisting on talking to them and taking photographs with them."
The man later left without paying his bill. Police are looking into whether Cooper could be the man Swanson and Bishop saw. The Washington Post reported that Cooper has not been charged in that incident.
Police first arrested Cooper on March 13, when he allegedly signed his $68.20 bar bill at the Willard with a fake name and hotel room and tried to pay a $67.91 bill at the Old Ebbit Grill with a closed credit card.
Cooper was arrested and charged with two counts of second-degree theft, according to an incident report provided to Newsweek. He was released pending his April court date.
On March 16, Cooper was arrested again and charged with destruction of property after he allegedly pulled on the glass doors at the Embassy Row Hotel and shattered them. He was again released.
Police said that on March 23 Cooper allegedly charged a $2,220.40 bill at the Ritz-Carlton, which included the $1,200 shot of Teeling Whiskey Co., to the room of Denver Nuggets forward Trey Lyles. An affidavit said that officers confronted Cooper in the hotel lobby.
Cooper reportedly put his hands in his pocket and refused an officer's orders to remove them. An officer tackled Cooper thinking Cooper may have had a weapon, instead a bottle of alcohol fell out. Cooper was arrested for a third time and released on his own recognizance.
An incident report said Cooper was charged with first-degree theft and two counts of resisting arrest.
Police reportedly arrived too late Monday to apprehend the customer accused of bailing on a $500 bar bill at the Hay-Adams.
According to an incident report, the suspect in the Hay-Adams incident asked that the bill be charged to his room number. The room was determined to be an unoccupied room at the hotel, and the suspect fled the location on foot without paying. The case remains open.
On Thursday, Cooper was charged with one count of unlawful entry and one charge of contempt, condition of release violation, court records show. He was arraigned and pleaded not guilty. Cooper will return to court for an initial hearing on April 12.